Belgium and the Netherlands meet in Waterloo on Saturday afternoon with the final place in the Rugby Europe Championship 2021 up for grabs.
The winner will be rewarded with a place in the top flight of the Rugby Europe Championships in the ongoing competition in the event already featuring Georgia, Russia, Romania, Portugal and Spain.
A massive 80 minutes ahead then and Belgium head coach Frederic Cocqu said:  "The preparation has been difficult and chaotic because of Covid. More than half of the players have not been able to train with contact regularly, but fortunately we were able to play a preparation game to give the players some confidence in the contact and combat phases.
"I hope that our players will be able to take great pleasure from playing in a game with a lot at stake. Of course, it is decisive, but that makes it more interesting and I know the boys will give it everything they have.
 "It is a bit like going into the unknown because we have new staff and a new way that we want to play, but we all have huge desire and pride and we know that we carry the hopes of thousands of Belgian players and supporters who unfortunately don't have the chance to play or watch rugby live in Belgium at the moment.
"We feel privileged and extremely motivated as a result.
"If the Netherlands are up against us it is because they have deserved this play-off place and therefore I expect a close match, a derby in every sense of the word. The team who will win will be the one who can best control their desire, their commitment while also keeping their lucidity.
"I would even say the players need to show 'coldness' when it comes to this match without removing the essential ingredients that nourish our sport which are commitment, self-sacrifice and determination.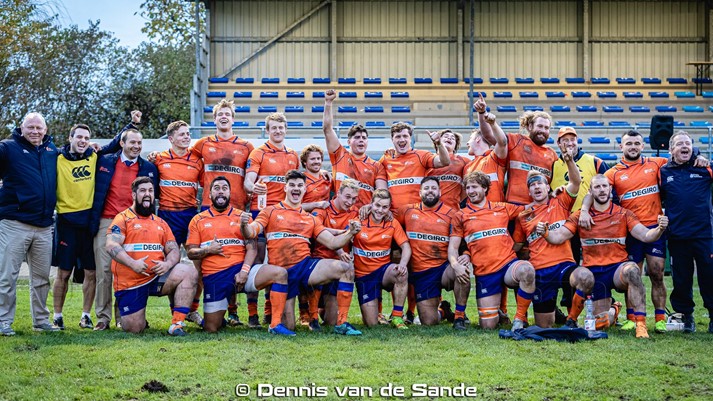 "We are building a new strategic plan for men's rugby in Belgium. An ambitious, but realistic, plan with Rugby World Cups the aim. In the recent past we have been able to beat nations that have already participated in this showpiece competition and to stay in the Championship for 2021 will be a first step towards our dream.
"Every federation needs a driving force and we have defined two priorities within Belgian rugby, the women's sevens and the men's XVs - it is essential that our young players can identify with their elders."
Going into the clash, Belgium are 27th in the world with the Netherlands 25th, so Cocqu's prediction that it will be a close match could well be right.
The Netherlands head coach Zane Gardiner said:  "Our preparation has been productive. The coaching team have worked hard to put in place what is needed for the team to perform and have supported the players well during the preparation period.
"The team has slowly assembled over the last few weeks with more players arriving from their clubs to build strong bonds. There has been a lot covered and the players have worked hard and put in the effort both on and off the field. The wood has been chopped and the fire is ready to be lit.
"This game is a final, winner takes all, so it will be intense. Both teams want to win and have been working hard to ensure they can perform in this game.
"Belgium are an experienced side that has been playing Championship rugby for the last few seasons. Most of the players that play for Belgium are either professional or semi-professional rugby players, so rugby is their job.
"They are a physical team with a strong scrum and lineout, they play to their strengths, make it hard for the opposition to score points and are always tough to beat at home.
"It would mean a lot for a small rugby nation like the Netherlands to win promotion to the Championship and this game is hugely important to the growth of rugby in the country."
The match will be live on Rugby Europe TV at 2pm CET. 
The teams have been announced, find them HERE 
By Gary Heatly 
Images by Dennis van de Sande and Sportkipik.be