Portugal will play their second World Cup, and the runners-up of the 2023 Rugby Europe Championship have been focused on bringing their A-game to the main rugby stage.
After qualifying for the 2023 RWC with a dramatic finish last November, Portugal, who have been sorted in pool C, are going to face long-time European rivals Georgia, and also Australia, Wales, and Fiji.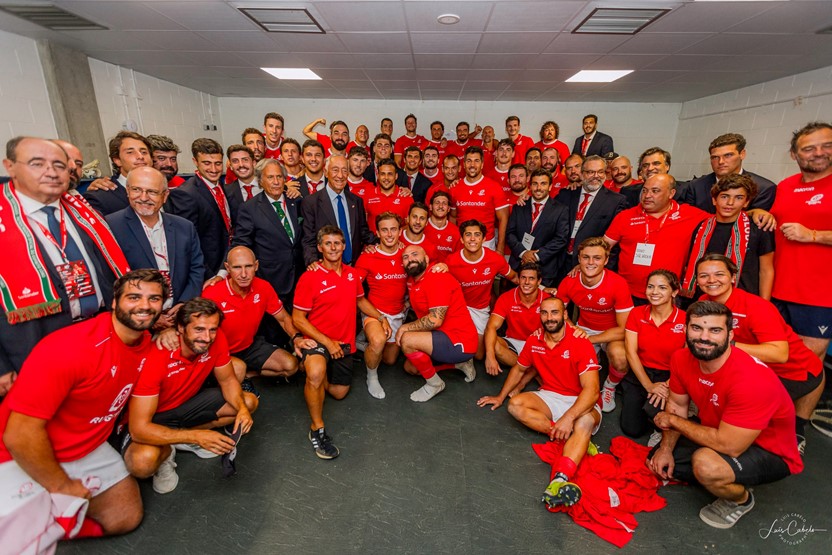 Head coach Patrice Lagisquet announced the 33-player squad on the 28th of August, and there were no surprises coming out of the long-awaited list, as lock José de Andrade is the only player missing the World Cup due to a foot injury. Valence-Romans Joris Moura who debuted back in July, is the only more surprising addition, but one deemed important by the staff.
Captain Tomás Appleton and vice-captain José Lima will lead the squad, and big names such as Nuno Sousa Guedes (who was voted Best Player of the 2023 Rugby Europe Championship), Rodrigo Marta, José Madeira, Nicolás Martins, Samuel Marques, and Mike Tadjer, are also fit and ready to lend help to Portugal.
Some Portuguese Stats
16 players were part of the Rugby Europe U18 and/or U20 competitions, like  José Madeira (22), Rodrigo Marta (23), Raffaele Storti (22), Simão Bento (21), or David Costa (24).
Rodrigo Marta is the top and current try-record holder for Portugal, as the winger scored 28 tries in his 31 caps.
Tomás Appleton stands as the most capped player with 63 Test Matches for Portugal.
In 2023, Portugal made their second-best run in the Rugby Europe Championship, finishing in 2nd place;
Portugal spent the last two months preparing for the 10th instalment of the coveted tournament in Lisbon and Algarve, working thoroughly to impress rugby fans.
In July, they played and won against the United States of America in Estádio do Algarve, before welcoming the Irish squad for a couple of joint sessions. These training exercises helped the "Lobos", as assistant coach Luís Pissarra explained,
"It is impossible to get any better than that type of preparation as Ireland is the top team in the World, and the intensity and speed they manage to apply in the game helps us understand where we are as a team. We were able to tune our lineout, scrum, and set-piece to a greater degree by having these joint sessions with them."
Portugal also faced off against Australia "A" in France, and finally joined Samoa for a one-day practice session, wrapping up their World Cup warm-up camp. Tomás Appleton shared a few thoughts about how intense these two last months were, and what we can expect from them,
"In the first four weeks we focused on our condition, and it was a tough test for the squad to endure the hard training, but in the end, we made excellent use of it. We are still being tested every week, but it is important if we want to be at a top level. As for expectations, I can't really share what we agreed as a group, but I can say that we are working to make some big surprises!"
Portugal has set camp in Perpignan, traveling from there to Nice to face Wales on the 16th, to play their first match in the 2023 Rugby World Cup, which will mark another important sports moment for the "Lobos". The Portuguese side will also play in Toulouse against Georgia and Fiji, and will take Australia in Saint-Étienne. 
By Francisco Isaac
Photo by Luis Cabelo