Portugal won their third Rugby Europe Championship match on the spin in Russia on Saturday, completing their 2021 campaign on a high and continuing to show why they have a real chance of making it to Rugby World Cup 2023.
Having beaten Spain in March and then the Netherlands last weekend, the visitors played with confidence in the Nizhny Novgorod Stadium and answered every question that the hosts asked of them.
Patrice Lagisquet's men have bounced back so well from losses to Georgia and Romania and, with other teams still to play some matches, currently sit second in the table behind champions Georgia after this 49-26 away day triumph.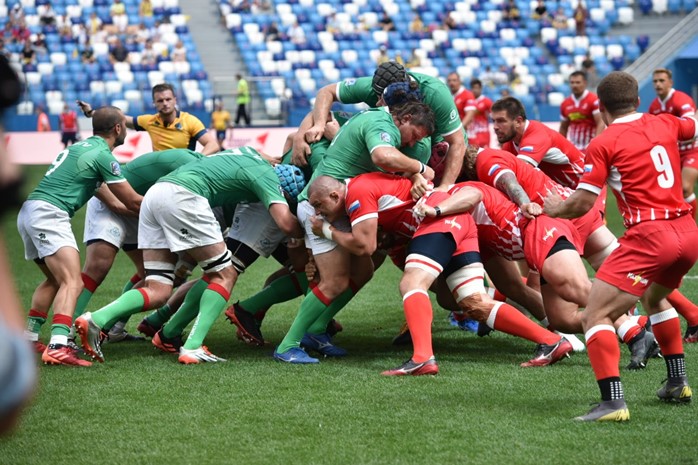 Lyn Jones' Russia looked like a team that had not played since March and they will look to get rid of that rustiness before they play their remaining fixtures which are due to take place later in the year.
Scrum-half Samuel Marques put the visitors ahead in the third minute when he kicked a penalty.
Five minutes later the Portuguese side extended their advantage when a great break and offload from stand-off Jeronimo Portela set-up skipper Tomas Appleton for the try. Marques converted and it was 10-0.
Ramil Gaisin, the Russian stand-off, tried to spark the home side into action in the 10th minute with a great chip and chase, but he was stopped before the try line and conceded a penalty for holding on.
Soon after back-row Nikita Vavilin tackled Portugal winger Rodrigo Marta high and, after conferring with his assistants and the TMO, referee Ben Blain sent him to the sin bin.
The Russian team were then handed an even bigger blow when Gaisin and hooker Shamil Magomedov were both forced off with injuries,
Iurii Kushnarev and Shamil Davudov coming on.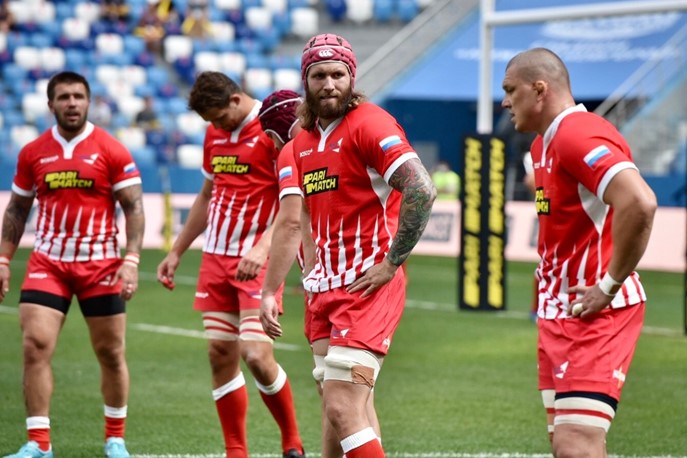 All the momentum was with Portugal and in the 15th minute their second try came. Joao Granate, the back-rower, was the scorer and when Marques converted it was 17-0.
Russia knew they had to score next to stay in the contest and, with Vavilin back on the pitch, the Portugal second-row Jose Madeira was yellow carded to give the home side a man advantage in the 26th minute.
In times of need you need your captain to stand up and be counted and Viktor Gresev did that, the No.8 scoring a try from short range after 28 minutes. Kushnarev converted.
On the half hour mark Portugal extended their lead to 13 points with a penalty from Marques.
Just before Madeira returned to the field, Russia bagged try number two with second-row German Silenko going over. Once again Kushnarev converted and it was 20-14 at half-time with the Russians now with their tails up.
Portugal regrouped at the interval and centre Jose Lima ran a great line to go over for their third try in the 45th minute. Marques converted and it was 27-14.
A third Marques penalty then extended their lead to 16 points.
The fourth try for Portugal came in the 57th minute when back-row Rafael Simoes went over after nice work from hooker Mike Tadjer. Marques missed the conversion, but they were 35-14 to the good.
Just before the hour mark, Russia bagged an unconverted try through Silenko again.
This 'all action' match continued heading into the last quarter and, after the referee watched a number of replies, Portugal were awarded a seven point penalty try.
It was given because the ball was deliberately knocked on with Tadjer looking set to score, so Nikita Churashov, the Russia full-back, was yellow carded to add salt to their wounds.
Portela added Portugal's sixth try after a flowing team move and when Marques converted it was 49-19.
Anton Sychev helped Russia claim a fourth try in the 78th minute, the back-rower scoring the five pointer converted by Kushnarev, but it was no more than a consolation.
With every point crucial to the cause, the visitors may look back and rue the missed opportunity to take an extra bonus point, but they will still be happy with their visit to Moscow and take one step closer to Rugby World Cup qualification. 
By Gary Heatly 
Images by Vladimir Gorshkov