Eight European nations will join England, France and Scotland in the 7's Rugby World Cup scheduled for September in Cape Town, after an incredible Qualifying tournament that had some surprises in store for the fans.
In the men's tournament Ireland, Germany, Portugal and Wales made their way to South Africa, as Ireland, Spain, Poland and England join them from the women's competition.
But who caught our focus and eye thought the intense two-days of rugby action? 8 players made the list, selected by Rugby Europe writer Francisco Isaac.  
Manuel Vareiro (Portugal) 
The Portuguese wonder kid took his chance and grabbed the Bucharest crowd's attention, turning on the fire for Portugal in their eye-catching qualification for the 7's Rugby World Cup. 
18 years old and he has already had some mesmerising technical details that can fool the opposition, emulating well the role of the trickster thanks to a spicy sidestep or a fiery dummy pass, two assets of the young star. 
Amee-Leigh Crowe (Ireland) 
The Celtic cheetah, Amee-Leigh Crowe was outstanding once again for Ireland, as she ran loose and uncontested several times through the whitewash for 10 occasions to march to the very top of the try-scorers standing, whilst assisting for eight of her teammates tries.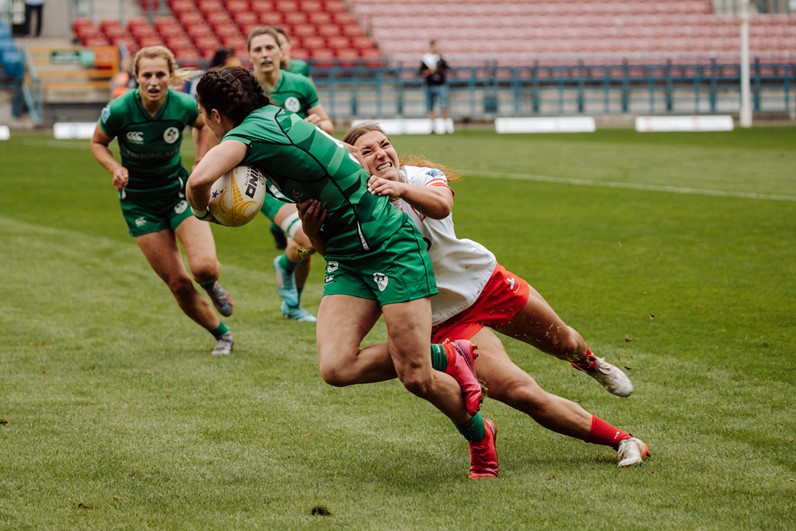 A speedster who is as deadly as they come, the Irish rocket was insatiable and didn't stop the whole weekend, making life easier for Ireland in their successful World Cup qualifying, as she was involved in 48% of her team's tries. 
Małgorzata Kołdej (Poland) 
Another full-throttle speedster makes the list and deservedly so, as Małgorzata Kołdej was a behemoth on the wing, going from first gear to the last in a matter of milliseconds and was a lethal weapon for Poland as they march on to South Africa. 
But it isn't only the speed that makes the winger a special player, as her physicality and impeccable sense of opportunity are also two qualities that shows that she's one of the best in the European 7's landscape. 
Terry Kennedy (Ireland) 
The Irish player was a unit that was imperious throughout the whole tournament, that went from throwing top-notch tackles to sumptuous passes, being one of those chess pieces that any side is lucky to have. 
Ireland was in control of their destiny from the first match, and Kennedy was an uncontrollable fire that just kept inflicting "pain" through tries, tackles, and assists. 
Carlos Soteras (Germany)
The German captain was a class act and a wise general in guiding his troops towards their first 7's Rugby World Cup, displaying a sharp mind every time the egg came his way.
Germany showed their athleticism and a well-worked strategy that kept them on the trail for something special, with Soteras being nuclear for all as he never let his teammates lose their focus, injecting belief and faith while handing out some imposing tackles.
Amaia Erbina (Spain) 
The Spanish hooker just doesn't know when to give up, and thankfully we hope she can keep it that away, as it can be the difference between winning or losing, from going to a 7s World Cup to showcase her and her team's abilities.

Amaia Erbina should be considered as one of the most talented defenders of European 7's, working tirelessly in every set-piece and opposition play, always on the prowl for a turnover to ignite a swift counterattack that can become something special for Spain, as it was in the final against Belgium.
Isla Norman-Bell (England) 
England had a peaceful time in the pool stage but were pushed all the way in the final against the Czech Republic, and in their time of need Isla Norman-bell showed up to score crucial tries, which became the golden ticket to get themselves into the World Cup.
One of the youngest players in the English setup, the 22-year-old finished her campaign with 4 tries, 6 assists, and incredible turn of pace that breathes life when things get tight.
By Francisco Isaac