Waiting to hear if you have been selected for a big match or a showpiece tournament is a nervous time for all sportsmen and women, but it is also a nervous time for officials.
As a result, Portuguese rugby referee Paulo Duarte was a happy man midway through April when it was confirmed that he would be one of 22 match officials heading to Japan in July to play their part in the Tokyo Olympics sevens events.
The 22 selected come from 12 countries spread across four continents and the number includes eight female referees with Paulo getting the nod to be part of the women's tournament which runs from July 29 to 31 in the Tokyo Stadium. Before that the men's event takes place in the same venue between July 26 and 28.
Paulo will be in action before Tokyo when he officiates at the World Rugby Sevens Repechage in Monaco in June when the final qualifiers for the Olympics - men's and women's - will be decided.

"I am honoured and excited to be selected to take part in the Olympics," 32-year-old Paulo, who has a lot of sevens experience on the World Sevens Series under his belt and took charge of the final at the Youth Olympic Games in Buenos Aires in Argentina in 2018, said.
"As a child everyone who gets involved in sports starts to dream about one day being involved in the Olympics, it is the biggest event in the world.
"Obviously with the Tokyo event having been delayed a year and the ongoing pandemic likely to mean smaller crowds and make this Olympics unique, it will be different for everyone involved, but it is still the event that all sportsmen, sports women and officials want to be at.
"From now until the Games I will be working hard on my fitness levels as sevens matches are short and sharp and require you to be everywhere on the pitch while I am so looking forward to being part of one big team with the other officials who have been selected.
"People often think about being an official as quite an isolated job, but we all work together and support each other - I know a lot of the others selected already as friends and colleagues so that will make the experience even more special.
"And, of course, I am looking forward to representing Portugal on the big stage and showing young up-and-coming rugby officials in my country what can be achieved and maybe encourage others to take up the whistle."
Paulo was part of the Rugby Europe officials team for the first time in 2021, where he took charge of Georgia v Russia in February and then Georgia v Romania in Tbilisi. 
So, how did Paulo, who is from Lisbon originally, get into refereeing?
"I took up rugby quite late, I was about 15 at school some of my friends were playing and I was keen to give it a go," the man who started on the wing and ended up playing back-row explains.
"The first training session I went to I really enjoyed and I started to train and play a lot, but because it is a sport that isn't seen a lot on TV in Portugal I sometimes struggled with the complexities of the sport over the next two years.
"Someone at the club I was playing at was a former international referee and he tells a story that when we were playing beach rugby at the end of one season I queried one of his decisions not to give an offside.
"In that moment he felt that I had a natural eye for the laws of the game and he suggested I should go on a refereeing course."
In 2006 a project for young referees was started in Portugal and Paulo earned his stripes by refereeing under-10, under-12 and under-14 games and tournaments.
While he was doing that, he was still playing rugby too and he feels that doing both at that stage gave him a greater insight into the laws and how they were applied and both contributed to develop my refereeing and playing experience.
After the 2009/10 season Paulo hung up his playing boots after some niggling knee injuries which affected both his ability to play and to referee.
"The injuries were also affecting my work out with rugby, so I decided it was best to stop playing and try and focus on my refereeing," he continues.
"I wanted to be still involved in the sport that I love and I felt that refereeing was the best way to do that.
"My fitness levels were already good, so I started working on my game management and I would go to local club team training sessions in and around Lisbon and just ask questions and learn more about the sport.
"That really helped me and after officiating top domestic matches in Portugal I was handed my first international sevens appointment in 2011.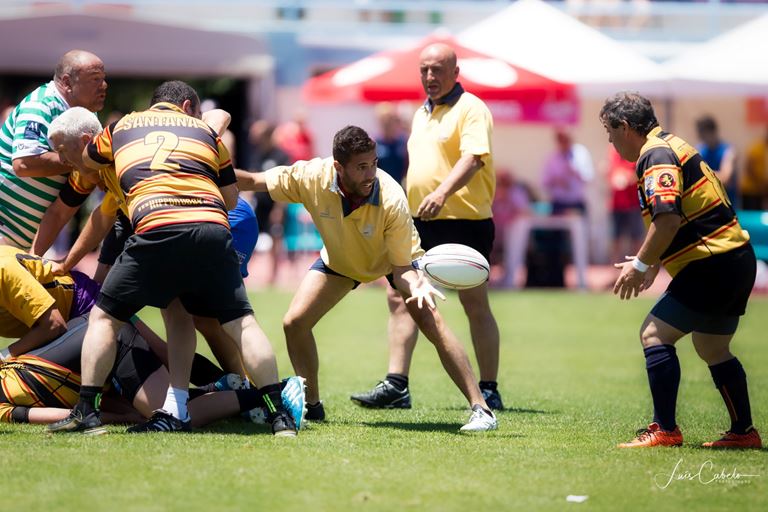 "In 2012 I then spent some time with other referees in Stellenbosch, South Africa, working on my refereeing in the TOP programme, a World Rugby programme for Tier 2 match officials.
That was my first exposure to a high performance environment, so I had a feeling of what it would take to be a high performance referee. I was identified by the union as a sevens referee and from then onwards really starting to focus on sevens refereeing mainly."
Paulo describes 2013 as a "game changer" for him as he started training with the Portuguese men's national team squad.
That really helped his fitness levels and augmented his knowledge of the laws and he continued to get appointments at different levels around the world.
He also went to the Twickenham Sevens in London around that time and began to dream big - "I said to myself 'one day I want to referee on that big stage'".
"Then in 2014, at the Olympic Universiade in Kazan, Russia, my first game went very badly from my point of view," Paulo continues.
"I had a one-on-one meeting with the performance reviewer at the time and he told me I needed to work harder. I decided I had to improve and take my refereeing to the next level if I wanted to continue.
"Over the next year or so I worked so hard on my fitness and on my refereeing in general and I went to as many events and competitions as I could - for example the Dubai invitational Sevens, the Amsterdam Sevens and the Safaricom Sevens - so I could get more and more sevens matches under my belt.
"Most importantly I started to focus game on game, never looking too far ahead, and that is something that has been good for me since then over the last few years.
"You have to be focused in the moment as a referee because so much can be going on and I need to referee what is in front of me.
"That focus and hard work has helped me climb the ladder in terms of refereeing and I feel in a very good place now and cannot wait for Tokyo."