The U20 Championship takes the main stage this November. This is the last step before these players become full-fledged senior units, and the U20 Championship is the best platform to make a name for themselves.
Here are our picks of names to watch for this Sunday!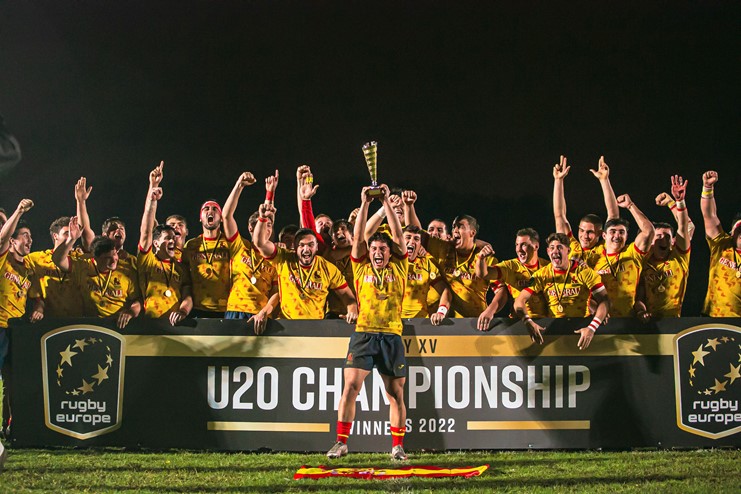 FORWARDS
Francisco Almeida (Portugal) – in line with past Portuguese locks, like José Madeira, Francisco Almeida possesses the same defensive skills: a pin-point tackle and a lethal breakdown poaching technique. The 19-year-old lock will play a vital role in Portugal's dreams of reaching the final.
Mart Van der Veen (Netherlands) – Martin Van der Veen was one of Netherlands's main standouts in the U18 2022 Championship and is expected to do as well for the U20 this season. The loose forward is a powerful presence built to squeeze the ball out of the opposite carrier and drive his team forward;
Paul Gérard (Belgium) – Paul Gérard already made his Rugby Europe Super Cup debut and scored a try in his first game for the Belgian franchise. The loose forward is an aggressive tackler, a relentless unit, and someone that be Belgium's main star.
Mihai-Daniel Chirica (Romania) – brother of World Cupper Cristi Chirica, Mihai-Daniel Chirica is a dominant force and a unit that can make the Romanian scrum exit a threat to any defense. He is also a ruthless tackler, one that simply doesn't know how to give up;
Jake Wisniewski (Poland) – one of Poland's best young talents, Jake Wisniewski will be sure to shine not only in the scrum but also in open play, as his speed and agility are impressive for a loosehead prop.
Filip Duda (Czechia) – He can jump high in the lineout; he can steal anyone's highball; and he is a ferocious jackler. Filip Duda is one of the Czech's Republic most exciting prospects and one that will help his country reach new heights.
George Hallam (Switzerland) – Switzerland will be making their debut in the U20 Championship, and George Hallam will be one of their main assets, as the flanker is a prominent defender and a dedicated off-the-ball worker.
BACKS
Manuel Vareiro (Portugal) – fireworks and excitement, that's what Manuel Vareiro will be bringing to the pitch when the U20 Championship starts. The backline unit can play any role between 10 and 15, and that multitasking ability can work wonders for Portugal;
Vikas Meijer (Netherlands) – a kicker that can take any conversion be it 10 or 50 metres, centre or at the sides, gifting Netherlands a massive advantage when they get a penalty, but it isn't his only quality. The fly-half knows how to slice open any opposition and push his teammates to go in the gain line;
Arthur Bonhomme (Belgium) – Like his teammate Paul Gérard, Arthur Bonhomme has already made his debut in the Super Cup and shown some impressive skills, be it his running or passing skills (can pump a 30-meter pass with ease), which will make Belgium a more impressive threat.
Paul Mihai Graure (Romania) – the Romanian fly half played in the 2023 Rugby World Cup and will be a massive addition to the U20 "Oaks". With a powerful boot to his name, Paul Mihai Graure is sure to make an instant impact on his country when the Championship starts.
Patryk Chain (Poland) – Another first five-eight that makes the list, Patryk Chain deserves to be recognized as one of the most electric and fun backs of this U20 Championship crop, and will certainly be one of Poland's highlights of 2023.
Adam Miracky (Czechia) – he has made a name for himself in the 7s competitions and the U18 championship, thanks to his top speed, insane pace, and kick-and-chase abilities. If any tackler turns his back on him, Miracky will just take the hint and score tries.
Watch all the action on rugbyeurope.tv 
By Francisco Isaac