A new year and a new batch of youngsters are ready to take the centre stage of the U18 Rugby Europe Championship.
Georgia, Portugal, Spain, Belgium, Netherlands, Romania, Switzerland, and Czechia will challenge each other for the right to be crowned champions. The U18 Rugby Europe Championship is set in a bracket format, and each side will play three games spread throughout the 11th and 18th of November.
Georgia are the title holders, having won every edition since 2018, and the tournament has been a stepping stone for players like Davit Niniashvili, Beka Gorgadze, Raffaele Storti, João Granate, Adrian Motoc, Alin Conache, and many others.
A competitive setting that demands the very best from each team and player, the U18 Rugby Europe Championship is set to deliver yet another blockbuster edition. To help you find your footing, here are 16 players to keep an eye on.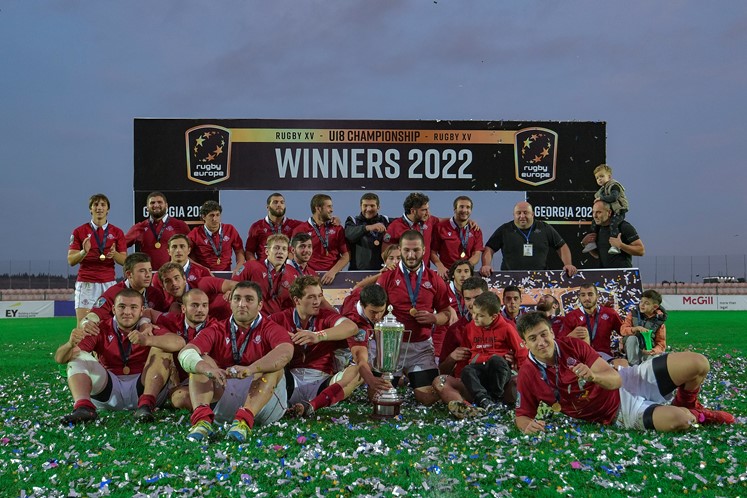 FORWARDS
Andro Davali (Georgia) – the young "Lelos" loose forward is a gifted tackler prone to leave the opposite carrier on the ground. He also can steal the oval ball with a finesse that would make Mamuka Gorgadze proud. 


Floris Versteeg (Netherlands) – scrummaging should be his middle name, as Floris Versteeg is a front-row that has a powerful bind and an even stronger pushability, that will make the Dutch set-piece a spectacular asset for the Championship. 


José Lavos (Portugal) – The loose-forward set-piece input will be decisive for how well Portugal will do in the scrum and lineout. Lavos is also a relentless tackler, one that doesn't lose track of his target.


Alberto Gómez (Spain) – A ferocious scrummager and a powerful ball carrier, Alberto Gómez is on route to become a future standout at the senior level. The U18 Championship will be the perfect stage to showcase his front-row talents, but be weary he can also play quite well in the open game. 


Thomas Wickham (Belgium) – a swift flanker capable of not only throwing powerful tackles but able to slice open the opposite side and quickly race until the try-line. 


Martin Černohorský (Czechia) – The hooker was one of Czechia's top performers in 2022, powering through, leaving a trail of broken tacklers behind and putting up a physical show that needs to happen again this season. 


Albert Gorneanu (Romania) – he is in line to be one of the future front-rowers to shine for Romania, not only because of his set-piece work but also due to his carrying agility and top work rate. 
BACKS
Giorgi Khaindrava (Georgia) – Giorgi Khaindrava was part of the 2022 Champions team and will be a standout player in 2023. His handling skills and high tempo will gift power the Georgian centre combo and deliver a striking blow to anyone who doesn't rise to their challenge


Niek Doornenbal (Netherlands) – smooth passing skills, resilience, and intensity that would make anyone smile, and a gift to turn things around for any team he plays on. Niek Doornenbal will be Netherlands scrum half and will be a concerning headache for any opposing side. 


Teo Bacchetta (Switzerland) – Teo Bacchetta is a back-line unit that loves to sprint, chase, and escape his tacklers and has already shown glimpses of his abilities in the U18 7s competition.


Guilherme Vasconcelos (Portugal) – the Portuguese centre has already shined in the U18 Championship, when in 2022 he helped his side reach the final, adding a massive defensive display game after game. His knowledge of the game is another plus of the Portuguese captain.


Jaime Powys (Spain) – Eighteen and already playing in the senior top league of Spain. Jaime Powys is a slick and joyous fullback ready to sow panic and doubt in the opposite side. His kick and chase ability can be decisive for Spain's title hopes. 


Liam Duncan (Belgium) – Liam Duncan's commandeering capability and kicking skills are going to be helpful tools for Belgium to finish in the top 4. It won't be a first as in 2022 he was one of the main standouts for the Belgians, helping them to finish in 4th. 


Sebastian Tofan (Romania) – Sebastian Tofan is a name you will be hearing in years to come, as the centre can turn the tide of the game with just a powerful and firm carry. He can also make good use of his feet, and that will serve his team well;
The U18 championship starts next Saturday with Netherlands and Belgium as the opening game. Follow all the action in Rugby Europe TV or YouTube channel.