When Georgia's 18-year-old starlet Davit Niniashvili came off the bench against Ireland in Dublin on November 29, 2020 in the Autumn Nations Cup for his full international debut he fulfilled a dream that he had had since he was eight-years-old.
He'll now have his hopes on representing his country in the final round of Rugby Europe Championship fixtures, where the champions-elect host Russia on Sunday 7 February.
In that match at the Aviva Stadium he entered proceedings in the 66th minute and the following week he came off the bench again against Fiji at BT Murrayfield in Edinburgh for cap number two.
He now wants to kick on in 2021 after getting a taste of the big time and the utility back said: "I first joined in with a national team training camp last May when I was just 17, I was dazzled and excited.
"My family members and friends were joyful when I made my debut. I will do my best to live up to their hopes in the future and play to the best of my abilities with the national team.
"Before and during the Autumn Nations Cup we spent a very long period of time together as a squad and this helped me to get used to things and understand the movements of other players and what the team wanted from me.
"Now I hope to get invited to national team training again and if I get to play more games I will do my best.
"Having participated in a tournament of the level of the Autumn Nations Cup with my national team, it has increased my motivation even more."
(Below Georgian team after winning the U18 Rugby Europe Championship in Kaliningrad in 2019.)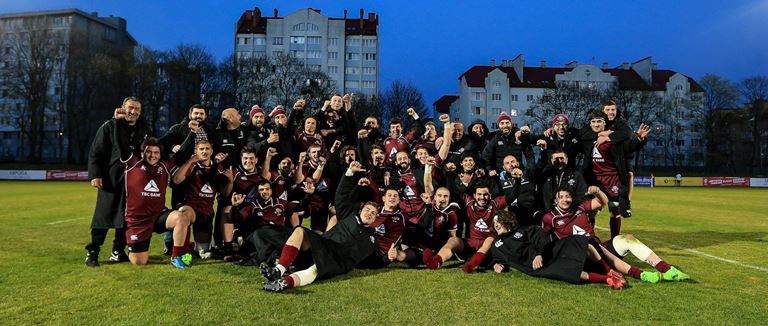 So, how did Davit get into rugby in the first place?

"I started to play rugby at the age of eight when I was at school," he explains.
"After some time I shifted to wrestling for two years, but then I finally returned to rugby and have never looked back, I grew so fond of the game and wanted to see how far I could go in the sport.
"Georgia's national team getting to World Cups and being on the TV in big matches also made the sport attractive to me.
"And I remember the Georgia versus Argentina match at the World Rugby under-20 Championship in 2017 very well. It was a big honour for us to host that tournament and in that game Georgia won [26-25 in the ninth-12th place semi-final] and I left the stadium [in Tbilisi] happy."
As well as leaving the stadium in the Georgian capital happy after that match, it also left Davit determined.
Davit grew up playing his rugby for Khvamli in Tbilisi and last year they played in Regional Division [the third tier Championship in Georgia] and got promoted to the First Division [the second tier Championship in Georgia].
That meant that when Davit was invited to train with the full national team squad for the first time he had not played a single match in the First Division.
However, he is a fast learning and a determined character while the club have high hopes and are aiming to make it into the Didi 10 [the first tier Championship in Georgia] soon.
In 2019 and he was a big part of the Georgian under-18 team that defeated Spain in the final of the age-grade European Championship in the Russian city of Kaliningrad.
The young Lelos won 20-10 with Davit at full-back and he recounts "I was very happy to win that match with my friends for our country".

He is just one of a number of the players from that age group who are now breaking through at the next level and he continued: "Georgia always produces strong players and now there are even more opportunities for this as participation numbers in youth rugby are increasing and training conditions are much better than they were in the past.

"I have no doubt that the valuable experience that some of us had with the under-18s - when the team grew from game to game, when the players and coaches could feel a change - has helped me get to where I am and will help me more in 2021."

An exciting future in the game beckons for Davit Niniashvili - remember the name…
By Gary Heatly
Images by Tishina Elena