Rugby Europe has announced the new format for their premier men's competition, The Rugby Europe Championship (REC), taking effect from the 2023 edition.
The REC has been expanded from 6 to 8 teams. On the back or Russia's suspension, three new countries have been integrated into next year's competition, which will now include Belgium, Germany, and Poland. The REC will also feature an exciting new format where everything will be at stake until the very last game of the competition each year:
The 8 Nations will be split into two pools, using a serpentine system based on the results of the last 2 seasons:

Pool A: #1 Georgia, #4 Spain, #5 Netherlands and #8 Germany
Pool B: #2 Romania, #3 Portugal, #6 Belgium and #7 Poland

20 games will be played throughout February and March 2023
Each team will still play five fixtures, regardless of their ranking.
Round-robin phase the first 3 week-ends of February 2023, 4 games each week-end
Play-offs system after the pool phase: Semi-finals between the top 4 teams and the bottom 4 teams played on March 4-5 (4 games)
The tournament will culminate with a "Grand Final" week-end on March 18-19 where all positions from #1 to #8 will be at stake (4 games)
In addition, the pools will be locked with 2 years cycles. The team finishing last of the 2-year cumulative ranking will be relegated to the Trophy division. The team from Trophy having obtained most cumulated points over 2 editions of Trophy will be promoted to Rugby Europe Championship, subject to meeting participation criteria.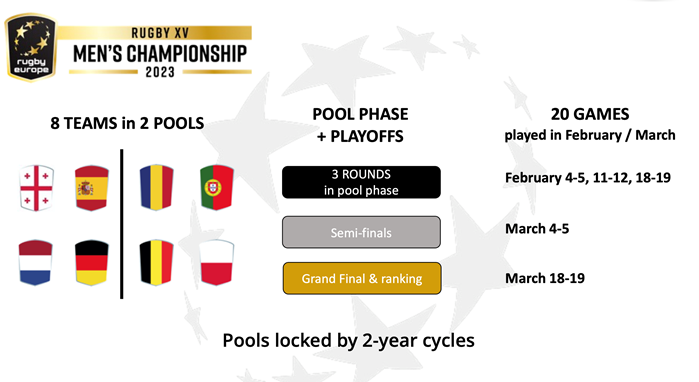 Philippe Tuccelli, Rugby Europe Head of Competitions, said: "This new format aims to increase the interest for our top XV-a-side competition on a sporting side by creating more of a spectacle in who wins the annual title with the integration of the new playoff system. This extension to 8 teams is also a key-point for the development of European rugby to the high-level as we continue to look to grow the game and create opportunities for our countries as much as we can across Europe."
Florent Marty, Rugby Europe CEO, said: "The new Rugby Europe Championship is central to our commercial strategy. On the media side, the competition will now be operated with a fully centralized model, which will offer both a better TV product and an improved narrative for fans, sponsors, and broadcast partners. From a sponsorship aspect, these eight European markets represent the most attractive offer for brands who want to invest in European rugby. This, with our continuous increased digital content offering on social, will continue to grow the fan base for Rugby Europe competitions."
In addition to the Rugby Europe Championship, the other divisions of the XV European Championship have been confirmed and will start from October 1st, involving 31 countries in total.
| | | |
| --- | --- | --- |
| Divisions  | Competing Countries | Dates |
| Men's Championship | Belgium, Georgia, Germany, Netherlands, Poland, Portugal, Romania, Spain | February / March 23 |
| Women's Championship | Netherlands, Spain, Sweden | February / March 23 |
| Men's Trophy | Croatia Lithuania, Switzerland, Sweden, Ukraine | October / May |
| Women's Trophy | Finland, Belgium, Germany, Czechia, Portugal | October / May |
| Conference 1 North | Czechia, Hungary, Latvia, Luxembourg, Moldova | September / May |
| Conference 1 South | Bulgaria, Cyprus, Israel, Malta, Slovenia | October / April |
| Conference 2 North | Andorra, Denmark, Finland, Norway | October / May |
| Conference 2 South | Bosnia-Herzegovina, Serbia, Montenegro, Turkey | October / May |
| Development  | Teams to be confirmed |   |
The detailed competition's schedule is available on www.rugbyeurope.eu 

All games will be live-streamed on the platform – www.rugbyeurope.tv

Specific broadcast arrangements for Men Rugby Europe Championship will be announced in due course