Here we are at the doorstep of the Men's Rugby Europe Championship Grand Finals, dotting a perfect end to what was another great year for the tournament, full of brilliant tries, spicy plays, and star players.
As we did for the semifinals, let's look into some of each team's best stats to understand some of the aspects that will give the teams the upper hand come Sunday!
Georgia vs Portugal: Efficiency vs Intensity
Let us start with an interesting detail: Rodrigo Marta and Vincent Pinto needed 338 and 201 meters to score six tries collectively while their Georgian counterpart Akaki Tabutsadze only required to notch up 165 meters to bag the same amount of tries. What does this tell us? That in terms of lethality, Georgia seem to be one step ahead of the rest, as they have more tries than Portugal but didn't need to run more meters or force more clean breaks, efficiently making good use of ball possession to reach the whitewash.
But this doesn't mean that Georgia will dictate the match flow, as Portugal have a couple of stats that balance the scale; the number of defenders beaten and crossing the gain line. In both aspects Portugal have almost complete domination as they have 7 players in the top 15 with Rodrigo Marta on top in both.

Now, a slight concern for Portugal could well be the number of lineouts lost. Against Spain, the Lobos forward pack only won 50% of their own throws, losing seven, which helped fuel Spain's chances of defeating their Portuguese rivals in Lisbon. Thankfully for the Portuguese, there was the dynamic Samuel Marques pushing teams comeback.
In comparison, Georgia have only lost one in forty throws, capitalising the lineout as a perfect platform to start some of their most deadly offensive movements, or, of course, use the maul to crash inside the opposition's try-area. With Giorgi Chkoidze and Shalva Mamukashvili running things smoothly, Georgian can expect good news on Sunday from their set-piece.
It's going to be an incredible and intense final, and we will certainly be on the lookout to see how Georgia and Portugal make use of their best areas of the game to run towards the title.
Spain vs Romania: Physicality vs Pace
Spain and Romania will contest the Bronze Final, it will certainly be an interesting duel.  Los Leones have shown a strong physicality throughout the competition, while Romania have produced some great rugby with their quick pace and attacking prowess, clinching some of the best tries so far in 2023.
One stat where the Oaks have dominated is the most meters ran, as Taylor Gontineac (281), Paul Popoaia (214), and Hinckley Vaovasa (211) sit in the top-10 and are three of the most dangerous players on the scene and have scored 22 tries so far this season.  

Two stats deserve to be under the spotlight where Spain are concerned: tackle effectiveness, and turnovers. Spain have remained strong on the physicality front, and the way they have hindered their opposition's breakdown should be a warning for Romania. 
Los Leones have forced an unbelievable seventeen turnovers in four matches, also adding an extra five penalties committed by the opposition.
Concerning the tackling stat, Spain only trails behind Portugal and Georgia with the best percentage tackle effectiveness (92%), and that combined with their turnover skills can be a pathway to finish in 3rd place.
So, on one side we have a team proficient with the ball in their hand and on the other, a resilient side that loves to work in defence.
Netherlands vs Germany: Set-Piece Power vs Kicking Mastery
From promotion in 2022 to battle to finish in 5th in 2023, Germany will face another stern test against Netherlands in Amsterdam.
Netherlands have scored eight tries from the maul, and what is more impressive is the fact that their lineout throw efficiency is down to 70%, which tells you how deadly they are when everything clicks.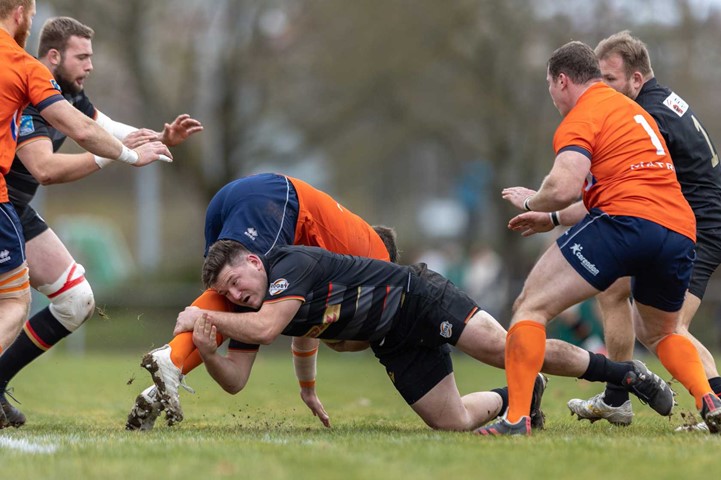 Combined with a superb maul, the Dutch team possess a rock-solid scrum. Throughout the pool stage they managed to compete with the likes of Spain, Georgia, and Germany and led their opposition to concede a total of eight penalties in the four matches.
For Germany, the fact they are facing one of the most stable forward packs in the competition means that they have to excel on the counter-attack, especially if they can kick the ball deep and pressure Netherlands inside their territory. Edoardo Stella, Leo Wolf, Oliver Paine and Raynor Parkinson are all proficient kickers, and have instigated three tries thanks to their smart grubers, cross kicks, or chips.
A total of 1400 kicking meters have helped Germany to contain their adversaries throughout their 2023 international season and can be the backbone for a memorable victory on Sunday.
Poland vs Belgium:  Creativity vs Jackling
Poland and Belgium, two teams who have shown moments of brilliance, and now seek to finish strong. Let's look into some of Poland's most curious stats, for example, the offloading.
Chris Hitt's men have successfully clinched 16 offloads in the Championship, leading to four of their seven tries scored in the competition, with Player of the Pool Stage, Piotr Zeszutek scoring three tries and has one assist.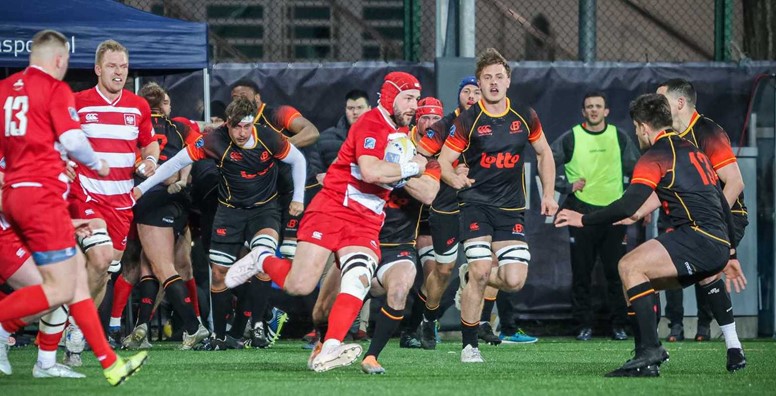 Belgium have completed 31 successful jackals, and this can be pivotal if Mike Ford's team wants to pull a win in Amsterdam. Wonderkid Florian Remue turned over seven times, followed by Ryan Godsmark (5), and Maximilien Hendrickx (4), meaning this is a team skill that can lead to bigger things.
Poland should be wary of one stat, discipline. The Polish side has conceded more than 35 penalties, eight more compared to Belgium, and they need to focus on this aspect  come Sunday if they want to grab 7th place.
Finals Programme on March 19 - The kick-off times will be:
Belgium v Poland: 12:30 pm CET: 7th Place Final (Amsterdam)
Netherlands v Germany 3 pm CET: 5th Place Final (Amsterdam)
Spain v Romania 5.15 pm CET: Bronze Final (Badajoz)
Georgia v Portugal : 8pm CET: Championship Final (Badajoz)
All games will be Live-streamed on the platform – www.rugbyeurope.tv
Broadcast partners will include Sportall/RugbyZone (France), Imedi and Rugby TV (Georgia), Sport TV (Portugal), Teledeporte (Spain), Ziggo (The Netherlands) and FloRugby (North America).
By Francisco Isaac