Paris was the venue for the 104th Rugby Europe Annual General meeting on 25th and 26th of November 2022.
45 unions were present across the two days with various presentations, case studies and discussions around the prevalent topics within the European rugby continent.
Some of the topics discussed included the General Secretary's report highlighting some of the key achievements throughout the year, the approval of the financial statements and several case studies on various areas of success from the Netherlands, Croatia and Latvia.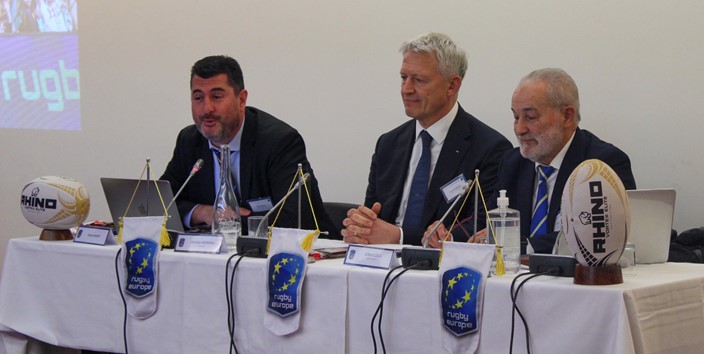 Jason Lewis was present to deliver an update from World Rugby, while there were also updates from Rob Udwin (Rugby Committee), Antonio Cruz Ferreira (Player Welfare sub-committee), Francesca Gallina (Women's sub-committee), Jens Aage Skare Nilsen (Development sub-committee), Michiel van Dijk (Disciplinary Committee), Salvatore Zandona (Business Committee), Veronika Muehlhofer (Audit and Risk) and Christian Dullin (Legal & Regulations Committee).
Votes were passed on the changes to the Bylaws reform on Gender Balance and a recommendation from the Legal and Regulations Committee on the functionality of various Committees.
This concludes an important year of growth in women's rugby and is significant milestone for Rugby Europe, with a passionate and dedicated working group taking the game forward.  The Rugby World Cup and the Women's Forum held in May in Italy were just two of the many highlights of 2022.
A longstanding tradition of Rugby Europe, with this year being no exception, is to award those who have contributed towards the game, be it on the pitch or off it.
The medals have three categories, Bronze, Silver and Gold and can be granted to members, officials, referees, players and any other person who has directly or indirectly participated in Rugby Europe activities and contributed to European Rugby development.
Gold Medal
The Ukrainian Rugby Union were this year awarded the Gold medal to honour the union and its community with the highest award available in ensuring that rugby was able to continue at numerous levels during the conflict. The award was presented by RE President Octavian Morariu to Mr Adamyk and Mr Rewko who were present.
Before the meeting began a minute's silence was also paid to those who have lost their lives in the region who were very much part of the rugby community.
Silver Medallists:
Atanas Zafirov (Bulgaria) – He has held the position of President of the federation for 10 years and has shown motivation and passion for the development of the game.
Andris Ozols (Latvia) – The first qualified rugby coach in Latvia, and now an educator and first President of the federation in 1991
Veceslav Holjevac (Croatia) - Working daily for the development of rugby in Croatia, whilst also travelling around Europe to help us set up Rugby Europe competitions. A member of the 7-a-side committee, Tournament Director and Match Commissioner for Rugby Europe's events.
Bronze Medallists
Hollie Davidson (Scotland) - International referee who most recently officiated the Rugby World Cup 2021 Final in New Zealand, as well as creating history leading an all-female match official team for Portugal v Italy men's international in the summer. 
Nika Amashekeli (Georgia) - For becoming the first international referee from an emerging country to officiate a 6 Nations match.
Manuel Wilhelm (Germany) - 10 years of service within the federation. He has held several positions, such as Sports Director and Director 7s Rugby, and is now CEO of the organisation.
Irmantas Kukulskis (Lithuania) - President for many years and works tirelessly for the development of the sport in Lithuania. He is also a member of the Business Committee of Rugby Europe.
Joao Paulo Bessa (Portugal)  - Former International XVs player. 7 Portuguese Championship as a player.  Coach of Sevens Portugal National Team (World Cup Sevens 1997), XV Colts Portugal National Team (1980/1982) and XV Portugal National Team (1983/86 and 1994/1999, Qualifier World Cup 1999), 4 Portuguese Championship as a coach and Portuguese Union Educator since 1980. Honoured for all his contributions to the development of rugby in Portugal.
Neil Johnson (Sweden)  - Has been working tirelessly for 32 years to develop the sport in Sweden. He is a coach, President of a Club and Federal Technical Director.
Staff Awards
Two awards were given to José Gorrotxategi (Rugby Services Manager) and Maxime Cotis (International Relations & Finance Manager) for their services to the organisation during their years of employment with Rugby Europe.
Rugby Europe would like to thank everyone who has contributed to the success of rugby in the continent throughout the year, be it players, officials and volunteers and look forward to continuing to drive the game forward throughout Europe in the coming year.