Samuel Marques led the way with 18 points as Portugal bounced back from 14-0 down to defeat Spain in the Jamor Stadium in Lisbon on Saturday afternoon.
This Rugby Europe Championship 2021 continues to keep on giving, another cracking game being played out in the fourth weekend of action.
Both sides went into this meeting having lost two from two and, after a topsy turvy clash, Patrice Lagisquet's men came out on top 43-28 in what is a massive triumph for them given they were 24th in the world at the start of play and Spain 19th.
After a flying opening spell, Spain head coach Santiago Santos and his charges were left to rue poor discipline once again, just like in Romania in week three.
Spain got off to a good start and nearly scored the first try very early on. They got close to the line and almost went over, but second-half Manuel Mora was penalised for a double movement.
They did score soon after though, hooker Marco Pinto making the most of a strong drive by the pack in the fourth minute to bag five points. Stand-off Manuel Ordas converted.
Things got worse for Portugal a few minutes later, scrum-half Marques being yellow carded.
With two minutes of Marques' time in the sin bin left, second-row
Jose Madeira was also yellow carded in the 15th minute and the home side were down to 13 men.
Just as Marques was about to return to the fold, Spain's second try came through scrum-half Guillaume Rouet after another powerful forwards move. Ordas converted.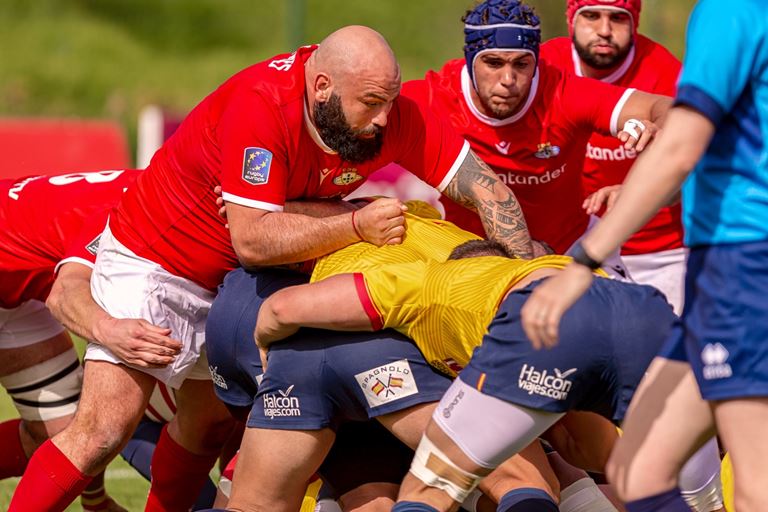 Just before the end of the first quarter Portugal centre Jose Lima blocked an intended clearance kick by Spain full-back Charly Malie.
Portugal winger Rafaele Storti pounced on the ball and thought he had scored a try, but Malie recovered to get his hand on it first to deny a score.
A try from No.8 Rafael Simoes - converted by Marques - then gave Portugal, back to 15 men, some hope.
Spain scored their third try through Malie in the 37th minute after a flowing strike move. Ordas converted and they led 21-7, but there was still time for Portugal to bag their second try before the break.
It was a beauty too, a great break through the defence from full-back Nuno Sousa Guedes setting up stand-off Jeromino Portela to go over. Marques converted and it was 21-14 after a pulsating half of rugby.
That Portela try gave Portugal confidence and in the 46th minute they went level. A lovely kick by Portela was weighted perfectly for winger Rodrigo Marta and he scored. Marques converted and it was 21-21 and very much 'game on'.
Two minutes later Spain winger Fabien Perrin tackled Portela in the air as he took a high kick and the referee Ludovic Cayre consulted with his TMO.
Portela was deemed to have landed on his head, so Perrin was sent off and for the second week in a row Spain were going to have to play shorthanded for a large part of the second half.
Portugal made them pay when Storti ran a great line to go under the posts for his side's fourth try which was again converted by Marques.
The next flashpoint was just after the hour mark.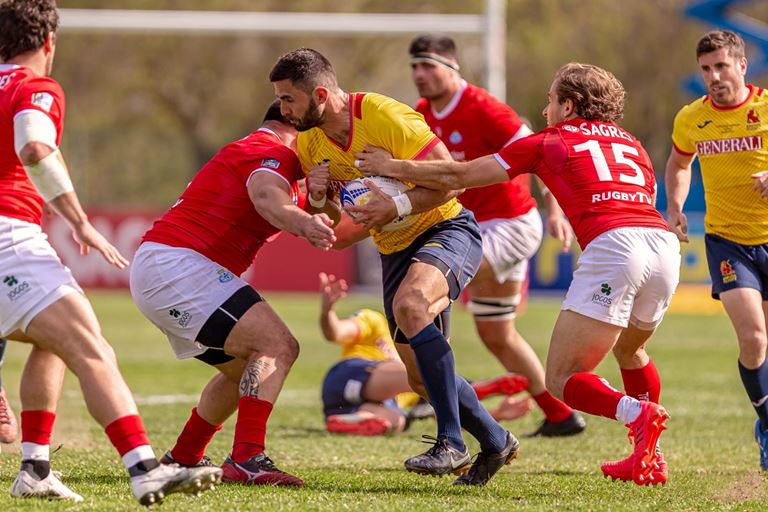 The dangerous Sousa Guedes burst through and, as he tried to pass to a team mate, his opposite Malie knocked the ball down deliberately and was yellow carded.
For the next 10 minutes it meant that Spain were down to 13 men and, seconds into that period, a Marques penalty made it 31-21.
With 13 minutes to go Storti set-up Marques for Portugal's fifth try and when the same man converted it was 38-21.
Spain were not done though and just around the same time as Malie returned to the fray they scored their fourth converted try.
Ordas was the man with it - and the drop goal conversion - to put them 10 points down with nine minutes to go.
With two minutes to go Portugal replacement Francisco Fernandes scored his side's sixth try. It was not converted by fellow sub Dany Antunes, but this was a fabulous result for skipper Tomas Appleton and his men.
Scorers:
Portugal: Tries: Simoes (28). Portela (39), Marta (46), Storti (53), Marques (67), Fernandes (78). Pen: Marques (61). Cons: Marques (28, 39, 46, 53, 67).
Spain: Tries: Pinto (4), Rouet (17), Malie (37), Ordas (71). Cons: Ordas (4, 17, 37, 71).

By Gary Heatly
Images: Luis Cabelo