The pool stage of the 2023 Rugby World Cup has finally come to a close. After 36 games played in five weeks, the tournament had the perfect Cinderella story to wrap up its final weekend.
Patrice Lagisquet's men sent shockwaves through the rugby world community thanks to a last-minute try to defeat Fiji and award them a first Rugby World Cup win. Samuel Marques converted Rodrigo Marta's try, and after securing the restart kick, Jerónimo Portela launched the ball into the Toulouse sky to complete the goal the team had set before the start of the World Cup. 
The "Lobos" showed the same efficient defensive work and clinical counter-attack seen in the 2023 Rugby Europe Championship, tackling Fijian players 178 times, in one of the most impressive displays of their season. 
Patrice Lagisquet was a happy man by the end, "I don't know what to say. I am always afraid of big words but it is a fantastic moment. The players surprised me one more time. I knew they were capable of going into the last bit of action but I couldn't look at the scoreboard. It is not the first time they have played that kind of trick on me.".
Portugal's head coach revealed what popped into his mind when Raffaele Storti made the final and critical clean break,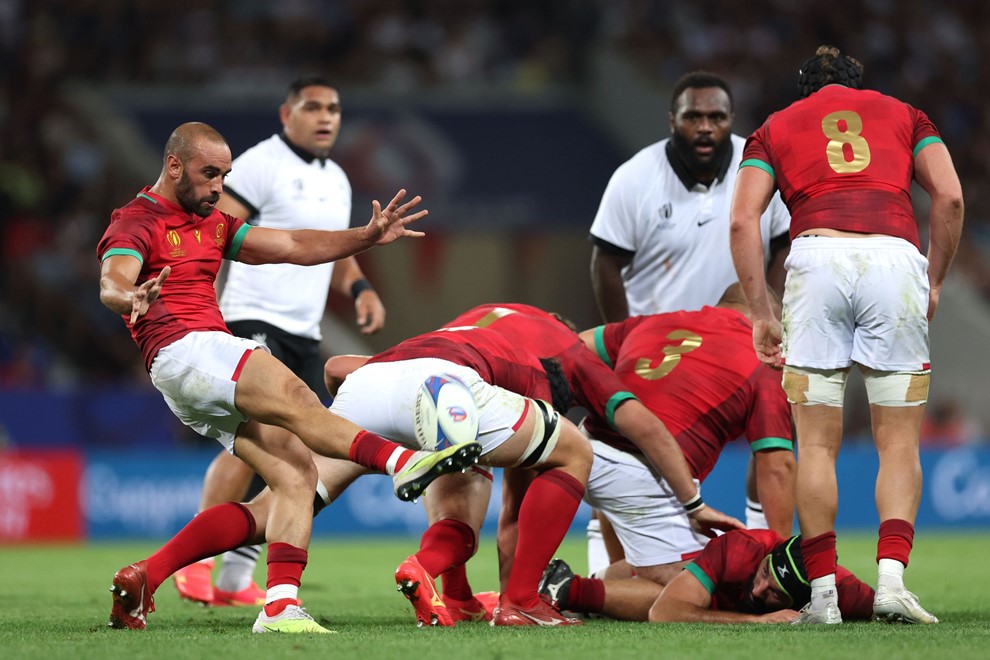 "I was just asking him to "pass the ball!". On past occasions he held it and we lost some tries, but tonight he made a masterful decision. Maybe it was because it was Rodrigo Marta who asked for it.".
Mike Tadjer who bids farewell to the National team after a stellar career confessed that, "It is the proudest day of my life. I have no words for the amazing support in the stands. We wanted to win, and it's the end that they always dreamed.".
Portugal finished in 4th place in Pool C with 6 points, overtaking Georgia. The Georgians played brilliantly against Wales but were unable to take down the pool leaders. The "Lelos" were close to moving to the lead when there were only fifteen minutes to be played, this after an individual solo try by Davit Niniashivili.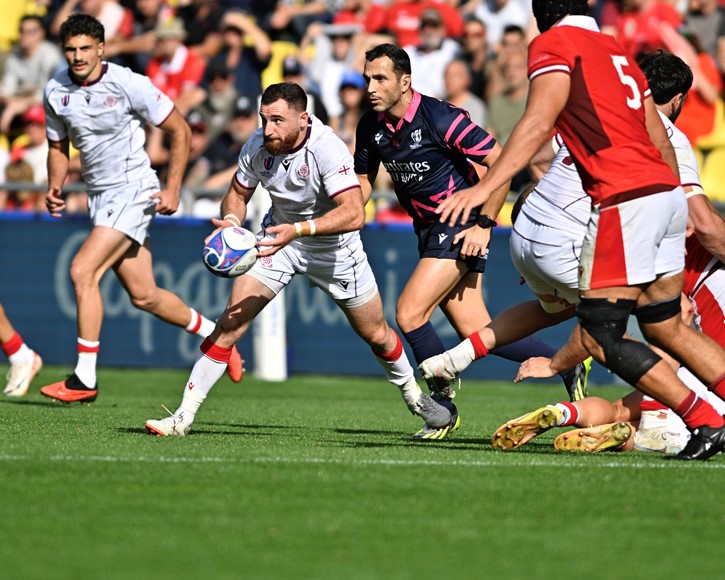 The winger was once again one of the main standouts for Georgia, carrying the ball for more than 100 meters and creating three clean breaks. The young Georgian star finished the pool stage as the second player with the most meters ran and the fourth with more clean breaks and defenders beaten. 
The "Lelos" played their last match with a couple of impactful omissions, as Beka Gorgadze, Lasha Jaiani, and Miriani Modebadze were out due to injuries. Even so, Georgia fought for an upset until the final ten minutes, although they came up short as Wales showed their power to finish 43-19.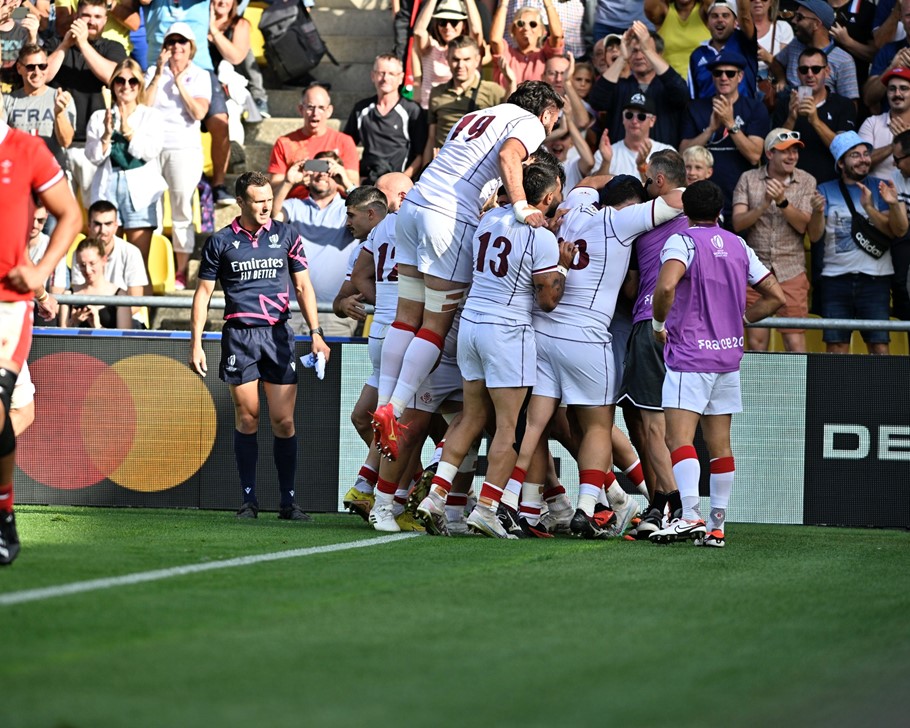 Levan Maisashvili was expecting a close match, but the end result wasn't the desired one, "I am not happy about our performance during the World Cup. We wanted to win at least two games, but every game we tried hard to win. But we never gave up. We had a game plan which we couldn't stick with and some mistakes which gave the advantage back to our opponent.".
Captain Merab Sharikadze shared his disappointment, as he thought Georgia could've won, "We are disappointed not to win any matches. We played some quality rugby. "But as for our fans, we are happy and honoured and I promise our supporters that sooner or later we will bring them some victories"
Romania made a strong final appearance in Pool B, producing some of their best rugby of the tournament.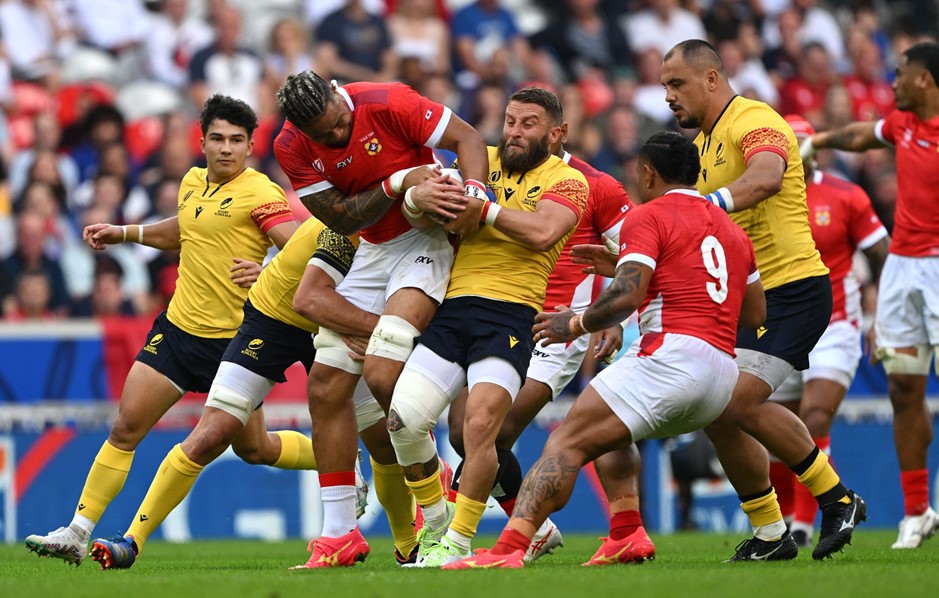 Eugen Apjok's team didn't start well, allowing Tonga to score three uncontested tries. Half an hour in, and the Oaks reaction came in full force. First with a brilliant lineout try capped off by Cristi Boboc, diving inside the goal area after a series of quick offloads and ferocious carries. 
As the two-time Rugby Europe Championship winners gained momentum, a second try would come to fruition, and what a moment it was; Florin Surugiu, tricked the Tongan defense in a scrum, shifted quickly to the other side, and sprinted to the finish line. The Romanian centurion is the oldest backline player to ever play in a World Cup match, and what better way to celebrate it!
Romania grew in confidence at the beginning of the second half, with a Marius Simionescu 5-pointer, but struggled to hold their Pacific rivals, conceding four tries late in the game.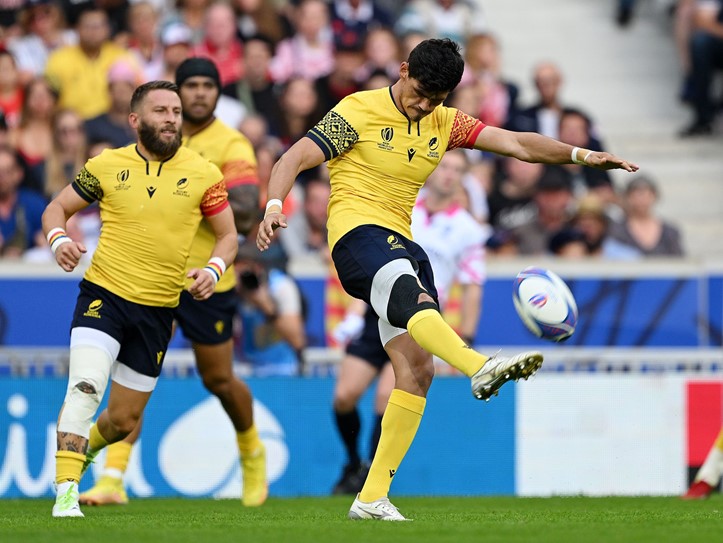 Romanian Coach, Eugen Apjok, said, "Today it was quite clear, we expected more from this game. We had a lot of hope. Since the beginning we had placed our hopes on this match for a positive result. Unfortunately, we didn't succeed in winning today."
Andre Gorin, who also retired after Sunday's match, looked back to his fourteen years as an international player, "I'll always be backing this team. A lot of the players are young, and they've managed to bring out the best of themselves. I take my hat off to them, they can't do any better, unless they go and play in better leagues."
Rugby Europe competitions are now on the horizon with the start of the Rugby Europe Super Cup and Championship 2024. 
By Francisco Isaac 
Photos: World Rugby, Levan Aries