Centre David Weersma held his nerve in Waterloo on Saturday afternoon to kick a penalty with four minutes to go and help the Netherlands secure a place in the Rugby Europe Championship for 2021 after a classic encounter with Belgium.
The Rugby Europe Trophy winners from 2020 have now been promoted at the expense of the Belgians after this brilliant 80 minutes.
At one point the Netherlands led 13-0 before Belgium fought back, but ice cool Weersma was the main man for Zane Gardiner's men with a penalty after 76 minutes to seal a 23-21 triumph.
The visitors started well and a nice kick through from stand-off Jasey Van Kampen set-up centre Bart Wierenga for a good break.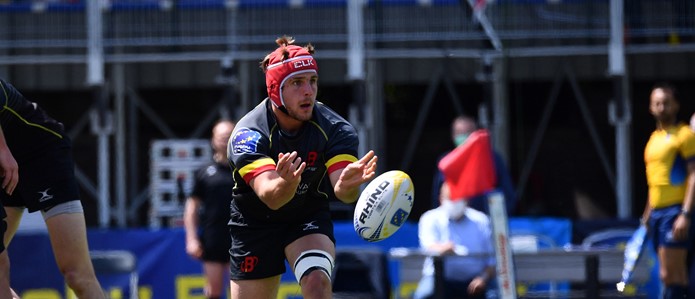 A couple of phases later they won a penalty, but Weersma missed the kick
Belgium got themselves into the Netherlands '22' for the first time in the 10th minute, but they could not build any pressure as they knocked the ball on under pressure from some good visiting defence.
The Netherlands took the lead in the 18th minute when Weersma kicked a penalty before some more Belgian pressure, but again the men in Orange held them out with some aggressive tackles.
Both sides had further chances and there was no shortage of enterprise, but at key moments players panicked and the game remained at 3-0 to the Netherlands as the half hour mark came and went.
The game's first try did come in the 34th minute and it came from the visitors.
Winger Siem Norman made a superb break down the left and then fed centre Weersma who went over for the five points.
The same man converted and they were 10-0 to the good.
Belgium knew they had to try and get on the scoreboard before the break, but centre Guillaume Piron was penalised for not releasing the ball and the scoreline remained as it was at half-time.
The Netherlands came out in the second half looking like a team who wanted to finish the job off and, but for a slight knock on in the build-up, they would have scored their second try through Norman.
A couple of minutes later Weersma missed a kickable penalty, but even though he had let points slide by his side were well on top.
In the 51st minute, Weersma made no mistake with another penalty and it was 13-0 and a long way back for Belgium.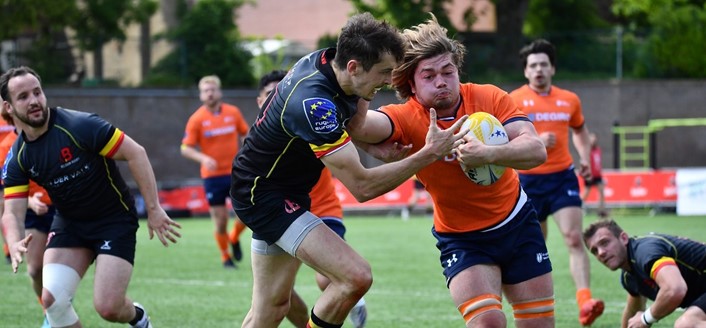 Frederic Cocqu's men knew they had to get the next score and they nearly did when their forwards were held up over the line in the 55th minute.
Two minutes later they did bag the all important try when replacement tighthead prop Maxim Jadot barrelled his way over from close range. Stand-off Alan Williams converted and it was 13-7 and certainly 'game on'.
The Belgian pressure continued and with 15 minutes remaining the Netherlands second-row Christopher Van Leeuwen was yellow carded.
And with 11 minutes to go, Belgium centre Jens Torfs showed his skill and power to go over for a try. Williams converted and they had turned things around to lead 14-13.
Shorthanded Netherlands were not done yet though and a try from Wierenga - converted by Weersma - put them 20-14 up with nine minutes to go.
Three minutes later Belgium scored their third try, No.8 Thomas De Molder crashing over with Williams converting.
Then Weersma scored the winning three points - and that was the way it stayed despite the Netherlands best efforts after a breathless match.

Belgium: Tries: Jadot (57), Torfs (69) De Molder (74). Cons: Williams 3 (57, 69, 74).
Netherlands: Tries: Weersma (34), Wierenga (71). Pens: Weersma 3 (18, 51, 76). Cons: Weersma 2 (34, 71).
Referee: Andrea Piardi (Italy).
By Gary Heatly
Images:Jean-Jacques De Neyer (Triptyque)