Ahead of the Rugby Europe Championship 2022 getting underway, we caught up with Portugal's flying winger Raffaele Storti.
When Portugal played in their first - and only - Rugby World Cup in 2007, Raffaele Storti was a six-year-old-boy growing up in Lisbon.
Fast forward a number of years and now the 21-year-old winger is looking to fire his country to Rugby World Cup 2023 in France.
To make sure that they are in the running for the showpiece event Portugal know that they need a good run in the Rugby Europe Championship in 2022.
After the tournament, which starts this weekend, finishes on March 20 two countries will automatically progress to France with one other heading to a final qualifier. This will all be worked out by adding the points together from last year's Rugby Europe Championship and from the tournament that is just about to start.
"Our hope and goal is to secure direct qualification for the World Cup," Storti, who bagged an amazing five tries against the Netherlands last year, said.

"To do so we know that we have to be focused on each game and address the forthcoming Championship with a step-by-step approach. We have to play with confidence and not lose sight of our final objective.
"It would be a fantastic achievement [to make the World Cup] which I'm sure each Portuguese rugby fan longs for. Until now Portugal has been able to qualify just once, that was in 2007 and that event was also held in France. We hope to be in France once more in 2023. It would be something for our country to be proud of and, as it did in 2007, it would certainly contribute to the further development of Portuguese rugby.
"The growth of rugby in Portugal has been particularly significant in recent years, mostly due to the investment made in the academies at the local rugby teams.
"I am happy to be part of this development and to be able to contribute to it."
Storti says the Rugby Europe Championship in 2021 had "low and high points" for his side.
They carry forward 14 points into 2022 after winning three games and losing two last year to finish third in the table.
"Although we started off on the wrong foot by losing important points at home against Georgia and Romania, overall, I believe that we can look back on 2021 as a successful campaign," he explains.
"Indeed, finishing with three victories in a row was a boost of confidence. We were aware that without these wins it would be very complicated to fight for a World Cup place.
"We know that there's still a long path ahead and we must now keep our focus on training and improving to achieve our objective.
"This coming weekend we start away to Georgia [they are taking on the reigning champions on Sunday in the Mikheil Meskhi Stadium in Tbilisi at 3pm local, 11am UTC] and for sure it will be a tough match.
"It is always hard to play the first game away and we are playing against the strongest and most competitive team in the tournament.
"However, by building on the experience of the past year, we have been working hard to be prepared for this challenge. If our team is able to build-up the right mindset and rectify some of the errors we made in previous matches against the same opponents then I believe that we can have a say and maybe pull off a surprising result."
At the end of 2021, Portugal beat Canada and gave Japan a shock before losing out 38-25.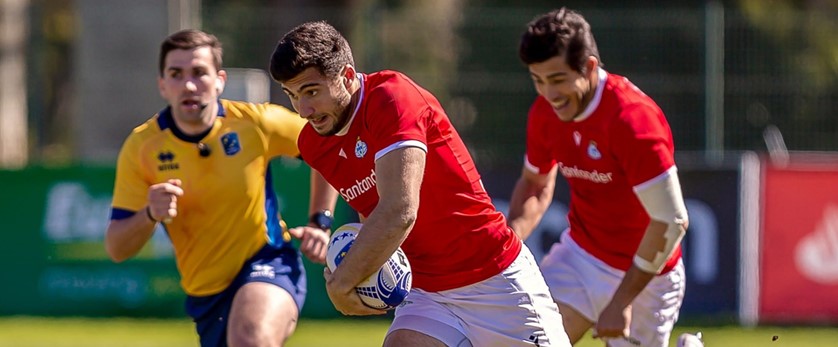 Head coach Patrice Lagisquet wants to push his charges to the next level and Storti and other young players coming through in the national set-up are certainly learning a lot from the Frenchman.
"It has been a challenging, but also a rewarding experience learning from him," Stori said.
"Patrice is a very demanding coach who tries to make the best of each player by developing individual skills, but also by emphasising the importance of team work.
"In personal terms he is a very nice person who is able to connect and have fun with the players, is open to listening to their possible questions or concerns and is available to help in the best way he can.
"I have nothing but respect and admiration for him.
"Over the winter he asked us to stay in shape and to keep on working on our individual skills which are essential for the fast rugby our game plan is based around.
"I've been focusing on improving my awareness of the different phases of the game and my work off the ball.
"It is a dream come true for me to have the opportunity to represent the Portuguese flag. I think that each person who plays sport dreams to be able to play for his or her national team on the international stage.
"Being able to live and share this dream with some of my best friends is even more rewarding."
Watch all the action live on rugbyeurope.tv from Saturday.
By Gary Heatly 
Photos by Luis Cabelo