On February 7, Maria Perestyak watched the Georgia versus Russia match from the men's Rugby Championship with great pride as her husband made his debut for the visitors.
Russia were defeated 16-7 in the delayed 2020 tournament encounter in Tbilisi against the champions, but put up a great fight and there was joy in the Perestyak household when Vladislav came off the bench for his first cap.
This weekend coming it will be Vladislav's opportunity to stay at home and watch the live stream with Maria set to play for the Russia women's side away to Spain in the delayed Rugby Europe Championship 2020 match.
Russia have never beaten Spain and travel to the Estadio Pedro Escartín in Guadalajara 14th in the world rankings with the hosts 10th.
However, having beaten The Netherlands 27-21 in Amsterdam in the only match played in this event so far last March, Russia know that an away victory here would secure them a place in the European World Cup qualifying event alongside Ireland, Italy and Scotland.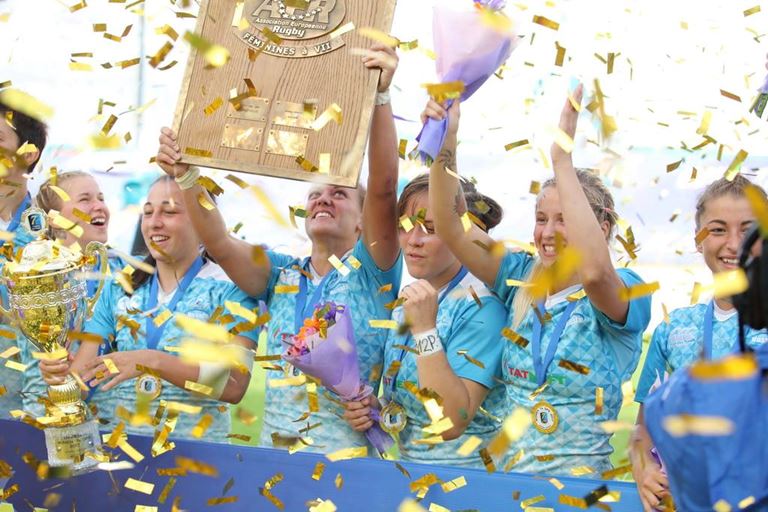 Maria, 29, has a lot of experience with the Russian Sevens team, but rather than being with them this weekend in the competition in Madrid, she is set to play XVs where she only has two full caps to date, but nothing seems to phase this talented centre from Siberia who lives in Krasnoyarsk.
The Enisey-STM player said:  "Six months after the birth of my son Dobromir, I was already playing sevens.
"It has also been a good time recently because my husband made his debut for the national team and I am very proud of him, of course.
"I watched this game and all of my family did too. My husband and I sometimes talk about rugby, but mainly about family and many other things.
 "Looking ahead to this weekend's match, Spain are a very good team, but we can go there and win, why not? There is always a chance to beat any team if you play well, they are not invincible.
"I will look forward to getting home and giving my son a big kiss, but first I will focus on this match."
The game will be streamed live on rugbyeurope.tv
Russia squad: Tamara Akhmedova, Ekaterina Bankerova, Alena Dammer, Maria Eroshkina, Polina Gerasimova, Valeria Gromova, Alexandra Kazantseva, Anastasia Kopteva, Natalia Kostina, Ksenia Krasnoperova, Snezhanna Kulkova, Diana Loginova, Daria Lushina, Nadezhda Medvedeva, Maria Molokoedova, Maria Noskova, Maria Perestyak, Ksenia Pozdeeva, Yulia Rudenko, Amina Sailaonova, Ekaterina Shakirova, Natalia Shchukina, Evgeniya Steblinskaya, Elena Vladykina.

By Gary Heatly 
Photos by Stas Kolpakov and Masha Anderson