Spain defeated Portugal in the Rugby Europe Championship on Sunday to make sure they will be in France next year 
Spain created history on Sunday by qualifying for their first men's Rugby World Cup since 1999 - and only their second ever in history - in front of a packed and vocal crowd at the Estadio Central UCM in Madrid.
Santiago Santos' men knew that a victory over old rivals Portugal would take them to France in 2023 and, after a cracking 80 minutes, they came out on top 33-28.
It means they have 29 points in the World Cup qualifying table - which takes in games from the Rugby Europe Championship 2021 and 2022 - and they will be heading to the showpiece event alongside already-qualified Georgia.
Spain will be in Pool B next September and October versus South Africa, Ireland, Scotland and the to be decided Asia/Pacific 1 qualifier.

Santos said:  "It means everything for us to reach the World Cup. Last year we lost our first three games in this qualification process, but since then we have won six games in a row. It has been a long journey and I am so proud of my players."
Portugal, after picking up a losing bonus point on Sunday, are still third in the World Cup qualifying table on 26 points, but have no games left. 
Should fourth placed Romania (23) beat the Netherlands on March 19 in Amsterdam, then it would be Andy Robinson's men who progress into the repechage event.
That would be harsh on Patrice Lagisquet's men who have played some great stuff in the last two years, but sport at the elite level is about the fine margins.
Lagisquet said after the Spain game:  "We played some good rugby at times, but Spain were just more powerful and clever overall and we made some mistakes at key times."
In terms of the Championship 2022 outcome, Spain's win means they are now on 17 points and leading the way from Georgia (15) ahead of the two sides meeting in a title decider in the Dynamo Stadium in Tbilisi on March 20.
Portugal went ahead early through a penalty by stand-off Samuel Marques before Spain scored the game's first try after eight minutes.
Tighthead prop Jon Zabala burst through a gap to run 20 metres then stretch over the line and score.
It was unconverted and just two minutes later Portugal were scoring a try of their own.
A nice team move saw full-back Simao Bento going over in the left hand corner and Marques showed just how good he is by nailing the tricky conversion.
Just before the end of the first quarter, back-row Fred Quercy went over from short range for Spain and, just after the half hour mark, they had stretched their lead to 19-10 when hooker Marco Pinto scored.
Portugal were next on the scoreboard though and Pedro Bettencourt, the centre, made the most of a stretched defence to dive over for a converted effort.
Crucially for Spain, Pinto got his second try just before the break and it was 24-17 at the interval.
At the start of the second half Spain stand-off Manuel Ordas - who had kicked well in the first period - and Marques swapped penalties before Spain were held up over the try line.
A couple of minutes later, in the 51st minute, Ordas kicked another penalty and it was 30-20 to the hosts with 29 minutes to go.
Three minutes later Marques kicked a penalty to reduce the deficit to seven points and the visitors were not going to give up easily.
Portugal's discipline was proving to be their downfall though and another Ordas penalty meant that Spain were 33-23 up heading into the final quarter with the crowd getting louder and louder.
In the last 10 minutes Portugal threw the kitchen sink at Spain, but the home defence managed to hold them out until the 77th minute and then Portugal knocked on just five metres short of the try line.
However, the drama was not over and Portugal regained the ball and thought that Tomas Munilla, the replacement scrum-half, had scored. He had not, but Spain full-back Charlie Malie was yellow carded.
Portugal then scored a try through second-row Jose Madeira with seconds remaining which they chose not to convert in a bid to get a winning try, but they could not and the final whistle sparked amazing scenes.

Meanwhile, on Saturday, Georgia defeated Romania 26-23 in the Arc de Triumf Stadium in Bucharest, the losing bonus point picked up by the home side now looking crucial in the grand scheme of things.
Georgia lost a player to the sin bin early on, but they made the most of a Romanian error to score the opening try through scrum-half Vasil Lobzhanidze. It was converted before a penalty by Romania reduced the arrears to 7-3.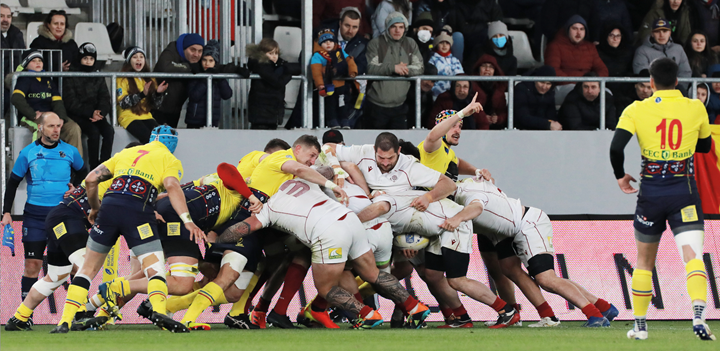 A second home penalty came before a try from Merab Sharikadze, the Georgia skipper, extended their advantage.
By half-time Georgia were leading 21-13, but with so much on the line and a passionate home crowd Romania still had plenty more in the tank as they had shown with a powerful forwards try just before the interval.
A penalty from full-back Ionel Melinte made it 21-16 in the 43rd minute and it was very much 'game on'.
The sides then swapped tries - the Romania one converted - to leave things at 26-23 to the visitors who just held on after a brilliant match.
By Gary Heatly
Images: Walter Degirolmo, Vasile Mihai-Antonio - World Rugby / Getty Images