Israel defeated Cyprus 14-12 in a feisty battle in the 30-degree Kibbutz heat to claim 3rd spot in the Conference 1 South.
The home side dominated the first five minutes and played a quick tempo which drew in the Cypriot defence allowing them to swing the ball wide to Moran Nijem on the wing who crossed for the opening score of the game. The conversion was knocked over by Daniel Steyn.
Israel added to their lead not long after thanks to some great build up play by Yotam Shulman, Mati Gordon and captain Adrian Rainstein set up scrum half Omar Levinson to extend theiradvantage.
Cyprus thought they had scored their first points ten minutes later but, Ben Yarrow's try was disallowed. The Israeli's coughed up possession in the Cypriot 22 and the 'Moufflons' went coast to coast after a clearance kick. But, Yarrow was adjudged to have pushed the covering defender before gathering the kick.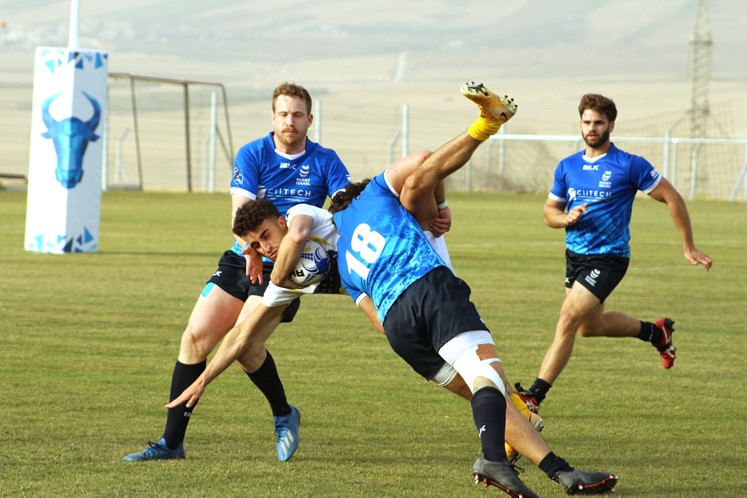 Cyprus were beginning to get grip on the game and had another good opportunity so score when playmaker Cameron Brown chipped through for Yarrow who was inches away from gathering in the corner.
As the contest heated up, the players began to get frustrated with a few scuffles breaking out.
One particular scuffle saw Cypriot captain Billy Cosma and Israel's Uri Gail sent for ten minutes in the sin bin and Rainstein, the Israeli skipper was handed a red card for dangerous play.
The visiting side made their man advantage count immediately as Olly Yarrow crossed in the corner. The conversion from the touchline was missed by Brown.
Half-Time
Cyprus, still a man up, started the second half as they had finished the first. Yarrow broke through the line again. The ball was recycled and they spread the ball to the right but a great hit by Nijem tackled the attacker into touch.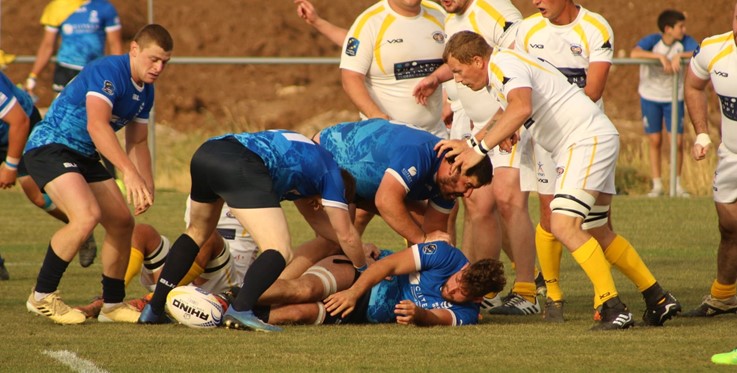 The rest of the second half saw momentum seesaw between the two sides but neither team could seem to find the last pass that would have opened the defence up. Both teams were also guilty of giving away penalties away when on the front foot, ruining a number of potentially dangerous attacks.
The Cypriots managed to put late pressure on the hosts with only a few minutes left when wing Georgios Agathokelous crashed through the centre channel and offloaded to centre Dominic Gerogiou to score under the posts for the Moufflons. Replacement Nikolas Frost easily added the conversion.
Their comeback was left too late though as Israel regained their kick-off and held out to claim their second victory of the competition and secure third position in the 2022 Rugby Europe Conference 1 South.
By Haydn Evans 
Photos by Cyprus Rugby