Man of the moment Florin Vlaicu admits that it was "an incredible feeling" to become only the seventh man in history to reach 1,000 Test points last weekend.
When centre Vlaicu, the 34-year-old veteran who made his international debut way back in 2006 against Ukraine, kicked a fifth minute penalty for Romania against Portugal in Lisbon on Saturday it took him onto 1,001 points.
He kicked two further penalties on his 126th Romanian appearance to get up to 1,007 and he is in esteemed company in the list along with Diego Dominguez (1,010), Owen Farrell (1,044), Ronan O'Gara (1,083), Neil Jenkins (1,090), Jonny Wilkinson (1,246) and Dan Carter (1,598). 
"It was an incredible feeling," Vlaicu said.
"I've been waiting for this to happen for a long time and I wanted to mark the moment in a way to make it more special and it seemed a very good idea to get a special t-shirt made.
"That special t-shirt was the result of a brainstorming session I had with a very good friend of mine. 
"I am happy because I have been working for this all my life, I have always believed in myself, in my team, in my team mates. I owe them this success, I could never have done it all by myself. 
"I want to thank my team mates, the staff and all those who have shown me support over the last 15 years because without them none of this would have happened.
"There are many other people who have shown me their support during all these years.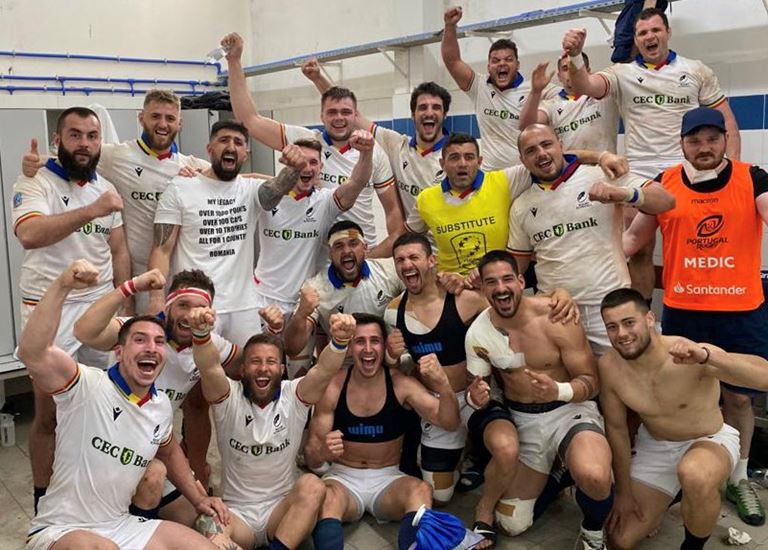 "I have a great family and I want to thank them because I know it hasn't been easy for them dealing with me being away from home for long periods at a time and dealing with all the injuries and other problems I have had to deal with - we know the life of an athlete is not always about wins and happy moments.
"I would also like to send my gratitude to my former coaches who gave me their full trust and this incredible chance to fulfil my dream.
"And it's an honour for me to be in the list of top scorers alongside some of the legends of international rugby, all players I have looked up to over the years.
"I am very proud not just for me as a person, but for my country as well, as it is a big achievement for Romanian rugby.
"We are facing difficult times and our rugby needs this kind of positive news. I think that the milestones I've reached - the most capped Romanian player and now Romania's all-time leading points scorer - will give a huge motivation to our young players to follow in my footsteps."
"Those last five minutes were so intense"
Vlaicu's record breaking on Saturday looked like being overshadowed at one stage by a defeat to Portugal in the Rugby Europe Championship 2021 round two match.
The home side led 27-14 with 13 minutes left at the Jamor Stadium before a great line run by winger Nicolas Onutu saw him take the ball and score a try under the posts with five minutes to go. With Vlaicu off, full-back Ionel Melinte converted and it was 27-21 heading into the closing stages. 
Then replacement hooker Ovidiu Cojocaru scored a try in the dying seconds and Melinte kicked the conversion to give Andy Robinson's Romania an unlikely 28-27 away win. 
"I have to admit it was difficult to watch the end of the game from the
bench, even more so than usual because those last five minutes were so intense," Vlaicu states.
"I was sure we would win, the vibe was very good and when I was replaced I said to our strength and conditioning coach that we would score two tries and get the victory. The team managed to and those were incredible moments for us.
"I don't know how I would have celebrated [hitting 1,000 points] if we had lost the game against Portugal and, to be honest, I don't want to think about it. I am happy things went the way they did and we could all celebrate together.
"We needed this win, it's very important for us because the victory gave us the confidence we need for our upcoming games. We are expecting a tough match against a strong team this coming weekend, we all know how well Spain can play, but we want to win this game both for us and the fans and we believe we have the power to do that." 
"Florin is such an inspiration for all of us": Melinte on Vlaicu
As Vlaicu mentions, Romania are playing Spain in the Ghencea Stadium, Bucharest, this Saturday afternoon.
Romania have won one and lost one from their two Rugby Europe Championship 2021 matches to date while, in their opener, Spain battled hard before losing out to Georgia in Madrid last Sunday.
Melinte, the 25-year-old who has 12 full caps to his name, is likely to be involved and he has been looking back at last weekend too.
"Before the last conversion, I tried not to put pressure on myself and tried not to think that it was the last moment of the game," he admits.
"I went to the point the referee has indicated, I put down the ball, I felt the wind and I kicked and I never thought at that moment that I would miss it.
"How you mentally handle these important moments is crucial, you need to be sure of yourself, be sure of what you're doing and trust the process.
"Most importantly, you cannot doubt yourself for one second."

"In terms of Florin's influence, it would take me a whole day to tell you all about it.
"He is always ready to help us, to give a piece of advice, to have a chat
about kicking technique and he always encourages us.
"He tells us we are doing great and that we need to be confident and also trust each other.
"He always emphasises how important it is to support one another when
times are tough.
"Florin is such an inspiration for all of us, it's simply a great experience to have the chance to play alongside such a legend."
By Gary Heatly