The Netherlands travel to Waterloo to take on Belgium in the Rugby Europe Championship play-off match this weekend - and experienced player Hugo Langelaan cannot wait.
His team reached this match by winning the Rugby Europe Trophy in 2020 and if they can secure an away victory then they would join Georgia, Russia, Romania, Portugal and Spain in the Championship which has already started for 2021.
The 31-year-old prop who has over 40 caps for his country said:  "I am very excited to play this game, the season last year stopped quite abruptly, but this has given us the time to train as a team more than in usual circumstances and the build-up has been huge.
"I can't wait to get on the field and I can say with certainty this is the biggest test I've been a part of in my international career.
"The game plan we've been working on through the past seasons and the combination of players have really come together. The biggest test we had last season was the game against Germany and we gained a lot of momentum from picking up the win. 
"The game against Poland was also very challenging and I was very happy to see that the team had grown as we were able to stay in the game and win it in the end.
"I've now been playing for the Netherlands for nine years and this will be my 43rd cap and there is nothing more special than wearing the orange jersey.
"We have all been pushing hard together to play rugby at the highest level possible for the Netherlands. This is the best opportunity we've had in the past 20 years and if we can win against Belgium it has the potential to bring the sport in the Netherlands to the next level.
Personally, playing at Championship level would be the cherry on top of the cake, I've always dreamed of playing at the highest level possible and would love to represent my country on that stage, playing against teams that I've seen playing in Rugby World Cups."
So, how has Langelaan's rugby journey got him to this stage?
When he was 18 he joined the Rotterdamse Studenten Rugby Club and, after four years there, he moved to Rugby Club 't Gooi in the highest Dutch division and that is when he started playing for the national team as well. 
"I played seven seasons at 't Gooi including two as captain when we won a couple of national titles," he explains.
"Since 2019 I've been playing at Rugby Club Eemland and I am really enjoying my rugby there. For a living I am an industrial engineer working for FedEx mostly focusing on designing AND commissioning parcel sorting systems as well as process standardization."
And over the years he has built up a great relationship with the Netherlands forwards coach Allard Jonkers.
"I first met Allard upon joining Rugby Club 't Gooi when I was 22," he states.
"Allard was the starting loosehead for the first team and he has taught me a lot of what I know as a front-row player and not only in the dark arts of the scrum. 
"At that time he was also heavily involved as a player in the national team and immediately invited me to join the training squad in 2012 and I made my debut against Lithuania that same year in large part due to his guidance and all the extra sessions we did together. 
"I'm extremely pleased he is now our forwards coach for the Netherlands. I hope I am able to do the same that Allard has done for me for another young front-rower, but fingers crossed I can keep my boots on for a couple more seasons."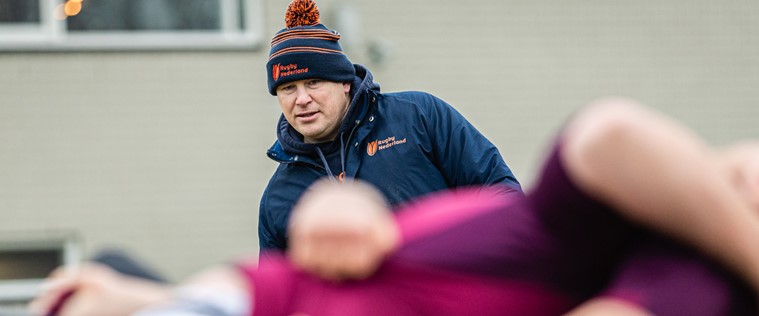 "Hugo is one of the most driven and competitive players"
Jonkers loves to have a player of Langelaan in the national team set-up heading into such a big game as this one.
"Hugo is one of the most driven and competitive players in our team," the forwards coach said.
"He is a player who always gives 100% and gets better every year, he sets the bar very high for other players around him and for himself and he is one of the driving forces in our team. 
"My relationship with Hugo goes back a few years. As a young player I saw him join my old club 't Gooi and after my last game for my country I handed him the shirt that I had been able to wear with pride for many years and I knew it would be in good hands with him.
"I coached him at the club for three years and watched him grow in his game and as a leader and I think it's special that I can now coach him at the national team. 
"We know each other well, and understand each other, we both know what it takes to be at the forefront of the scrum and both have an absolute passion for the scrummaging. 
"He has at least three more years to play and will get better, I hope he can scrum against the big boys in the coming years."
The game will be streamed live on Rugby Europe TV and will kick off at 2pm CET.
By Gary Heatly 
Photos Netherlands Rugby Union/Dennis van de Sande