Germany secured a famous victory on Sunday evening to take themselves through to the Rugby Europe men's Championship fifth place match.
The Germans lost all three of their matches in Pool A, but bounced back in the Narodowy Stadion Rugby, Gdynia, to defeat hosts Poland 23-18 in their ranking semi-final.
The visitors took an early lead when full-back Edoardo Stella kicked a penalty.
Siokivaha Taufui Halaifuana, the Poland back-row, scored the first try of the game and stand-off Wojciech Piotrowicz converted.
In the 25th minute Germany scored a cracking try to go ahead.
Some good carries and then a lovely chip through by stand-off Raynor Parkinson saw centre Leo Wolf score, Stella converting.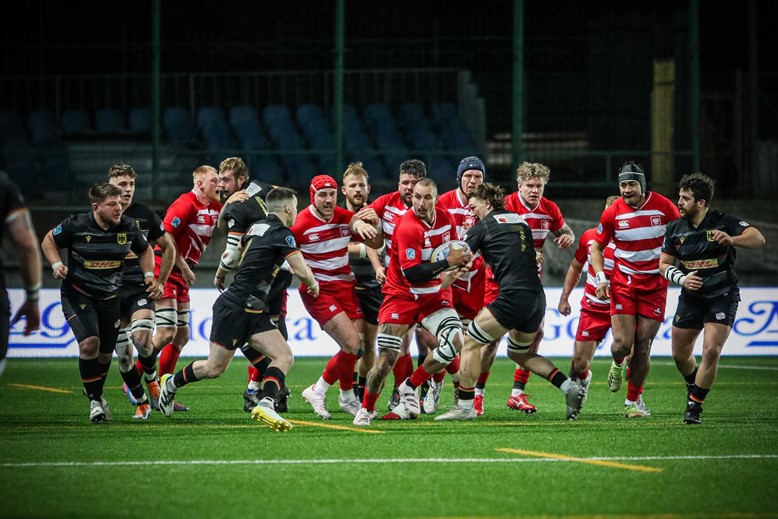 A penalty by Piotrowicz made it 10-10 early in the second half and when he slotted another Poland were 13-10 up.
In the 57th minute Stella's three pointer made it 13-13 and he then kicked another.
Sebastian Rodwell, the centre, then scored a try with Stella converting and suddenly Germany were 23-13 up with 12 minutes to go.
Late on a great cross field kick from the Polish stand-off set up winger Robert Wojtowicz for a try, but Germany, with a man in the sin bin at that point, held on for the victory.
Mark Kuhlmann, the Germany head coach, said:  "It was a hard fought match, Poland are a good opponent.
"I am very, very proud of my team though because they really wanted this and worked hard."
Poland head coach Christian Hitt said:  "We are disappointed, we just didn't execute things and we put ourselves under pressure.
"We couldn't finish off opportunities and that is frustrating."
Nikolas Rinklin, the German replacement, was named Player of the Match.
In the fifth place match Germany will take on Netherlands while in the seventh place match Poland will now take on Belgium.
That is because, on Saturday, in the National Rugby Center in Amsterdam, Netherlands defeated Belgium 31-19 in the other ranking semi-final.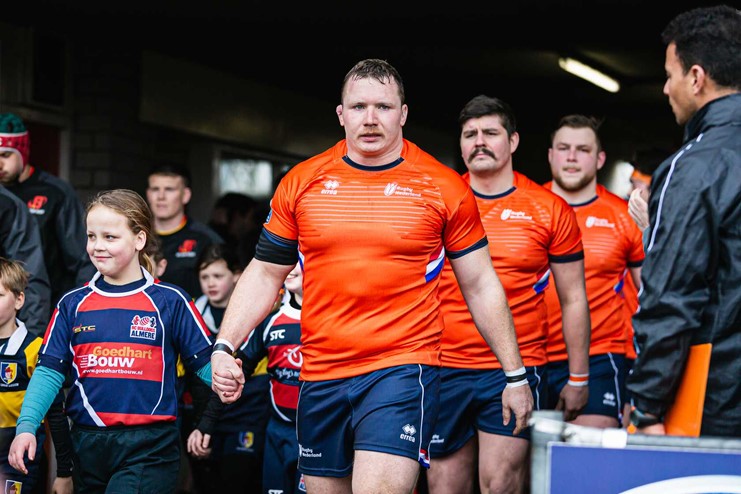 Netherlands took the lead in the seventh minute when Ross Bennie-Coulson, the hooker later named Player of the Match, rumbled over for a try. Stand-off David Weersma converted.
A try and conversion by Florian Remue then levelled things up seven minutes before the break.
Just before half-time, Netherlands' No.8 Christopher Raymond showed good strength to score a try which was converted to put them 14-7 up at the interval.
Three minutes into the second period Bennie-Coulson bagged his second try which Weersma converted to give the hosts a 21-7 advantage.
Both sides then had men yellow carded before Belgium gave themselves hope with an unconverted try via second-row Guillaume Mortier.
In the 55th minute their other second-row Chris Baudry went over and when it was converted it was suddenly 21-19.
With 14 minutes to go Bennie-Coulson completed his hat-trick of tries and Weersma converted. Weersma then added a penalty in the 77th minute after a high tackle which led to a Belgium yellow card.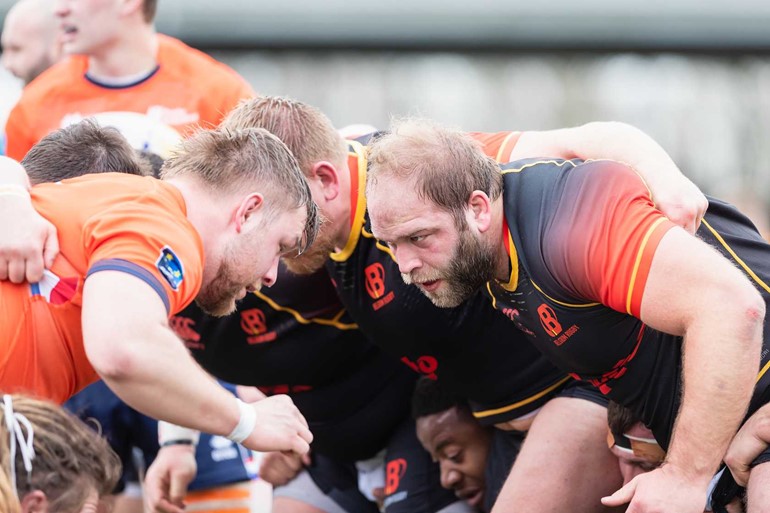 That finished things at 31-19 and Netherlands head coach Lyn Jones said:  "We are very pleased, we are growing and getting better.
"In the last 20 minutes we were clinical and that was good to see."
Mike Ford, the Belgium head coach, said:  "I am proud of the players. At 21-7 down we had a battle on our hands, but we fought back.
"We have taken three steps forward despite defeat."
The seventh place match and the fifth place match will take place at the National Rugby Center in Amsterdam, Netherlands, on March 19 at 12.30 and 15.00 CET
BUY YOUR TICKETS FOR THE AMSTERDAM RANKING FINALS HERE 
By Gary Heatly
Photos: Wojciech Szymański and Dennis van de Sande and