With the Rugby World Cup 2023 just now a few days away, we look at the representatives from the Rugby Europe Championship, starting with the reigning Championship winners, Georgia.
The "Lelos" are getting ready for their sixth Rugby World Cup, and have been highly ranked as one of the teams to make an impact in France.
Georgia has set camp in the beautiful and iconic Ile de Ré in La Rochelle, after having spent the last three months working in Tbilisi to bring their A-game to the World Cup.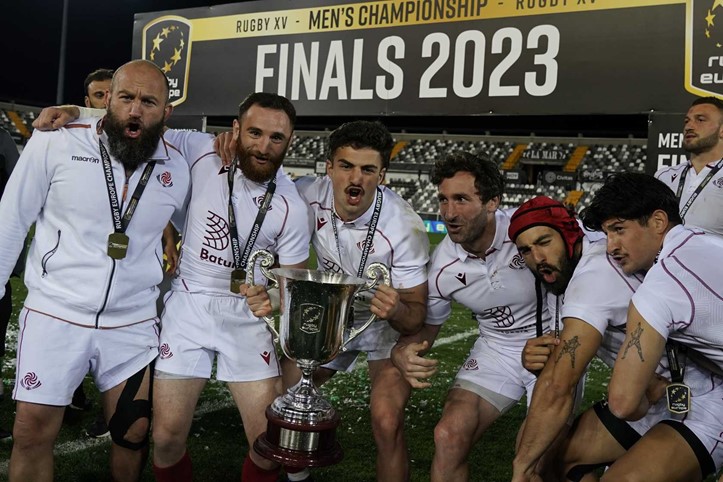 Georgia has been working intensively for the past three months, with several training camps to hone their skills, and present their best squad, as Beka Gorgadze, Georgia's number-eight, told us about it,
"In the first month of our preparation, the conditioning training was all done with the ball in hand, as the staff wanted us to focus on our skills in detail, and I think that is helping us to become stronger.".
Gorgadze is one of the 33 players who had the pleasure to be called for the Rugby World Cup and will have to fight for a place in the starting line-up, as Luka Ivanishvili, Tornike Jalaghonia, Mikheil Gachechiladze, Beka Saghinandze, and Giorgi Tsutskiridze are also ready to take the loose forward spot.
Levan Maisashvili has a deep squad to pick from, with 15 Black Lion players in the mix who featured in the Rugby Europe Super Cup side that have claimed back-to-back titles.
Georgian Stats
Akaki Tabutsadze is the all-time Georgian try-scorer, as the winger scored 29 tries in 31 caps.
Alexander Todua and Lasha Khmaladze are two top veterans of the squad and World Cup, and will have a role to play in the team.
Alexander Todua is also the Georgian player with most caps (107), followed closely by Shalva Mamukashvili (100), and Lasha Khamaladze (96).
Merab Sharikadze will continue to wear the captain armband, and is just three games away from achieving 50 games as the "Lelos" skipper.
In preparation for the world stage, the Georgians have played three Test Matches, defeating Romania (56-06) and the United States of America (22-07) before ending a run of eight straight victories with a loss to Scotland at Murrayfield after leading at the break against the home-side (06-36).
Even if didn't end with a win, Levan Maisashvili was still proud of how the preparation went, and explained how Georgia have developed into a more threatening team.
"We have to have a varied approach. Our DNA, still, is wrestling, collisions, maul, scrum. But if you watch international rugby, you cannot use only one weapon. You have to be very smart, and very quick. You have to transition quickly from one action to the next.
We would never have beaten Italy or Wales only with mauling and scrummaging. We are developing. We don't want to lose our ambition and strengths, but we need to use our quick play and adapt to the new trends of rugby".
France is home to some of the most passionate fans in the rugby world, and Beka Gorgadze attested to this, and explained how important their support can it be for them.
"For me, and some of us in the squad, it feels like a second home, and it will help us as our family, friends, and local fans will be there to root for us, and it is going to be a huge moment!"
Georgia start their Rugby World Cup campaign on the 9th of September when they meet the Wallabies in the Stade de France, before heading to Toulouse to play Portugal, before heading Bordeaux to face Fiji, and finally Nantes where they will look to defeat Wales once again, in what could prove to be the start of a new era for the "Lelos".  
By Francisco Isaac