The Lelos' coaching staff named the extended 32-man squad for the first two matches of Rugby Europe Championship 2022.
On February 6, Georgia hosts Portugal at Mikheil Meskhi Stadium, and on February 12 the Lelos play away against Netherlands.
Five debutants are training for these matches. Three of them are forwards, and two – backs. These are Enissey-based wing David Meskhi, who was in the Lelos' camp last summer, Biarritz prop Luka Azariashvili, third-row forwards Luka Ivanishvili and Sandro Mamamtavrishvili, both of Georgian Franchise – Black Lion and 18-year-old centre Tornike Kakhoidze from Lelos Saracens RC, who showed outstanding performance in Under 18 and Under 20 teams.
Second-row forward Grigor Kerdikoshvili, who last played for the Lelos at Autumn Nations Cup 2020, returns to the squad after having several surgeries, signing a contract with Agen and playing 9 matches in the current season of ProD2.
Vano Karkadze, after his last international in February 2020, got injured and fully recovered in September 2021, playing for Brive in the French Top 14 and the Challenge Cup since then.
Overall, there are 18 forwards and 14 backs in the training squad.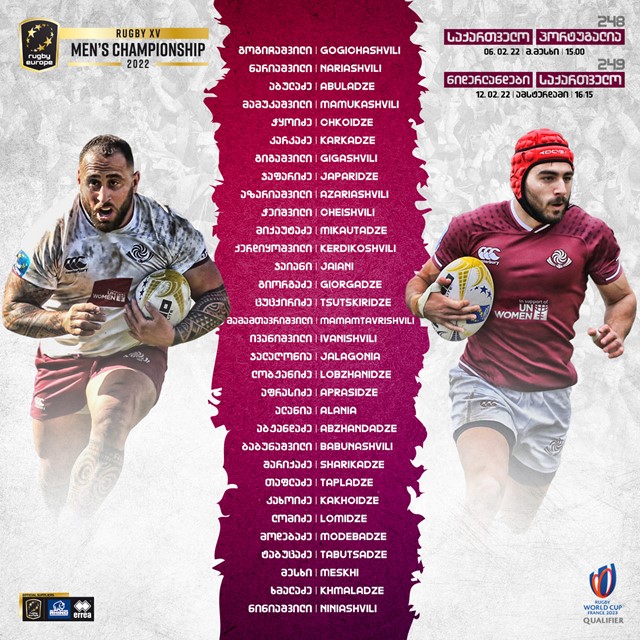 Extended squad for the first two REC 2022 matches
Props: Guram Gogichashvili (Racing 92, 25 caps, 10 points), Mikheil Nariashvili (Montpellier, 67 caps, 10 points), Nika Abuladze (Black Lion, 1 cap), Beka Gigashvili (Toulon, 25 caps, 10 points), Luka Japaridze (Brive, 3 caps), Luka Azariashvili (Biarritz, uncapped);
Hookers: Shalva Mamukashvili (Black Lion, 85 caps, 55 points), Giorgi Chkoidze (Lokomotiv Penza, 19 caps, 5 points), Vano Karkadze (Brive, 5 caps, 5 points);
Second row: Lasha Jaiani (Black Lion, 12 caps), Nodar Cheishvili (Black Lion, 33 caps), Grigol Kerdikoshvili (Agen, 7 caps, 5 points), Kote Mikautadze (Bayonne, 70 caps, 10 points);
Third row: Giorgi Tsutskiridze (Aurillac, 23 caps, 15 points), Tornike Jalagonia (Biarritz, 12 caps, 10 points), Otar Giorgadze (Brive, 29 caps, 25 points), Luka Ivanishvili (Black Lion, uncapped), Sandro Mamamtavrishvili (Black Lion, uncapped);
Half Backs: Vasil Lobzhanidze (Brive, 61 caps, 55 points), Gela Aprasidze (Montpellier, 35 caps, 24 points), Mikheil Alania (Aurillac, 6 caps), Tedo Abzhandadze (Brive, 28 caps, 188 points), Giorgi Babunashvili (Black Lion, 4 caps, 9 points);
Backs: Merab Sharikadze (Black Lion, 80 caps, 60 points), Aka Tabutsadze (Black Lion, 15 caps, 60 points), Deme Tapladze (Black Lion, 12 caps, 5 points), Lasha Lomidze (Black Lion, 1 cap), Mirian Modebadze (Black Lion, 16 caps, 35 points), Tornike Kakhoidze (Lelo, uncapped), David Meskhi (Enissey-STM, uncapped), Lasha Khmaladze (Black Lion, 88 caps, 53 points), David Niniashvili (Lyon, 9 caps, 23 points).
By Georgian Rugby