Modified contact, weight-banded matches and lowered tackle height at the heart of new community law variations to further advance accessibility and welfare
Law variations include flexibility in number of players, game duration, pitch size, ball size, as well as variations to scrums, lineouts and kicking rules
Promoting global consistency at the community level of the game, the menu of 10 law variants can be implemented by national unions from January 2022
The introduction of Game On Global follows World Rugby's recently launched participation plan to accelerate sustainable rugby involvement
Implementation of the law variations will be optional and available in part or in whole for National Unions to determine.
Central monitoring, and research will be undertaken evaluate impact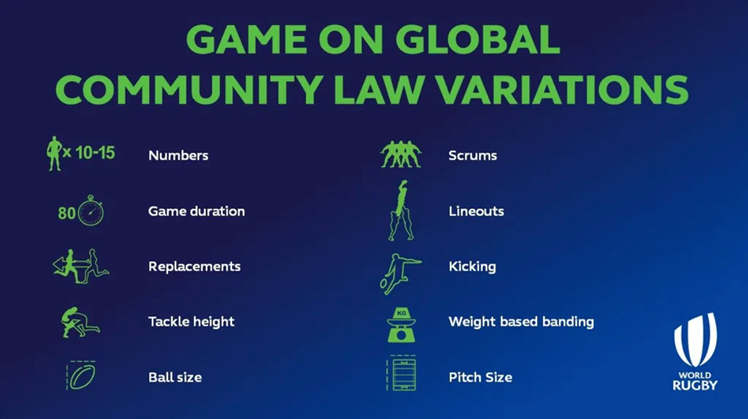 Welfare and accessibility are at the heart of Game On Global, a programme of optional community law variations launched by World Rugby and national member unions today.
The introduction of Game On Global follows World Rugby's recently launched participation plan to accelerate sustainable rugby involvement beyond the COVID-19 pandemic and in line with the transformational strategy to cement rugby as the most progressive sport on player welfare.
VIEW WORLD RUGBY PARTICIPATION PLAN >>
Game On Global provides national unions with the ability to implement modified laws at a domestic mass participation level, furthering game experience and safety for participants. Unions can pick and choose from dependent on their context and purpose.
Promoting global consistency in the law variations open to unions at the community level of the game, a menu of 10 law variants are now available to all unions. From January 2022 the Game On principles can be utilised by all World Rugby member unions at their discretion:
Implementation of the law variations will be centrally monitored, and a global research project will provide an evaluation of the impacts in terms of injury-prevention and overall participation impact.
They were developed by the Community Laws Flexibility Working Group* which was set up in November 2020, following a World Rugby survey in relation to law trials that received more than 1,800 respondents, reflecting World Rugby's mission to engage with the rugby family.
The working group, which involved member union Community Rugby Directors, World Rugby Council Members, World Rugby Community Rugby Committee Members, World Rugby Regional and Executive Staff, was tasked with developing a set of community laws relevant and attractive to adult community participants which drive enjoyment, accessibility and retain the character of the game.
A number of national models of good practise already in existence, including in England, New Zealand and Wales, who have shared their knowledge and expertise in the development of World Rugby's global project, which builds on these models and extends to other areas of the game.
World Rugby Chairman Sir Bill Beaumont said: "The community game is the heart and soul of our sport, it is the foundation upon which our house is built and today represents a landmark for rugby around the globe with the introduction of optional community law variations for our national member unions.
"We are constantly listening to, and engaging with the global rugby family at all levels and I am delighted that today's tangible outcomes were borne out of an initial survey that received more than 1,800 respondents from around the world and builds upon existing models in England, New Zealand and Wales. A major benefit of the global nature of the project will be the ability for sharing of best practice across Unions and having one set of guidance that players can recognise no matter where they play in the world.
"The law amendments announced today are a key element of our long term objective to make the game more accessible, more sustainable, safer and available to all across the globe. The passion, commitment and enjoyment that is seen on rugby pitches up and down countries around the globe is what drives us on with the determination to continue to evolve and improve the game we love for all."
Robert Butcher, Welsh Rugby Union Chairman, said: "There can be little doubt that all members of our global rugby family will be delighted to take full advantage of the opportunities so provided by the introduction of the new law variations. Community rugby lies at the heart of our strategy moving forward; every single international rugby player, male or female, will have began their journey to the top by being introduced to the game at grassroots level, and the variations are designed to ensure they may be involved more often and with more enjoyment from the outset. Pleasingly, all variations are optional, and the mix and match approach can be adapted accordingly."
Ada Milby, Asia Rugby Executive Committee Member and Philippines Rugby President, said: "One of the biggest challenges we face in developing and emerging rugby nations is having sufficient numbers to play. It was great to hear from so many stakeholders which really guided the process in looking for ways to make the game more accessible. Game on Global maintains the spirit of the traditional format, while meeting unions, clubs and teams where they are to implement variations that best fit their current environment."
Steve Grainger, RFU Rugby Development Director, said; "As COVID emerged, we moved quickly to introduce law adaptations and Game On principles, keeping players engaged by allowing different formats of the game.  We received lots of helpful feedback from players, coaches and match officials and have enjoyed working with World Rugby to share and build on these learnings.  The Game on Global law variations provide an exciting opportunity to offer different game formats that will allow us to attract and retain players who want different rugby experiences beyond the full contact game.  The health, wellbeing and social benefits associated with playing rugby are widely recognised and we are delighted that these law variations will enable more people to enjoy the benefits of participating in rugby in different formats and levels of the game."
Steve Lancaster, New Zealand Rugby General Manager, Community Rugby, said: "I am delighted to see the launch of Game on Global. Being able to adapt the game experience to improve participation is important for the rugby community in New Zealand, and there is nothing worse for players than turning up for a game only to have it not go ahead due to lack of numbers. We introduced a domestic version of Game On in 2019 which has been incredibly well received and it has been a critical tool in enabling more games to happen. I am sure Game on Global will see a similarly positive effect on the game in other countries around the world."
Resources will be available on the World Rugby website to support the implementation phase of Game On Global from January 2022.
*The Community Laws Flexibility Working Group members are:
Development Directors
Steve Grainger – RFU
Steve Lancaster – NZRU
Community Rugby Committee and/ or Council Members
Rob Butcher – WRU
Marjorie Enya – Sudamérica Rugby
Ada Milby – Asia Rugby
Regional staff
Jen Gray – Rugby Americas North
Adama Bakhoum – Rugby Afrique
World Rugby staff
Mark Harrington – Chief Player Welfare and Rugby Services Officer
Dom Rumbles – Chief Communications Officer
Mihir Warty – Chief Strategy Officer
Jason Lewis – Director of Participation