Georgia, Spain, Portugal and Romania have all won two from two in the Rugby Europe Championship after weekend triumphs.
It means that all four sides will be progressing to the semi-finals, but next weekend's final Pool games will decide who will play who at that stage.
Georgia are top of Pool A with 10 points from 10 after backing up a win over Germany with a 40-8 triumph in Amsterdam against Netherlands on Saturday.
The reigning champions did not have it their own way in the National Rugby Center though, leading just 12-3 at the break before coming through for the bonus point victory.
The visitors took the lead in the 12th minute when a great attack from their own half eventually saw full-back Davit Niniashvili go over for the try. Stand-off Tedo Abzhandadze converted.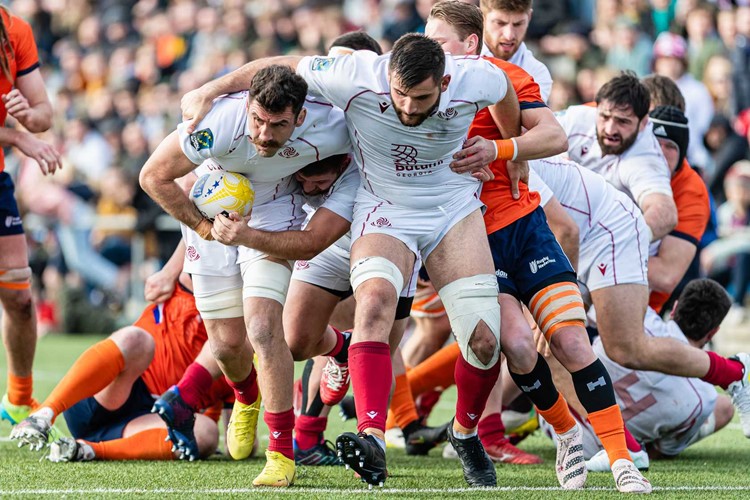 A penalty from David Weersma got his side on the board before an unconverted try from second-row Vladimeri Chachanidze put Georgia up 12-3.
The second quarter of the match was scoreless despite Netherlands losing a man to the sin bin, but when they had 14 men themselves Georgia scored their third try in the 44th minute.
It came from hooker Giorgi Chkoidze and it was converted.
With both teams with 15 men again, in the 53rd minute another seven pointer came via Chkoidze before Netherlands scored an unconverted try through second-row Koen Bloemen against Georgia. At the same time Georgia had a man yellow carded.
Georgia's fifth try came through replacement Mikheil Gachechiladze. It was converted and, with five minutes to go, he went over again for another seven pointer to finish things at 40-8.
Levan Maisashvili, the Georgia head coach, said:  "We won in the end, but we made some errors and our discipline was an issue with three yellow cards.
"It was a good game, credit to the Netherlands who did well and caused problems."
Head coach Lyn Jones of the Netherlands said:  "We're really pleased, to be just 12-3 down at the break against a team of Georgia's stature was good and then they showed us how to play accurately in the second half.
"What you see with the Dutch guys is a lot of heart, you can't coach that and we have plenty of it."
After an opening win over Netherlands, Spain were in Germany on Sunday.
At the Fritz-Grunebaum-Sportpark in Heidelberg the visitors came out on top 32-14 with a bonus point and sit second in the Pool.
Spain got off to a cracking start thanks to a converted try by full-back John Bell.
In the 12th minute the same men went over after a great offload and when stand-off Bautista Guemes converted it was 14-0.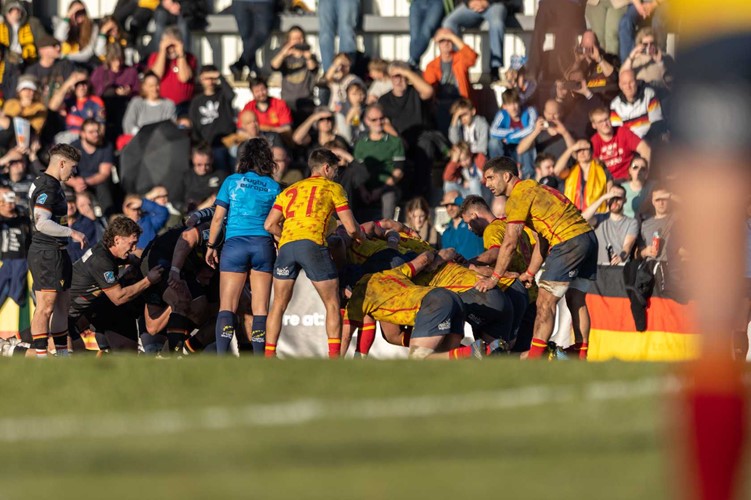 At the end of the first quarter, a penalty from stand-off Edoardo Stella got Germany on the board.
Soon after, Spain No.8 Facundo Dominguez scored an unconverted try before a Germany try came through Oliver Paine, the scrum-half, to make it 19-8.
A penalty just before half-time made it 19-11 at the interval.
With a German in the sin bin, Guemes' penalty made it 22-11 to Germany after 59 minutes before a German three pointer left things at 22-14 with 17 minutes to go.
Spain found an extra gear in the last 15 minutes, a try coming from replacement Lucas Santamaria and then a cracker from fellow sub Julen Goia saw them over the line 32-14.
Santiago Santos, the Spain head coach, said:  "It was a very tough game, we are happy with the final score as it gets us through to the semi-finals. We know we have to improve, but we are building."
Mark Kuhlmann, the Germany head coach, said:  "We didn't come to just compete or look good, we wanted to win the match, so I am quite disappointed. The boys fought well, but there were just a few too many mistakes."
In Pool B, Portugal top the standings on points difference from Romania after both secured bonus point wins on Saturday.
Portugal were in Gdynia to take on Poland in the Narodowy Stadion and came out on top 65-3 in poor weather conditions.
Scrum-half Samuel Marques scored and converted the opening try early on for the visitors before Wojciech Piotrowicz kicked a penalty for Poland.
Wingers Rodrigo Marta and Vincent Pinto crossed before stand-off
Jeromino Portela bagged Portugal's fourth try.
Hooker Mike Tadjer's try left things at 29-3 at half-time before Portugal scored their sixth try just after the break through Marta.
Marta got try number seven to complete his hat-trick and then try number eight came from Pinto.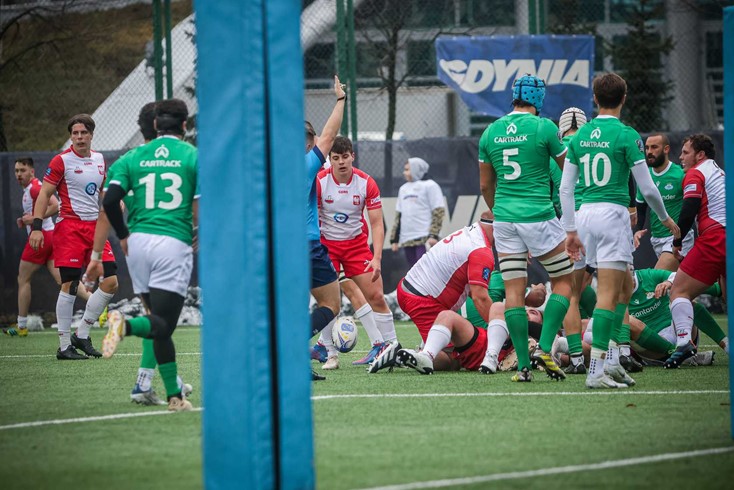 The same man scored tries number nine and 10 before Marta's fourth finished things off.
"We like to play a fast game and we did that here," Patrice Lagisquet, the Portugal head coach, said.
"We have had some positive aspects in both games, we just have to be more accurate in our execution going forward," Poland head coach Christian Hitt said.
In the Stade Nelson Mandela in Brussels, Romania defeated Belgium 56-5.
Centre Taylor Gontineac's try converted by Ionel Melinte, the stand-off, put Romania 7-0 up after 13 minutes.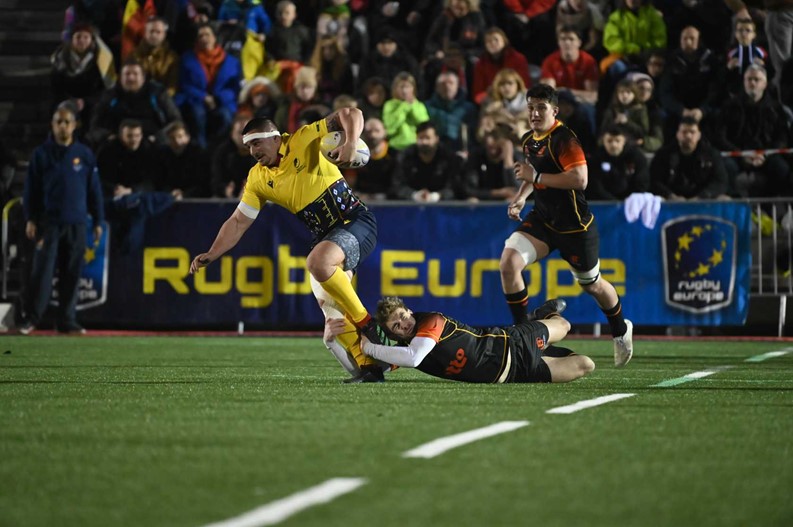 It took them a further 20 minutes to bag try number two, loosehead prop Alexandru Savin scoring a converted effort.
Scrum-half Ryan Godsmark scored an unconverted try for Belgium to give them hope at 14-3 down at the break.
The second half was all Romania though, scoring five tries, including two from Gontineac to complete his hat-trick, as they came out on top by a 51 point margin.