The Rugby Europe men's Championship has reached the knock-out stages and there are four big matches this weekend.
First up on Saturday lunchtime at 1.15pm local time (12.15pm UTC), Netherlands take on Belgium at the National Rugby Center in Amsterdam.

This is a rankings semi-final match with the winner progressing to the Ranking final on March 19 in the same city and the loser going through to the seventh place final on the same day.
These two sides are evenly matched as it is 28 versus 27 in the world rankings while Netherlands finished third in Pool A and Belgium fourth in Pool B.

Netherlands will have taken belief from their win in Germany two weeks ago and their head coach Lyn Jones said: "We were delighted to come away from Germany with a deserved victory.

"It sets us up with two home matches in Amsterdam which we are looking forward to.

"We must pick our performance up to a higher level this weekend if we wish to be successful against a motivated Belgian side. We are focused on our performance and being consistent in our execution - it's the only way to create a long-term future in the Championship competition."

Belgium's last outing saw them edged out 21-15 by Poland on February 18 and their head coach Mike Ford said: "After a disappointing result against Poland, we will be looking to be the best version of ourselves versus Netherlands this weekend.

"We had a poor start in Poland and it wasn't until the last 15 minutes of the game that we played anything like we know we can. The challenge this weekend is to start really well and play more like the Belgium way against a good Netherlands side."

At 5pm local time (5pm UTC) on Saturday the first Cup semi-final takes place when Portugal welcome Spain to the Estádio do Restelo in Lisbon.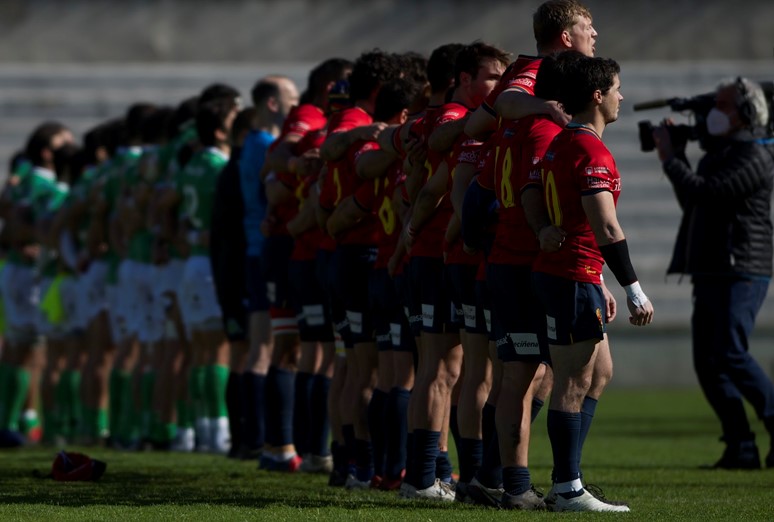 The winners will progress to the Grand Final on March 19 in Badajoz, Spain, with the losers going into the third place match on the same day.

Portugal go into this match having won three from three to top Pool A while Spain finished as runners-up in Pool B.

The home side certainly have players in form and scored tries for fun in the opening rounds while they are 16th in the world and Spain 17th.

Spain will want to beat a team that is going to Rugby World Cup 2023 and make a statement and their head coach Santi Santos said: "We know that beating Portugal on their home ground is a very demanding challenge, but that's precisely why the match is so attractive.

"Portugal are very experienced and is a team that is practically at its best while we are still in the construction phase - they are in fine-tuning mode and we are practically finishing putting the nuts and bolts on.



"It's a difference that doesn't stop the team from being very motivated ahead of this semi-final. We have worked very hard to get here and now we want to take this opportunity to take Spain to the Championship final."

The second Cup semi-final kicks off the action on Sunday.

And this one is a match-up between two sides who will be at the World Cup later this year as Georgia host Romania in the Avchala Stadium in Tbilisi at 4pm local time (12pm UTC).

Georgia, the defending champions, recorded 15 points from a possible 15 to top Pool A while Romania were runners-up in Pool B.

The Georgians scored 156 points and conceded just 23 in the opening phase while Romania are building under new head coach Eugen Apjok.
Head coach Levan Maisashvili said, "It's a one off game - the result of which decides everything, increases the pressure.
"Romania are playing a strength-orientated game and we will try to be dominant in this component, too. Romanians almost never change this style and try to dominate in groups.
"Our goal is to show better quality from game to game, this is our main plan and ambition. We had an interesting preparation week and I hope the game will go our way."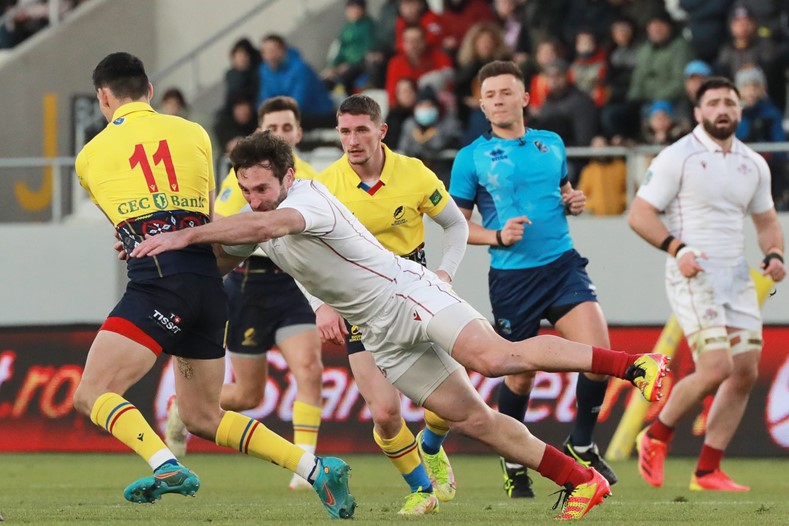 It is 12 in the world versus 20th, so Georgia are favourites on home turf, but if Romania can get their pack moving forward who knows what might happen.

The rankings semi-final between Poland and Germany in the Narodowy Stadion Rugby in Gdynia rounds things off for the weekend at 8.10pm local time (7.10pm UTC) on Sunday.

Poland go into this one off the back of a famous win over Belgium last time out which earned them third spot in Pool B while Germany finished fourth in Pool A.


Ahead of this 29th in the world versus 34th clash, Poland head coach Christian Hitt said: "This game is very important for us. It'll have a big impact on where we finish in the final standings and the boys are excited for it and are relishing the opportunity.

"We played Germany in the Trophy last year and we are looking forward to welcoming them in the Championship. We want to keep this programme moving forward and developing."

Germany captain Jörn Schröder said: "We are really looking forward to this game. It's a big game, a decisive game for us.


"We want to win in Poland, but it will certainly not be easy. Poland certainly have an advantage with it being a home game and having the fans behind them."

Meanwhile, there are also two women's Trophy matches this weekend.

They are both on Saturday when Portugal host Czechia in Lisbon at 1pm local time (1pm UTC) and then Belgium and Germany meet in Brussels at 5.30pm (4.30pm UTC).

Portugal currently top the standings with two wins from two.
Broadcast partners will include Sportall (France), Imedi and Rugby TV (Georgia), TVP (Poland), Sport TV (Portugal), Ziggo (The Netherlands), FloRugby (North America) and Teledeporte and RTVE Play (Spain) for Men's REC games, rugbyeurope.TV for Women's games.