The Trophy sevens action for the summer came to an end with excellent three-day event in Budapest 
England's women and Ireland's men were unstoppable in week two of the Rugby Europe Trophy sevens action for June as they both made it two tournament wins from two in Budapest, Hungary, at the weekend.
In Zagreb, Croatia, England had shown what they are capable of and they cranked things up a notch even further on Friday and Saturday here.
England Women won all three matches in Pool A on Friday while Italy did the same in Pool B and Portugal the same in Pool C.
Hungary, Norway, Sweden, Turkey and Georgia were the other sides to make it through to the quarter-final stage of the 11-team tournament.
In that last eight on Saturday, Hungary were the unlucky ones who had to play red hot England and the latter dominated from the first whistle to win 85-0.
Sweden were then impressive to progress 36-0 against Norway while, in the bottom half of the draw, Italy had to work hard to edge out Turkey 12-5 while Portugal put in a professional showing to defeat Georgia 33-0.
England had defeated Sweden 61-0 in the semi-final in Zagreb and here they won 50-0 against the same opponents to ease into the final finishing the Series with 0 point conceded and 108 tries scored in the two legs. 

Italy and Portugal had also met in the last four in Zagreb and once again this time it was the former who progressed 29-17.
England showed their class in the final - and showed that they certainly had not run out of steam after two weeks of action – to get the better of Italy 59-0 in the final.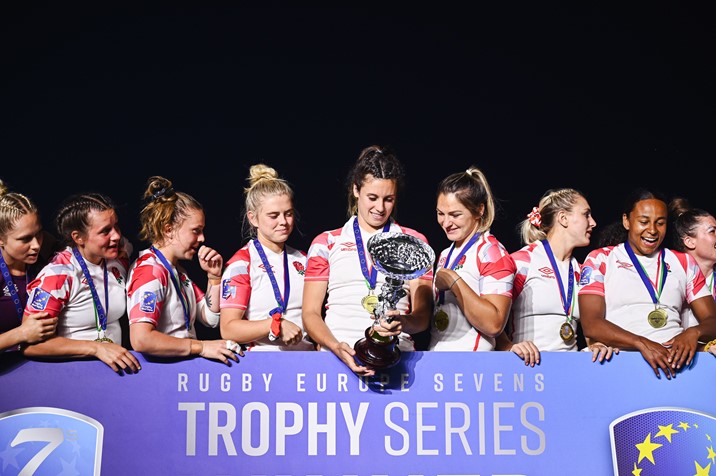 In the third/fourth play-off match, Sweden turned the tables on Portugal from week one to come out on top 22-10 while Turkey were fifth, Norway were sixth, Hungary were seventh on home turf, Georgia were eighth, Denmark were ninth, Israel were 10th and Moldova were 11th. Finland could not compete after illness in the camp.
The top three overall after the two events was England on 40 points, Italy on 36 and Portugal on 30.
As a result, Portugal and Sweden not only progress up to the Rugby Europe Championship division next season, but also gain qualification for the Rugby World Cup 7s European Qualifier in July.
Ireland's men have gone great guns on the HSBC World Rugby Sevens Series for 2022 in recent months and they have just continued that form in Zagreb and Budapest.
Themselves, England and Wales - the top three in Croatia - won their pools in Hungary on Saturday with three wins out of three respectively.
Joining them in the last eight were Croatia, Romania, Hungary, Luxembourg and Sweden.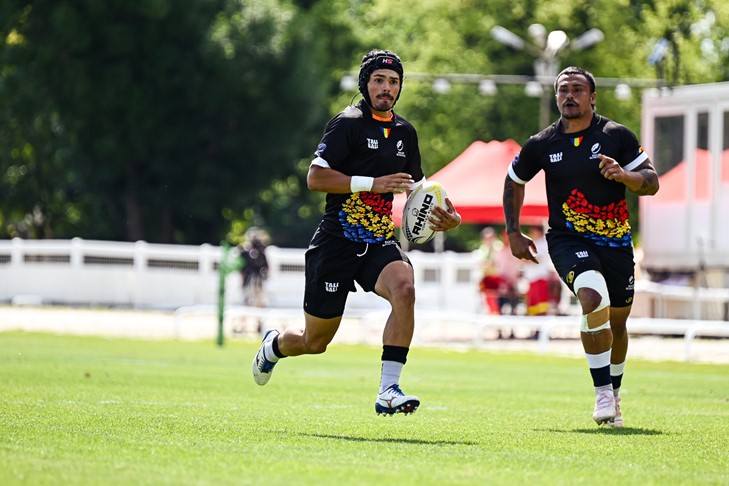 In the top half of the draw in the quarter-finals, Ireland defeated Croatia 57-0 while Romania and Hungary played out a cracker of a tie as the former came out on top 26-17.
In the bottom half, England and Wales set-up a repeat of their semi-final in Zagreb by defeating Luxembourg 33-10 and Sweden 36-7 respectively.
Romania were the next team to try - and fail - to trouble Ireland, the latter winning the first semi-final 54-0.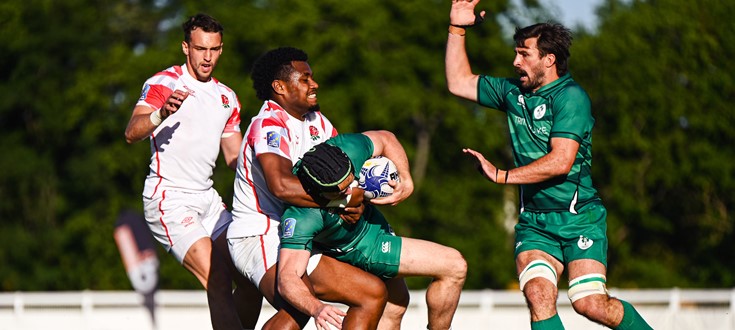 And Wales will not want to see England again for a while after their second last four loss to them in two events, this time 24-5.
England did push Ireland pretty hard in the final, but the Irish just had too much pace and power and came out on top 35-14 to lift more silverware.
Wales made sure of a second third place finish on the spin by seeing off Romania 31-14 in the third/fourth match.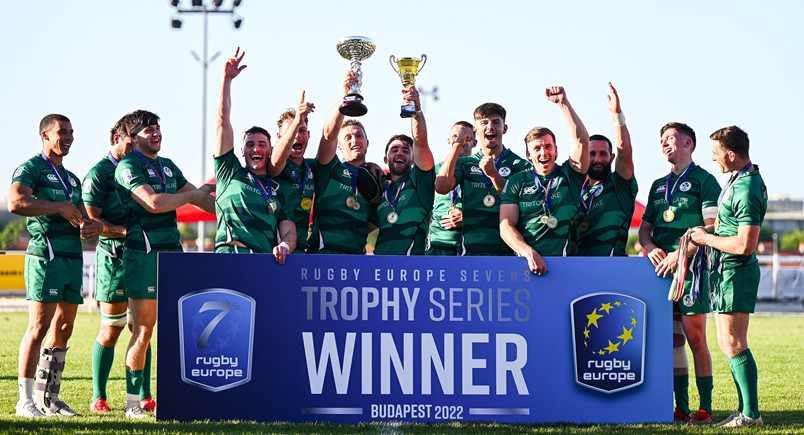 Despite defeat, Romania also progress to the Rugby World Cup 7s European Qualifier event as the next best ranked team not yet qualified.
In terms of other placings in the 12-team event, Croatia were fifth, Sweden were sixth, Hungary were seventh, Luxembourg finished eighth, Israel were ninth, Latvia were 10th, Bulgaria were 11th and Denmark finished 12th, with no team relegated this season. 
The top three overall after the two events was Ireland on 40 points, England on 36 points and Wales on 32.
By Gary Heatly 
Photos: David Voros