The Czechia men's and women's teams were both in great form to win their respective events at the first leg of Rugby Europe Sevens Trophy Series tournaments in Zagreb over the weekend.
Amazingly the two days of action did not get off to the best of starts for the men's team when they lost their opening Pool B match on Saturday morning.
Luxembourg got the better of the 14-12 in that one, but they bounced back in style to see off Turkey 52-5.
They then faced a tough third pool match later on Saturday afternoon, having to work hard to edge out Ukraine 10-5.
Elsewhere in Pool B, Ukraine defeated Turkey 38-0 and Luxembourg 24-12 while Luxembourg saw off Turkey 34-0.
Pool A comprised of Romania (relegated for 2019 RE 7s Grand Prix Series), Sweden, Israel and Bulgaria, the recent winner of the 2021 Conference tournament in Belgrade, invited for this competition.
In the first matches in the pool, Romania and Israel set out their stall by beating Bulgaria and Sweden 40-14 and 17-0 respectively.
Israel then defeated Romania 28-14 and then thumped Bulgaria 61-5 to top the section.
As the Top3 seeded team, Belgium were the side to beat in Pool C and no one could.
They started well by seeing off Hungary 40-7 and went from strength-to-strength, beating Latvia 26-0 and Croatia 54-0.
On Sunday, Israel became the first team through to the last four when they beat Sweden 12-5 in the quarter-finals.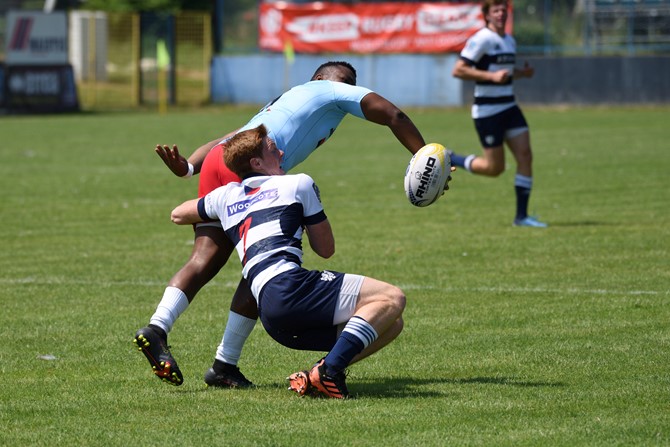 Czechia, Belgium and Ukraine followed them in progressing, beating Luxembourg 31-12, Romania 36-7 and Croatia 28-19 respectively.
After some ranking matches, Ukraine made it through to the final with a 29-7 triumph over Israel in the first semi-final.
The Czechia v Belgium tie was then a cracker, in the end the former coming through 19-17 after some breathless action.
In the placing matches, Hungary finished ninth, Croatia finished seventh, Sweden finished fifth and Belgium finished third.
Czechia then came out on top in the final, seeing off Ukraine 29-12, taking the lead in the Series ranking.
Over in the women's event, Czechia let in just five points in three Pool B matches on Saturday.
They were up first against Turkey and were victors 55-0, they then played Hungary and won 38-5 before backing it up by easing past Finland 24-0.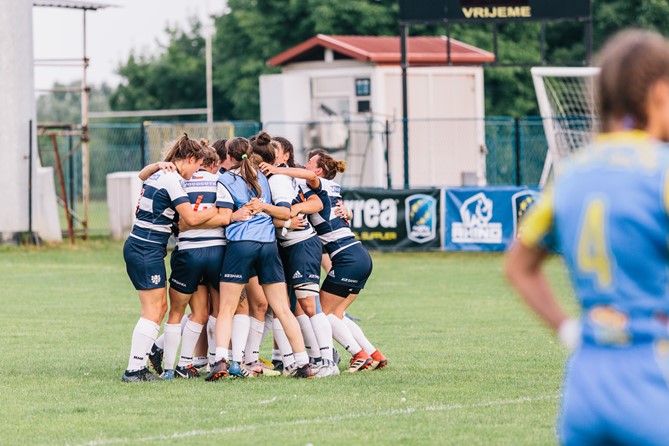 In Pool A, Ukraine were just as impressive in their three group games, confirming their status as one of the favourites, as they played at The Championship level in the last Sevens season.
Moldova were put to the sword 57-0, Georgia dismissed 38-0 and Sweden beaten 38-7 meaning the Ukrainians headed into day two in fine fettle.
They were the side who played in the first last eight tie on Sunday as they continued where they had left off the night before by beating Turkey 37-0.
Czechia then saw off Moldova 34-0, Sweden beat Hungary 33-7 and Finland got the better of Georgia 22-0.
After ranking matches, Czechia and Ukraine then set-up a mouth-watering final by coming through their semi-finals, 24-0 v Sweden and 12-10 v Finland respectively.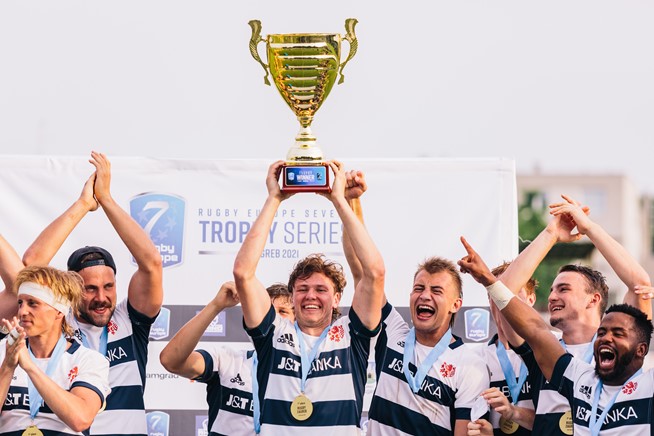 Georgia went on to finish seventh, Hungary fifth and Sweden third before the big final.
It was always going to be a tight match between two good sides and that was the way it panned out.
Czechia were crowned champions grabbed the Cup of the first leg of 2021 Trophy Series after a 12-7 victory over Ukraine.
The Second leg will take place in Budapest on July 9th/10th to crown the 2021 Series Winners.