Day two of the Kraków-Małopolska 2023 European Games sevens competition on Monday was always going to be exciting given that the knock-out stages were due to begin - and so it proved.
The day started with the final Pool matches in the women's competitions which were crucial for placings and finding out which eight teams would make the quarter-finals.
Pool C was first up and Romania dug deep to defeat Sweden 19-12, Diana Marina Gavril leading the way with two tries.
Spain and Belgium had both won two from two on day one and it was to be the Spaniards who made it three from three as they won the clash between the two 29-7.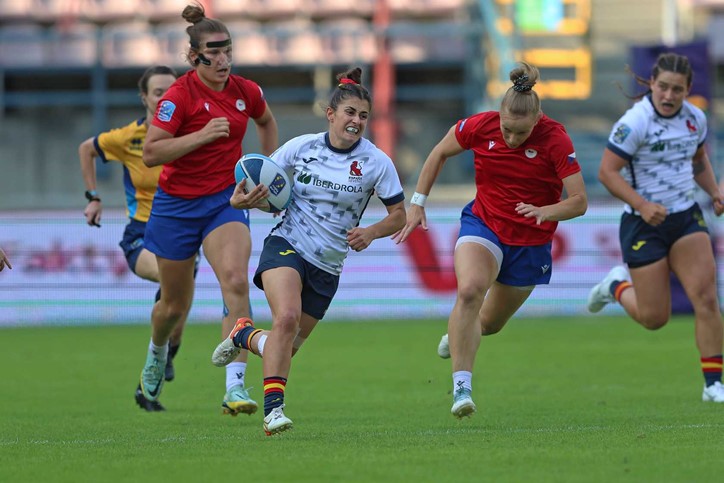 That meant that Spain and Belgium were safely through to the quarters while Romania had an anxious wait to see if they were one of the two best third placed sides.
It was Pool A next and Italy made sure of third place in emphatic style, Sophia Stefan leading the way as they defeated Norway 57-0.
Great Britain and Czechia then played to see who would win the group and the former came out on top 37-5, Shona Campbell and Ellie Boatman both scoring two tries.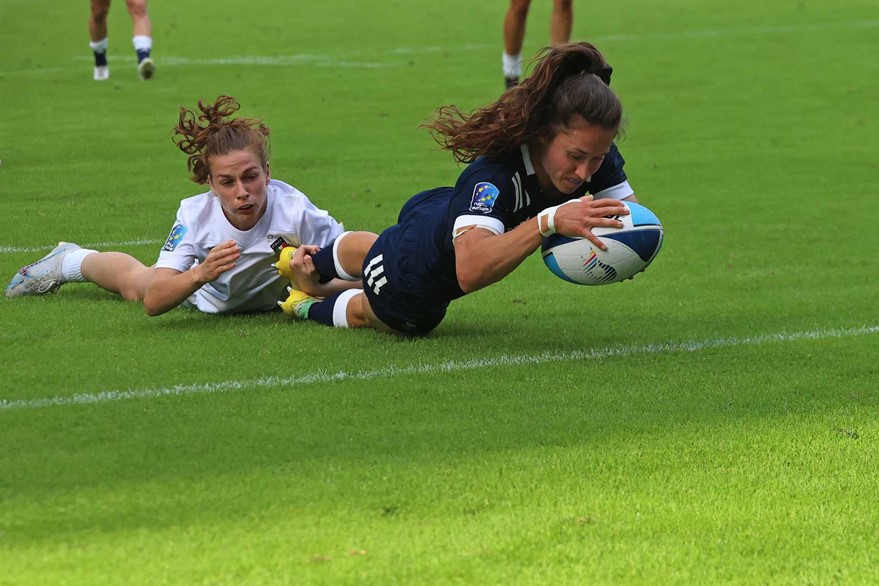 Portugal defeated Türkiye 36-5 next in Henryk Reyman's Municipal Stadium in Kraków, Poland, to give them two wins from their three Pool B games.
Poland, much to the home support's delight, topped the Pool with three wins from three after defeating Germany 43-7, Malgorzata Koldej continuing her fine tournament with three tries.
With the Pool stage completed, Great Britain, Czechia, Poland, Portugal, Spain and Belgium were safely through to the quarters.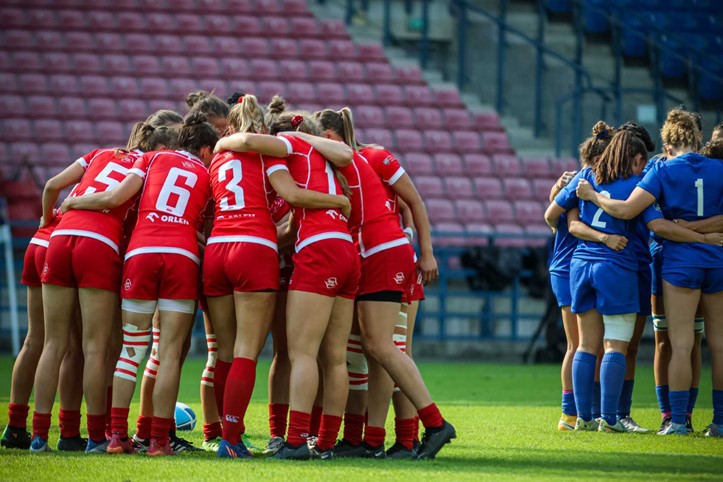 Third placed sides Italy and Germany had done enough to squeeze through to the last eight, too, with Romania just missing out.
Next up the men's Pools were completed, starting with Pool B.
Spain showed that they are a very dangerous side as they made it three wins from three against previously unbeaten Georgia.
The Spaniards came out on top 35-7 as both sides secured quarter-final spots.
Belgium then defeated Czechia 40-7 to make sure of third spot and give themselves a chance of a last eight slot. Gaspard Lally was the star in this one.
Then came the conclusion of Pool C and Great Britain and Portugal pitted their unbeaten records against each other. In the end Great Britain came out on top 31-5 before Lithuania saw off Romania 24-10 to take third in the group.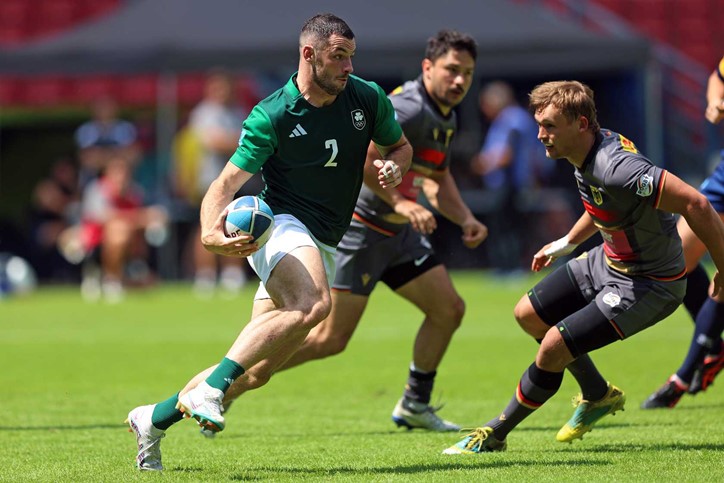 On day one Ireland had won two from two while Germany had won one and drawn one. They met in Pool A and the Germans gave as good as they got for the most part before Ireland came out 19-7 victors with Jack Kelly, Jordan Conroy and Andrew Smith the try scorers.
Germany just did enough to take second spot in the Pool and it was Italy who finished third after a 50-0 victory over Poland.
With the Pool stage completed, Ireland, Germany, Spain, Georgia, Great Britain and Portugal were safely through to the quarters.
Third placed sides Italy and Belgium had done enough to squeeze through to the last eight, too, with Lithuania the ones just missing out here.
After everyone had taken a breath and digested what had happened as the quest for Olympic spots went on, the women's ninth-12 placings semi-finals then took place.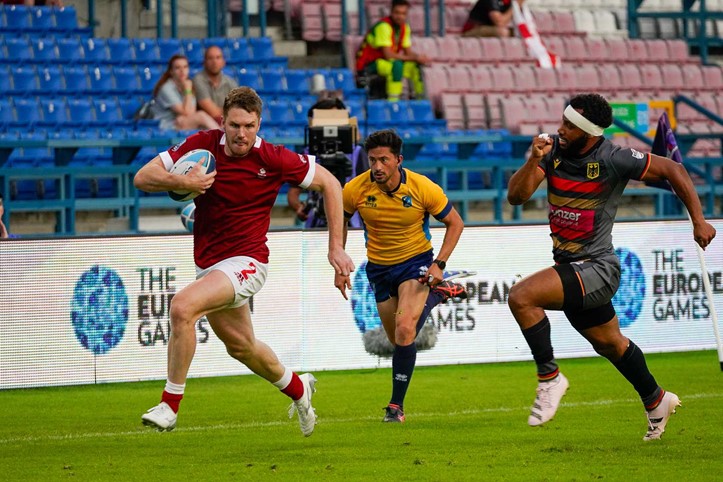 In the first of those Romania made sure they'll be battling it out for ninth spot on day three after they beat Norway 33-0. The second match was a much closer affair, Sweden just edging out Türkiye 10-7, Maja Mueller and Frida Nilsson scoring the tries for the Swedes.
They came the quarter-finals and Great Britain showed a real ruthless streak to defeat Germany 53-0 first up. Boatman scored a hat-trick and Jasmine Joyce scored two tries to lead the way here.
The crowd were then on the edge of their seats for hosts Poland who were next up against Italy. After a very entertaining tie, Poland kept hopes of medalling alive with a 33-15 triumph. Koldej, who else, was the star here with two tries.
The tightest of all the last eight ties was next with Czechia edging out Spain 17-12. Czechia were 17-5 up at the break and then survived a late yellow card thanks to two Kristyna Riegertova tries and a try and a conversion from Julie Dolezilova.
Belgium were then the last team to make it through to the semi-finals when they got the better of Portugal 22-5, Noemie van de Poele scoring two tries.
Tomorrow morning will see GB take on Belgium and Poland against Czechia to decide which two teams will contest the Olympic ticket.
To finish the day there were the men's ninth-12th placings semi-finals and then the quarter-finals.
In the ninth-12th placings semi-finals, Lithuania produced an impressive performance to defeat Poland 33-10 and then Czechia just managed to edge out Romania 21-15. Romania thought they had that one, but a late try and conversion from Adam Miracky for their opponents gave them the victory.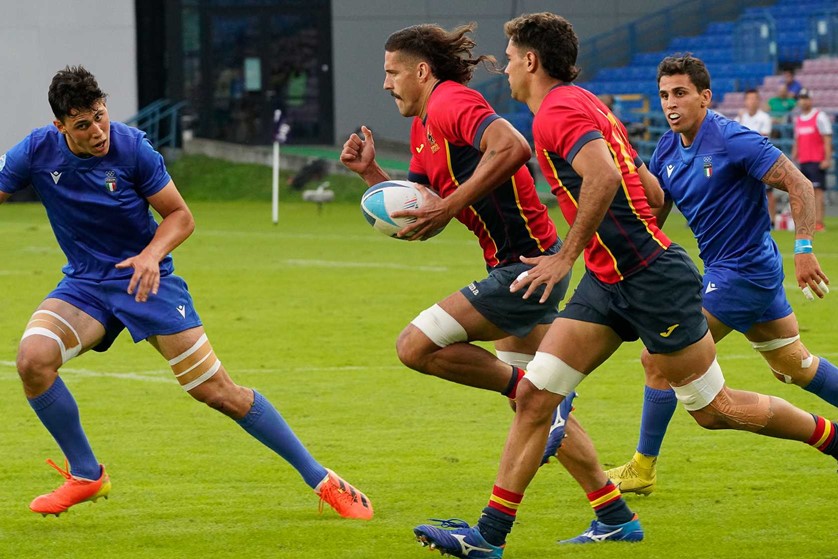 Ireland became the first team through to the semi-finals by defeating Belgium in quarter-final number one 26-12. Ireland led 14-7 at half-time and came through in the end, Liam McNamara scoring two tries.
Spain and Italy were next up and the former were just too strong, coming out 36-7 winners. Eduardo Lopez and Alejandro Laforga both scored two tries.
Great Britain were then pushed all the way by Germany in a dramatic tie.
The Great Britain team were 14-5 up until the last five minutes when Philip Gleitze scored an unconverted try. Great Britain then had to hang on with German on the attack, but they did so.
Portugal then turned on the style to finish the day, defeating Georgia 31-5 in their last eight match to make it through to the last four.
Ireland will now face Portugal before Great Britain face Spain to battle it out for the one ticket to Paris 2024 and the two repechage spots. 
Day three of this event is on Tuesday for women and men and with everything on the line - including medals and Olympic qualification - you will not want to miss it.
By Gary Heatly
Photos: Photos: Neil Kennedy & Wojciech Szymański and Travis Prior