The Kraków-Małopolska 2023 European Games has been excellent so far and featured many sports - and on Sunday rugby sevens joined the action and the players all put on a show.
This is a three-day event for 12 women's and 12 men's teams in the Henryk Reyman's Municipal Stadium in Kraków, Poland.
And with the winners in each tournament being crowned European Games champions and also securing places at the Paris 2024 Olympics, it is no wonder that the standard - just like the stakes - are high.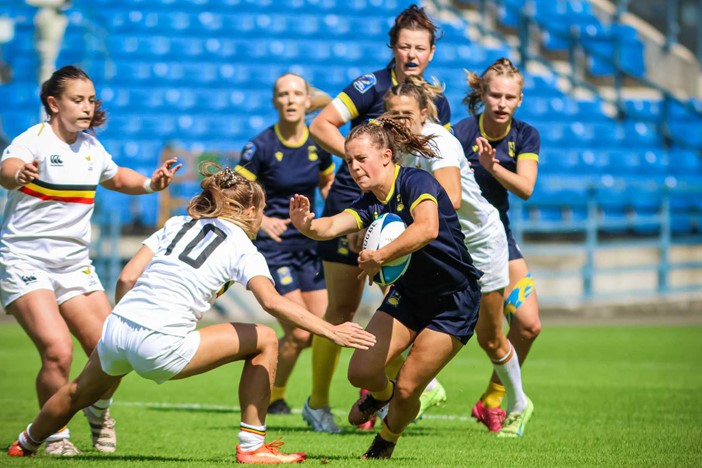 In the women's event, Great Britain, Czechia, Poland, Belgium and Spain all won two games from two on day one.
In Pool A, Great Britain opened up with a 55-0 win over Norway, Amy Wilson-Hardy leading the way with a hat-trick of tries.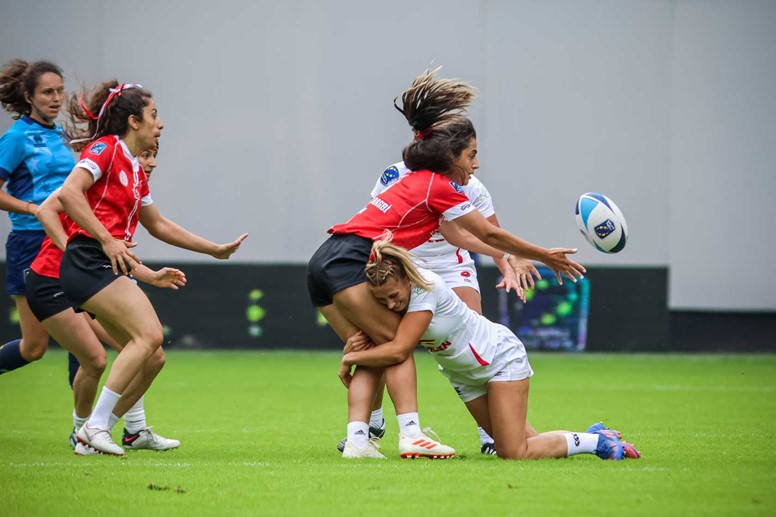 They then backed it up later in the day by getting the better of Italy 36-5, Heather Cowell and Meg Jones running in two tries apiece in that one.
Czechia's first game saw them defeating Italy 28-5 with Julie Dolezilova leading the way with two tries and four conversions.
Their second game saw them get the better of Norway 31-0 and Dolezilova was again the star with two tries and two conversions.
It means that Great Britain and Czechia will meet on day two to see who wins the Pool while Italyin third and fourth placed Norway will face off looking for their first victories.
Pool B has certainly given the home support plenty to smile about because Poland started off by beating Türkiye 50-0.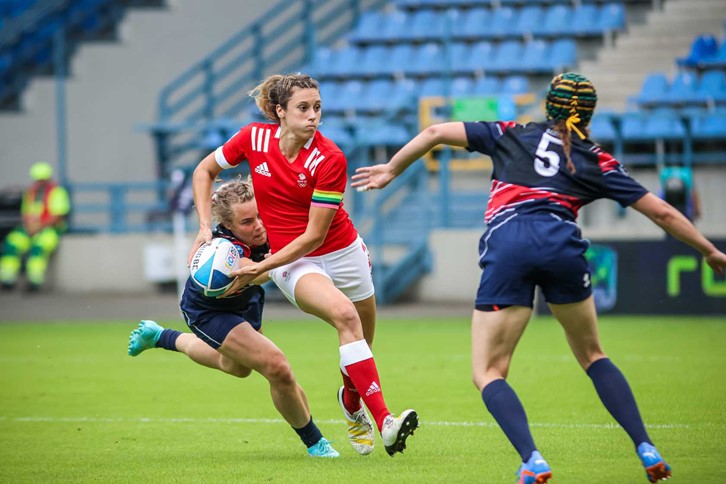 Natalia Pamieta led the way here with a try and four conversions while the tries were shared around.
Just before that tie, Portugal had edged out Germany 19-17 in one of the games of the day and it set up a cracking contest between Poland and Portugal.
Poland were on top from the early stages and went ahead via a Pamieta converted try. Anna Klichowska, Malgorzata Koldej and Sylwia Witkowska them all crossed before half-time when they led 26-0 and that was the way it finished.
Portugal are third in the Pool because it is Germany who are currently second after they bounced back from their opening defeat to get the better of Türkiye 31-5, Johanna Hacker scoring two tries.
Belgium and Spain are unbeaten in Pool C and will meet on day two to see who tops the Pool.
The Belgium-Sweden match was the first of the whole competition and the former turned on the style to win 40-0, Loes Hubrecht the star performer.
Later in the day Belgium backed it up with a 39-0 victory over Romania, Hanne Sweirs and Ella Amora both scoring two tries.
Spain's first win came against Romania, Silvia Morales Gonzalez scoring two tries in a 41-0 scoreline.
Later on Sweden were the team on the wrong end of a 36-0 defeat by them.
Sweden are currently in third in the Pool with Romania fourth and those two teams will meet on day two, too.
In the men's event, Ireland, Spain, Georgia, Great Britain and Portugal all went through day one with two wins from two. Germany also had a good day, drawing one and winning one.
Ireland are definitely among the favourites for this competition and they showed why by defeating Poland 66-0 first up. They were ruthless throughout the match, Billy Dardis scoring two tries and two conversions and a number of his team mates chipping in.
They backed it up in the second last tie of the entire day by seeing off Italy 38-7. Liam McNamara and Terry Kennedy both scored two tries apiece in that one.
They lead the Pool A and Germany are second.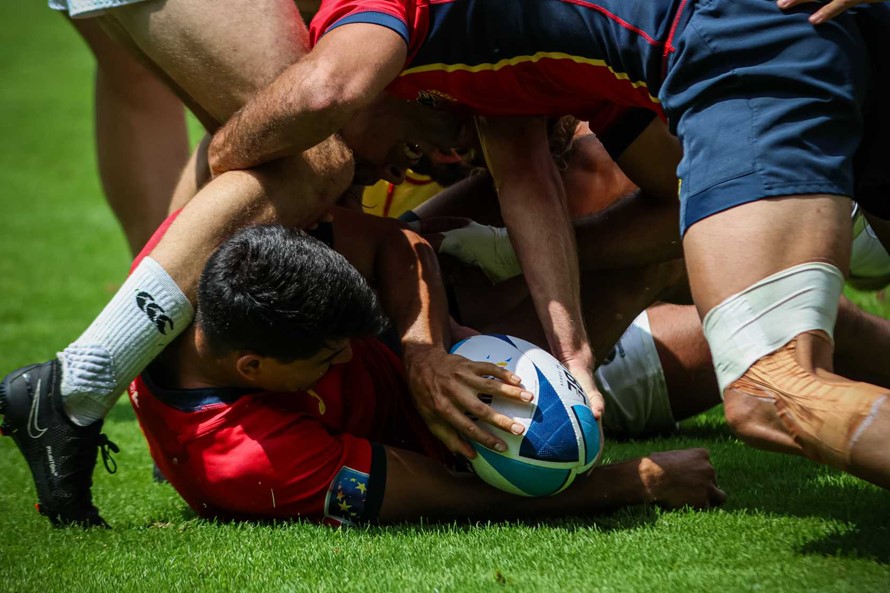 The Germans drew 19-19 with Italy in their first game and then, in the last game of the whole day, turned on the style too defeat Poland 47-0. Bastan van der Bosch scored an early try for the Germans in that game and they never looked back.
Day one's results have Italy sitting third and Poland fourth.
Spain and Georgia have both won two games from two in Pool B to set up an exciting meeting on day two when the winner of the section will be decided.
The Spanish team beat Belgium 26-12 first up and then, later on, looked even better as they disposed of Czechia 40-14. Nico Nieto and Pol Pla Vegué both scored two tries for Spain in that one.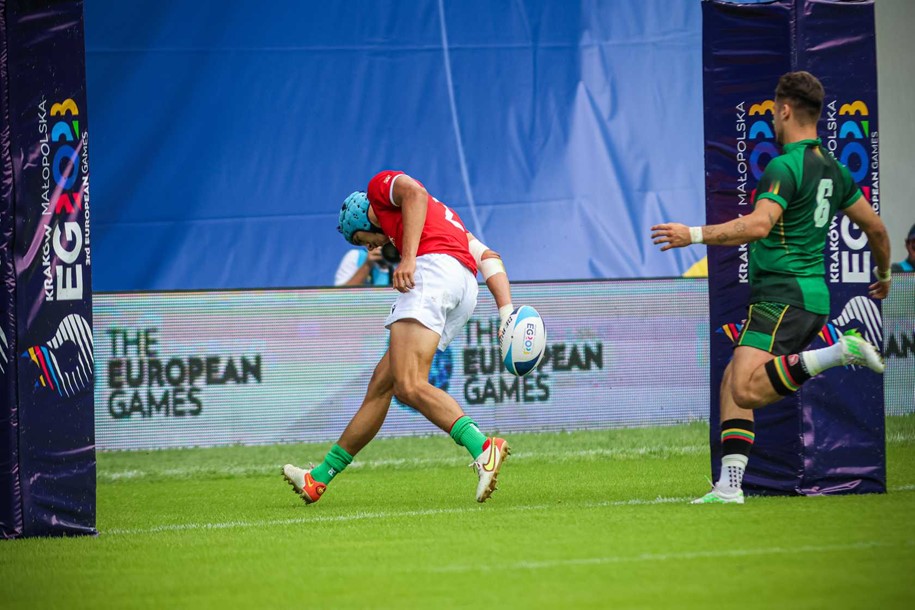 Georgia's day was not quite as comfortable as first up Czechia pushed them very hard before they emerged with a 17-14 victory.
It was also tight for them against Belgium as they came out on top 14-7, their two tries coming from Giorgi Pruidze and Giorgi Jobava.
Belgium are currently third in the Pool with Czechia fourth and they will meet on day two, too.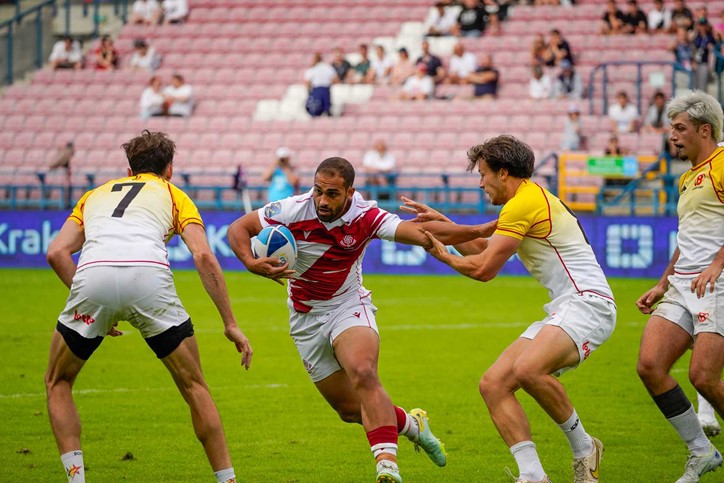 Great Britain and Portugal will meet in the Pool C table toppers decider on day two.
The Great Britain side beat Romania 45-0 in their first outing with the tries shared around. Later on they then got the better of a plucky Lithuania outfit 24-0. Will Homer, Tom Williams, Ross McCann and Femi Sofolarin scored tries in that Lithuania game.
Portugal were one of the most impressive sides on day one, following up a 38-12 win over Lithuania by sweeping aside Romania 45-12.
Lithuania are currently third in Pool C with Romania fourth.
The event continues on Monday, day two, and finishes on Tuesday, day three, when the medallists will be decided.
By Gary Heatly
Photos: Neil Kennedy & Wojciech Szymański