We look back at our U18 Championship 'Team of the Tournament' from the stand-out performers in Kaliningrad. 
The Rugby Europe U18 Championship is done and settled, Georgia will still remain as the undisputed champions (can they go for a fourth?) and the future seems bright for the new generations who desire to go pro or become senior internationals, be it for Romania, Portugal, Spain, Belgium, The Netherlands, Czechia or Russia.
A tough but spectacular week went by, more than 208 players were involved in all three rounds of the tournament, with some stealing the spotlight and deserving their names called out to this best XV (plus subs).
We placed only one rule: a limitation of players for each national team accordingly to their final standing. So, let's be practical and show how we selected the 23 players, starting with the maximum quota for each side.
1st place – Georgia: 7 players
2nd place – Portugal: 6 players
3rd place – Spain: 5 players
4th place – Belgium: 4 players
5th place – Russia: 3 players
6th place – The Netherlands: 2 players
7th place – Romania: 2 players
8th place – Czechia: 1 player
This doesn't mean that every team has fulfilled their quota, as there were clashes in some positions and, we looked into the stats (tries, assists, line-breaks, and tackles), so we could choose the best-suited option.
Some players could be selected for more than one position (Manuel Vareiro's case, as he played one match as a fly-half and the last two as an open-side centre), and the deciding factor is where they got must time on.
STARTING XV
PROPS
Juan Guillermo (Spain) / Irakli Aptsiauri (Georgia)
HOOKER
Julien Masure (Belgium)
Georgia's front-row worked marvelously, but we picked Irakli Aptsiauri from the starting trio, as the tighthead prop was a wrecking ball in the maul or scrum. Accompanied by Spain's loosehead, Juan Guillermo, who can mount a speed chase and has good tackling/jackling skills, and Belgium's hooker, Julien Masure.
LOCKS
Henrique Cortes (Portugal) / Asier Perez (Spain)
Both were essential for their teams, not only in the lineout, but as well in the continuous play, support attack, and defensive ability.   

3RD ROW
Rati Zazadze (Georgia) / Denis Lafargue (Belgium) / Nikolozi Sutidze (Georgia)
Rati Zazadze and Nikolozi Sutidze are bound to have a very interesting career in rugby, if they want to proceed to the next level, as both of them have the skills, determination, and mental stamina to be two powerful additions for the Lelos. Denis Lafargue impressed Belgium, with a couple of big tackles and a good capability to appear on the attacking setup.
SCRUM-HALF
David Khuroshvili (Georgia)
FLY-HALF
Petre Khutsishvili (Georgia)
It's a no-brainer, as this pair made things easy for Georgia, commanding their team to stable attacking displays, while never conceding space or mistakes in their kicking and defensive duties.

CENTRES
Daniel Catanzaro (Spain) / Manuel Vareiro (Portugal)
Brilliant feet skills, superb tackling, and devilish effectiveness while counterattacking can be applied to this Mediterranean pairing, Daniel Catanzaro (2 tries and 2 assists) and Manuel Vareiro (2 tries and 2 assists also).
WINGS
Daniel Leers (Netherlands) / Shalva Aptsiauri (Georgia) / Saba Archvadze (Georgia)
Leers can be an odd choice, but his speed prowess, and good handling skills helped Netherlands to reach another level in the Romania match, as well against Russia. But, the very best of the back three has to go to Shalva Aptsiauri and Saba Archavdze, as both Georgians are just a delight to watch, driving the opposition crazy, as their unpredictability, quickness and impressive run stats disassembled some good defenses.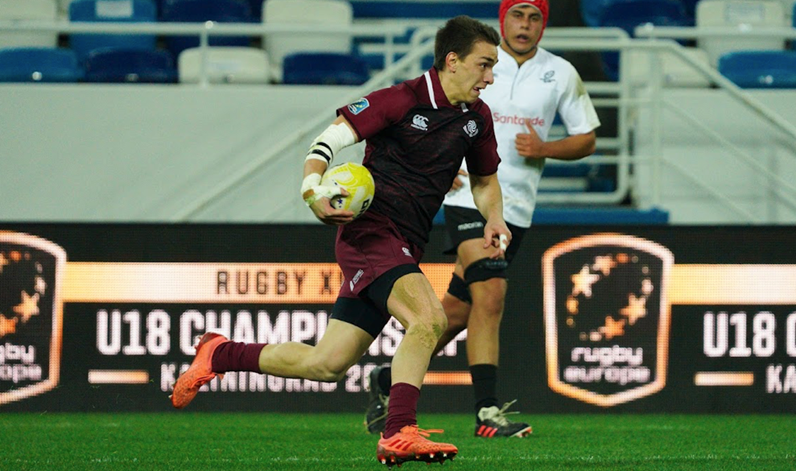 BENCH (5-3)
PROPS
Thymotheus Peters (Netherlands) / Aleksandr Kabanov (Russia)
HOOKER
Bernardo Cardoso (Portugal)
LOCK/FLANKER
Danil Orlik (Russia)
SCRUMHALF
Duarte Cortes (Portugal)
UTILITY BACK
Florian Remue (Belgium)
UTILITY BACK
Mario Coronado (Spain)
As for the bench, Florian Remue, Aleksandr Kabanov, and Mario Coronado were three of the best players in their squads and made an impact in some of the matches on the tournament. 
By Francisco Issac
Photos: Russia Rugby Union