Rugby Europe has announced that this year's two Rugby Europe Championship legs will be held in Algarve (June 9-11th) and Hamburg (July 7-9th). 
The European Championship series in Olympic seven-a-side rugby is returning to Germany for the first time since 2009. From July 7th to 9th, twelve of the best teams from across Europe, in both the women and men's game, will appear in the second and decisive tournament of the Championship in the Hanseatic city. In addition, thanks to a partnership with the green4sports agency, the event is part of the "Green Events Hamburg" project with a sustainable concept.
In addition to the German "Wolfpack", who will again be in the group of title contenders, the men's series will also include defending champions Spain, France, Ireland, Great Britain, Belgium, Italy, Portugal, Georgia, Romania, Lithuania and Czech Republic.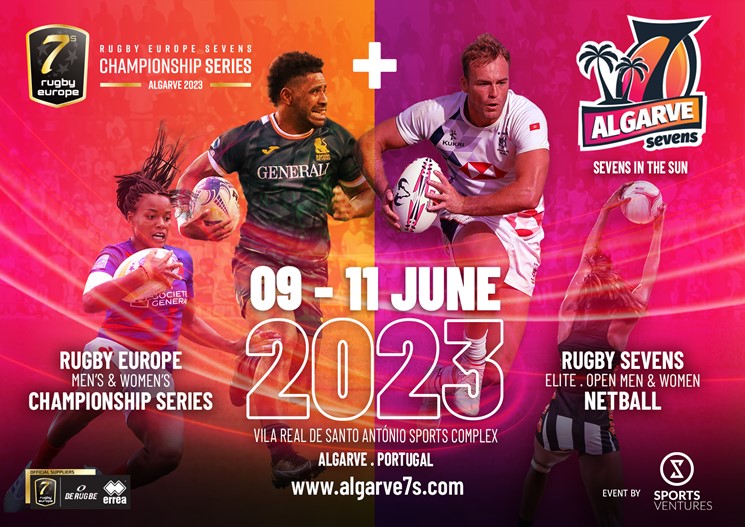 The women's competition will include Germany, Ireland, Great Britain, France, Spain, Belgium, Italy, Romania, Sweden, Czech Republic, and Portugal who are trying to wrestle the title from the reigning European champions, Poland.
In addition, the spectators in Hamburg will be able to see some of the Olympic-qualified teams in action in Hamburg with the European Olympic qualification stage taking place in Kraków, Poland, as part of the European Games (from 25 to 27 June) prior to the final leg in Hamburg. The first European Championship tournament will take place in Algarve in Portugal (June 9th to 11th) tickets available HERE.
A stadium for more than 3.000 spectators will be set up in the Sports Park Steinwiesenweg in Hamburg-Eidelstedt for the Rugby Europe 7s Championship Series tournament. Tickets will be available in presale and start at 10 Euro per day. There will be special offers for families. Ticketing has already started via rugby-deutschland.reservix.de.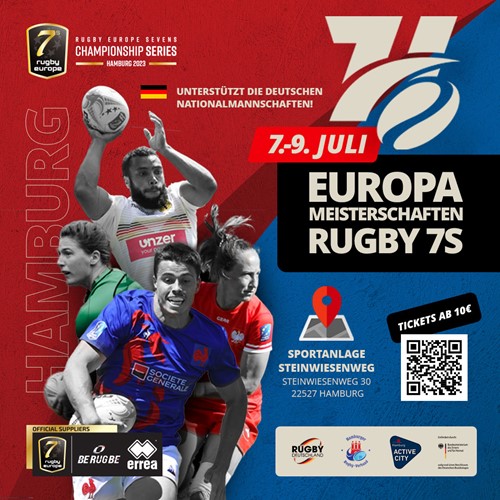 Hamburg's Sports Senator Andy Grote: "The Active City is very pleased that we can welcome Europe's elite in Rugby 7s for the first time. As a newcomer to the Olympic program, this sport has made quite a splash and gained many new fans around the world. The fact that the European rugby association has now explicitly approached Hamburg as a venue shows on the one hand that German rugby has been able to draw attention to itself in recent years. And it also makes it clear that people in Europe are aware that the Hanseatic city is more diverse in terms of sporting events than almost any other city. The topic of sustainability will also play an important role in future rugby tournaments. We are therefore very pleased that Rugby Germany, together with partner green4sports, will implement this concept as part of this European Championship tournament."
Harald Hees, President of Rugby Germany: "Rugby has developed very well in Hamburg in recent years. With the FC St. Pauli, the largest German club is based in the Hanseatic city and with the Hamburger RC, in addition to a few clubs, another Bundesliga club is based. I think that with the organization of at least one European Championship tournament in Hamburg, we now have the opportunity to set new positive impulses not only in Hamburg but throughout Germany in order to be able to further develop our sport. We are also extremely happy to be able to present our two national teams of 7 to our German rugby fans again on German soil. Our goal is to work with Rugby Europe, Germany and especially Hamburg to establish a location for such a tournament."
Octavian Morariu, President of Rugby Europe and IOC Member: "We are thrilled to welcome the city of Hamburg as one of the hosts in this year's Sevens Championship Series. This makes complete sense for a city dedicated to sport and for the Deutsch Rugby Union who have proved their commitment to develop and promote Sevens Rugby for a considerable amount of time. We are excited to gather the best European teams in Hamburg for a great tournament that will decide the European Champion and establish a long-term and sustainable partnership."
Nils Zurawski, President of the Hamburg Rugby Union: "We are delighted and proud that both Rugby Europe and Rugby Germany have independently identified Hamburg as a suitable location for a Rugby Europe Sevens Championship tournament. The anticipation of the Hamburg rugby fans to welcome not only our national team of 7, but the entire elite of Europe here with us, will be huge. We are looking forward to a great tournament and are already calling on everyone in Hamburg not to miss this event and to get to know this spectacular sport up close."