As the Conference and Trophy 7's division suns have set, it's time for the 7s. Championship to take place and there are more than a couple of players ready to take the competition by storm, as it starts this weekend in Lisbon!
From the relentless Leones and Leonas to the Les Bleus champagne, here are our 7 players to keep an eye on.
JUAN RAMOS (SPAIN)
The Spanish armada is heading to the 7's Championship with their men and women squads, and will certainly be on the hunt for the gold, as both rosters have an astounding pool of quality players like Juan Ramos, captain and one of the living legends for Los Leones.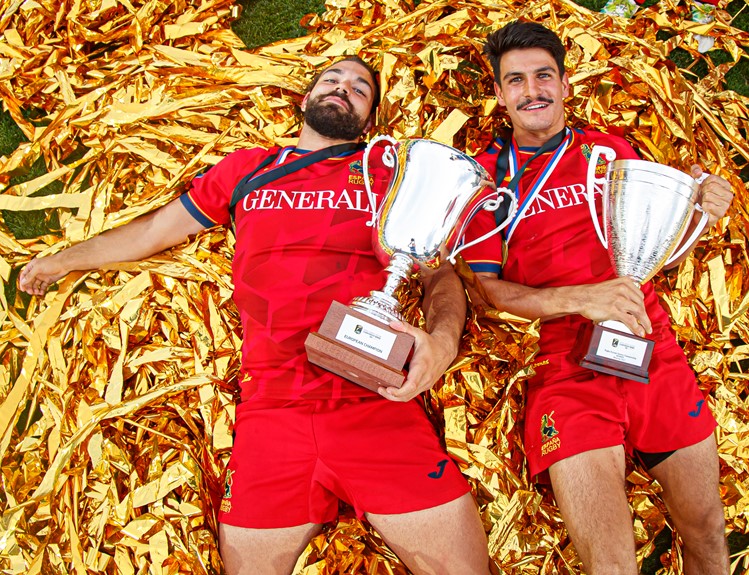 A tactical operator that is always analyzing how the opposition moves to give an advantage to his side, Ramos's leadership adds an extra edge that makes the difference in matches that are played with little margins for mistakes. A workload "machine", he is relentless at every set-piece or breakdown contest, inspiring his fellow colleagues to follow him.
After taking the gold in the 2021 Rugby Europe Championship, Juan Ramos will certainly want to add another medal to his trophy cabinet in this year's tournament.
JORIS SIMON (FRANCE)
What a year it has been for Joris Simon, the 26-year-old, who only became a France international in the World Series back in January, collecting numerous caps for Les Bleus since then, and earning the captaincy for the Rugby Europe 7's Championship.
Holder of the typical enforcer's build, the 7's prop can do real damage around the contact area, falling harder than a hammer that is always looking for a way to intimidate the opposition, be it aerial (he does have a knack to fight for the ball in the resets) or territorial
Look out for the air battle, as Joris Simon is ready to help France make their bid for success.
AMAIA ERBINA (SPAIN)
Powerhouse, deadly, physical, and all the elements that make a bombing prop, Amaia Erbina is one of Las Leonas' main names to fight for the podium in the 7's Championship and her foes must not treat her lightly.
The 25-year-old has been a handful for Spain in the World Series, mauling her opponents with impressive power that opens gaps through the tightest defenses, whilst catching everyone by surprise when she injects speed to her gears.
Iron legs, finesse rugby wits, and a passionate tenacity, Amaia Erbina will be one of the Spain's protagonists in the Rugby Europe 7's Championship, be sure of that.
LUCY MULHALL (IRELAND)
Lucy Mulhall, that should suffice for this entry. Why? Because her name is quickly becoming well-known at a global level, as she is one of the stalwarts of the 7's world all thanks to an insatiable appetite to tackle, leaving a trail of havoc and wreck behind every time the Irish superstar goes collides, managing also to be a superb turnover stealer.
She carries her side captain armband with great pride, tirelessly working non-stop.
Ireland is one of the main contenders for this year's Rugby Europe 7's Championship, as they have a well-defined team that knows how to make an impact play-by-play, combining this skill with excellent individual inputs like Lucy Mulhall.
KOLDEJ MALGORZATA (POLAND)
Be sure to watch Polish superstar Kodej Malgorzata closely, she is an impressive asset to this side, marching swiftly to gain meters or, better yet, get on the scoresheet for her side.
In 2021 the powerful 7's player was one of the best for Poland in the Women Rugby Europe 7's Championship, powering through the opposition thanks to her sheer tenacity and resilience, and, also, astounding speed, asserting a certain type of dominance that her foes must not let take place.
Brilliant in Malaga and Sevilla HSBC World Series stages in 2022, it is safe to bet to place Koldej Malgorzata as one of the MVPs of the upcoming 7's Championship.
MASSIMO CIOFFI (ITALY)
Did anyone order an Italian maestro for the Europe 7's Championship table? Here comes then Massimo Cioffi, Italy captain, who is a magical winger that can step with heavy doses of charm and class. 
Well renowned for his handling skills, Cioffi has been a loyal servant for the Azzurri national team, always seeking to impress, be it by producing some 7's fantasy moments or by creating the enough strain in the opposition line to open gaps for his teammates.
In an experienced Italian side, Cioffi comes as one of the most seasoned units who can enhance his teams' chances every time he is called to action.
JOANNA GRISEZ (FRANCE)
A full-blown sprinter, that is Joanna Grissez's most exciting ability (in a long list of others), alongside her aptitude to score tries - she was France's leading try-scorer in the 2022 World Series, and who will certainly have her sight on pocketing a couple (or a dozen) more in the Lisbon and the Krakow 7's tournaments.
She doesn't need any space, if the defense isn't there to attempt a tackle or to at least narrow the gaps, Joanna Grisez will turn on the afterburners and disappear.
A remarkable athlete, an attacking specialist (but that knows how to punch an impactful tackle), and a commanding presence, the French 7's star will be on the hunt for more tries and line breaks. 
By Francisco Isaac