The representatives of the 47 member unions participated actively in the debates conducted by Rugby Europe President Octavian Morariu and the Board of Rugby Europe.
Opening the event, Bill Beaumont, President of World Rugby, reminded the importance of European rugby at the world level, and congratulated each federation for its commitment to the development of our sport.
Bernard Laporte, President of the French Rugby Federation, highlighted the role of France in Rugby Europe and his will to support all European unions in their development.
Claude Atcher, Managing Director of France 2023, presented the main lines of the coming event and the current projects being discussed with Rugby Europe to involve all countries.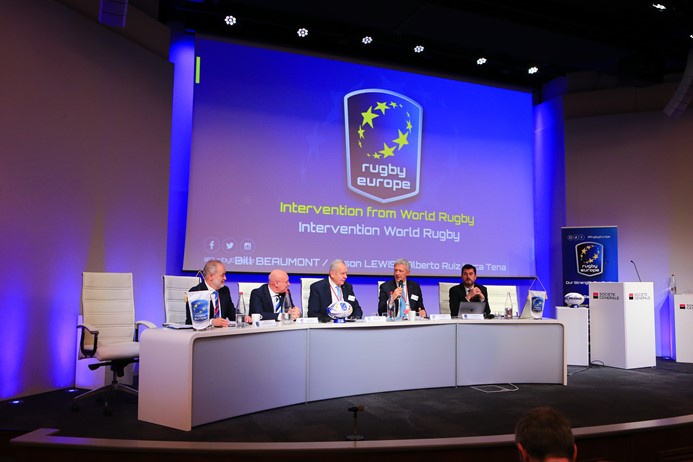 It is in this spirit of progress towards the future that the association announced and made several major decisions.
Rugby Europe adopted a modification of its Bylaws aiming to a better representativity of all the members, and a greater efficiency of its system of governance.
The program for European competitions for the period 2021/2024 was presented to Member Unions, allowing host countries and participants to have a clear timetable for this new cycle.
The Training & Education strategic plan for the period 2020/2024 was presented, incorporating new criteria and obligations for countries according to the competitions in which they will compete.
Various workshops were set up on key-topics: The female inclusion plan of the unions, the governance basics of sports federations, the game presentation and the stakes of Player Welfare.
Finally, Rugby Europe announced the signing of a partnership with the apparel manufacturer ERREA Sport for the next 4 years. The Italian company will outfit all match-officials and Rugby Europe representatives on all the activities carried out.
Rugby Europe also rewarded people who have worked extensively across European Rugby to promote our sport:
       - Bronze Medals: Norman Franges (AUT), Georges Mossford (FIN), Philippe Marguin (FRA), Jorge Mendès Silva (POR), Sergey Markov (RUS), Eduard Krutzner (SVK)
       - Silver Medals: Dee Bardbury (SCO), Dmytro Samoylenko (UKR)
       - Gold Medal: Dany Roelands (BEL)