Day one of the Rugby Europe U18 Championship got underway with four matches taking place across two stadiums in Kaliningrad, Russia on Sunday.
We take a look at the encounters and where the games were won and lost ahead of the second round of fixtures taking place this coming Wednesday (6 October).
THE THREAT: DOMINANCE, THE WAY OF SPAIN
Spain and Romania opened the U18'S Rugby Europe Championship 2021 in a physical encounter mostly dominated by "Los Leones", as they made excellent use of their impactful runs and dynamic feet skills, forcing several defensive errors from the opposition who had a difficult day to stop fullback Santiago Lopez and wing Mario Coronado.
Even if there was equilibrium in the second half, the Spanish side always looked to be in control, negating Romania's physicality while looking to quickly turn over the ball, set another open play, and speed up the game to a higher tempo, breaking a secure path towards the try-line, as Noah Canepa's 68th minute try demonstrated. 

But the major detail that should worry Spain's next foes is how their forward pack pushed and bullied Romania, winning several lineouts, nullifying the "Oaks" scrum, and presenting a rampaging maul, which broke their Romanian counterparts in the first 40 minutes.
Locks Asier Perez and Jaime Borondo not only were decisive on that front but also in open play, with some good line-breaks followed by an impressive offload display (Borondo's try-assist to Ignacio Pinero try deserves another look) making very good use of their size and physical abilities. For years, east European countries dominated in the set-piece action, driving back what were perceived as physically "smaller" Nations, like Portugal or Spain, with these two "forced" to be more aggressive/effective when tackling or creating spaces by their more elusive backs.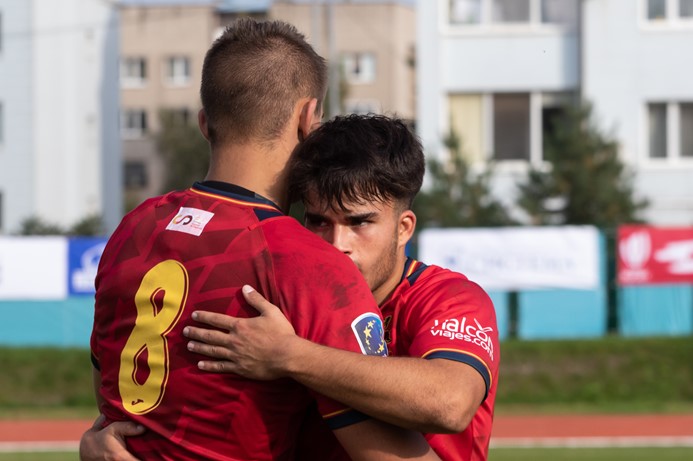 Yet, in recent years the U18's have opened the way to decrease this gap and this Spanish U18 side has looked to reach the very top. Big forwards, slick backs, well-worked handling and feet skills, trustworthy lineout, and one of the best center parings in the whole competition, this is Spain and you have been warned. 
Man of the Moment: Jaime Borondo (Spain) – the lock brought strong runs, opening holes in the opposition's defense, while his tackling was on point and completed two turnovers
THE UPSET: BELGIUM PULL THE RUG ON HOME TEAM
A tight match from start to finish, Belgium fought hard and deservedly conquered a spot in the semi-finals of the U18 Rugby Europe Championship, after enduring 15 minutes of Russian persistence, showcasing a passionate and rigorous defense, never giving up, and finishing on top with a historical 21-10 win. How was it possible? How could the Russian physical prowess and set-piece dynamics have ended up nullified in such a fashion?
There's merit and demerit on both sides, as the home side struggled find solutions outside of the box, trying to overpower themselves over the try-line relying almost only on pick-and-go, while the Belgians didn't panic when defending inches away from conceding, clinching good tackles and a smart tactic of wrapping the carrier inside the try area to force an inline dropkick.
Michel Abrahams's men's mental composure was key to not let the Russians feel they were on course for a comeback, applying a patient defensive structure that didn't fall apart even when Russia were able to make some ground. Julien Mesure, Eliott Deslsipee, Delis Lafargue, Nathan Dieval were just some of the tacklers who kept the Belgian side unified, blocking the Russian's impact in close contact. An upset on the scoreboard, but if you watched the game in its entirety, you would understand why Belgium were no underdogs.

Ah, also, there's a strong contender for try of the tournament and that is Florian Remue's try (keep your eyes opened for this outside-centre). A simple, smart, and effective play after a scrum, with the right run lines and support that is requested in today's modern rugby game.  
Man of the Moment: Florian Remue (Belgium) – one try, one assist, excellent kicking ability (slotted 45-meter penalty kick), and three line-breaks
THE DETAIL: THE LOBOS BREAKDOWN TECHNIQUE
Portugal and Netherlands were locked in an intense contest, dueling in every lineout, scrum, and run/tackle making it a physical spar decided almost by mauls and penalty kicks, with the Portuguese side taking the final initiative to qualify for the semis.
There were two mechanics that made this bout a more interesting one: the Dutch blitz, which narrowed down the Portuguese attacking options, closing gaps and spaces thus avoiding their adversaries speed and creative skills, conceding only three linebreaks in 70 minutes; and Portugal's breakdown action, winning nine penalties, some of them crucial, as it ended a dangerous Netherlands offensive spree, with a good example being Manuel Vereiro's (solid exhibition by the flyhalf) turnover when the clock was ticking the 60th minute, stopping the Dutch from reaching the try-line.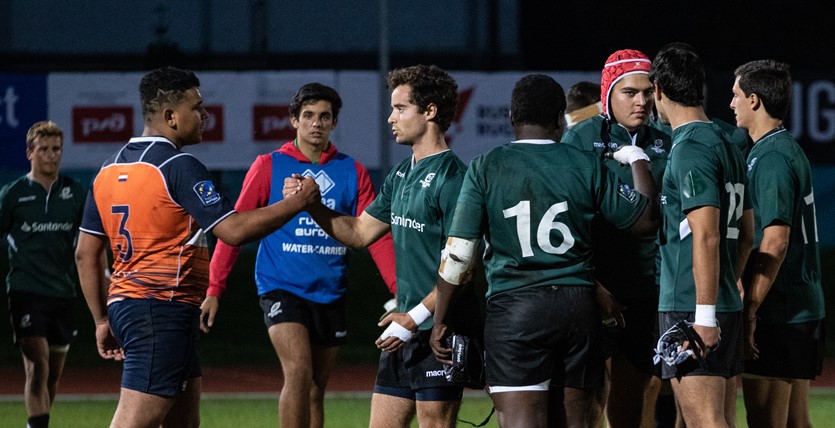 The Portuguese squad lead by João Uva and Miguel Leal was clinical at the ground action, quickly throwing their hands to the ball in the right moment, which in the long run forced the Netherlands to apply more units to their ruck support, losing any attacking superiority, with Luís Pina, Vasco Silva, Vasco Navalhinhas or Henrique Cortes being some of the snatchers of the day, keeping "Os Lobos'" trademark defensive display.
Even if it wasn't one of those scintillating matches, the sheer physicality brought by both sides kept everyone on their toes and the final scoreboard is the best proof of a close encounter.
Man of the Moment: Manuel Vereiro (Portugal) – good decision making, his kicks were decisive to keep the Dutch at bay, with also being one of the most dangerous units in the Portuguese side.
THE CHAMPIONS: THE FAMOUS GEORGIAN FURY
What an entrance from the current U18 European champions, as Georgia blasted their way to the try-line on ten occasions, ousting a courageous Czechia team that never had the conditions to really impose a challenge in this 1st round match. With Shalva Aptisauri and Saba Archvadze running a good show, the 2019 champions never dropped their game speed, looking always to win the gain line while exploring the inside channel and run good combinations between their attacking units.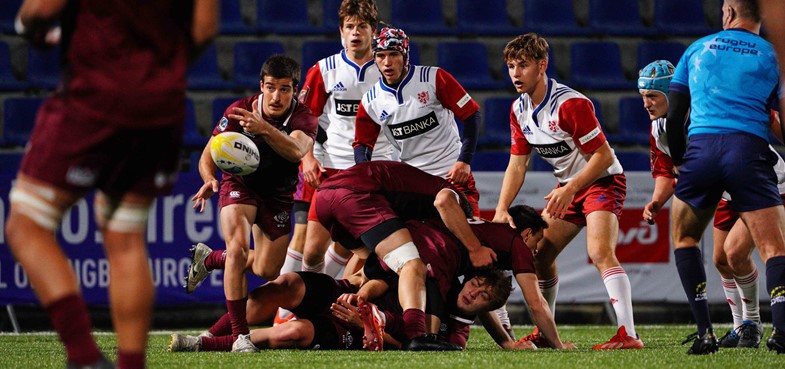 It's no surprise that Georgia have developed a kind of strategy in the form of bulldozering the opposing forward pack in a swift and effective manner, quickly placing the ball in their creative units and start a rampaging attack that can end in: winning good ground; forcing a penalty or try. The expertise shown by their 9-10 combo, Davit Khuroshvili (write this name down for the future) and Petre Khutsishvili will be one of the keys that will drive the team forward to the final stage of this tournament, although there's still the amazing Belgians on the way.
It's not necessary to write a full dissertation about Georgia's exhibition in this first match, as this first match was just a little example of what we and their rivals can expect: power, speed, physicality, dominium, and effectiveness.
Man of the Moment: Saba Archvadze (Georgia) – was in some of the tries in open play (most tries for Georgia were scored following a maul or a simple first phase sequence), scoring one and assisting two, being lethal in every run. 
By Francisco Isaac
Photos Russian Rugby Union