We round up another fascinating weekend of rugby in the Rugby Europe Super Cup where all four away teams took the spoils. 
Dominium, a Black Lion rule
What a first-half display from the Georgian Black Lion franchise, who built an early lead to stop any possible chance of a comeback for the home side, in a clear and sound message for all: they are here to set the Rugby Europe Super Cup's benchmark.
In a battle fought mainly by forwards on each side, the line was drawn by the visitors who made good use of their physical abilities, as their better agility and speed, made it possible to gain always good ground when attacking, and forced Lokomotiv Penza to try a search for options elsewhere.

The backrow combo of young stalwarts Sandro Mamamtavrishvili (8 tackles and 1 turnover) and Luka Ivanishvili (3 tackle-busts, 10 tackles), and experienced Niko Aptisauri, was one of the reasons why the Black Lion was dominant and controlled the match tempo through the whole 80 minutes, even when Penza reached the try-line after coming back from the locker-rooms.
Lokomotiv Penza had some moments in the sun – scrum-half Rudi Van Rooyen brought always a good dynamic and mischief -, but it wasn't enough to stop the Black Lion goal of getting 5 points and stand very close to the pool lead, which they can take into next week.
A new contender raises: Tel-Aviv Heat brings the fireworks
Another Rugby Europe Super Cup thriller for the books, as Tel-Aviv Heat, edged out a three-point win (34-31) upsetting the still Eastern Pool leaders Enisei, after 80 minutes of several twists and turns, and an unpredictable score until the last breath.
A very entertaining first half saw Tel-Aviv building a good lead, creating some plays drenched in stellar handling details as it was with Gabriel Ibitoye's try-assist offload to Sebastiaan Jobb (the former Blue Bulls player was an impressive threat) in the 32nd minute, which caught the home team by surprise, and was a decisive factor on how they were able to find space to breakthrough Enisei's territory, as a high-risk approach was well rewarded.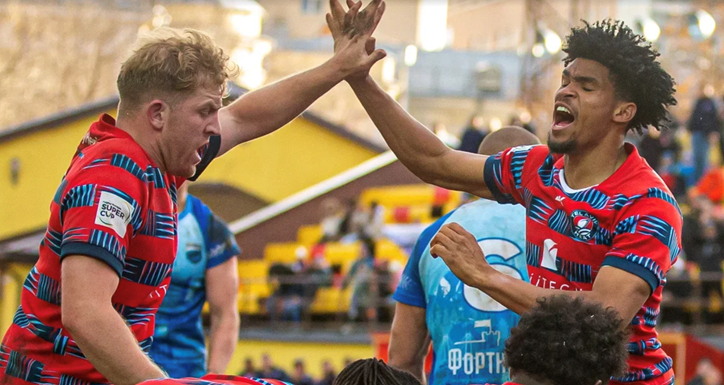 There was another "small" detail that pushed the Israeli side to achieve these unexpected 4 points: Josh Strauss. The former Scottish international premiered and was one of the best players in Moscow, stealing some of Enisei's lineouts, making several decisive calls, and with a spree of smart tackles (turned the ball carrier to be faced towards his team, making it easier for a turnover) that helped Tel-Aviv feel in control.
But, let's select a decisive moment, that if gone the other way could've made us tell a different story: the first-half last play. Enisei was awarded a penalty advantage after a Tel-Aviv infringement on the ground (player not rolling), and after four minutes of playing inside their adversary's last 5 meters, the Russian side chose to go for a scrum. Locked on, quick ball to the back and a steady pass to Denis Simplikevich. The centre immediately ran to the try-line, and tacklers quickly latched on him and the ball, rolling up the bulldozing back and forcing an in-goal drop goal, which wasn't taken as the referee whistled to the half-time.
Tel-Aviv Heat proved they can fight for the top two spots on this highly contested pool, and the fact they were able to build such strong defense and smart offensive gameplay must be praised (Kevin Musikanth was the engineer of all) and regarded as a win for Rugby Europe Super Cup. 
https://twitter.com/RESuperCup/status/1451885468405182471
A Lusitanos masterclass in Netherlands
If the initial forty minutes might've held some doubts on who would get out of Amersfoort grounds with the win, as the Lusitanos only held an 8-point lead, the second-half undid everything as the Portuguese side outclassed their Dutch counterparts with another superb attacking exhibition, filled with magical runs and plays.

Delta pressured their opponents mainly in the set-piece (their only try came through a scrum penalty try), winning a couple of scrums and mauls that seemed to open a clear path to a second much-needed try, but their intentions were cut short thanks to a trustworthy blockade with the likes of João Granate, Manuel Picão, David Costa or Vasco Ribeiro denying Oliva Sialau or Dirk Danen good runs. 
With everyone waiting for the same tight contest after the break, Lagisquet's Lusitanos blasted through, stepped up and started their flourish of attacking moves and plays, commandeered by scrum-half João Bello and fly-half Jorge Abecassis, with the latter disrupting Delta's defensive gameplan thanks to a sidestepping and juggling ability.
Quick to overturn Delta's advances, even quicker to launch an incisive-threatening counter-attack that ended in a try-galore second-half, the Portuguese team was again impossible to stop when there was enough space to nurture and grow their creativity, without the opposition finding a way to stop it or shut it down.
A third win in a row, and if they get the same result in the next round, the Lusitanos are through to the semi-finals as the Western conference top side.
The Iberians comeback to life  
A game of two halves, as the Devil Brussels and Castilla y León Iberians, locked horns for the first thirty minutes, that even when Nicolas Jurado crashed for the Spanish side first try there were some questions in who would come out on top.

Fortunately for Miguel Velasco men, the Iberians kept pressuring and started clicking after half-time, running strong plays through a solid combo between their forwards and backs, with highlight to flyhalf Sam Katz leadership, conducting well enough to help his side mount a substantial advantage that the Belgians never were able to comeback from. Let's look into one of the best players on their trip to Nelson Mandela Stadium: Nicolas Jurado.
The Spanish capped prop won the gain-line several times, tackle-busting his way with powerful runs that forced Brussels Devils to stick an overload of tacklers to try and stop, but weren't able to do it cleanly on at least three plays, all of them ending in the same way, try – two of them of his own ownership. The home side had issues to contain the Iberians powerful forward pack, that could've dealt bigger damage if the lineouts worked well enough (three missed throws when they were camped in Delta's own 22 line) to build an earlier lead.
Even with flanker Hugues Bastin or lock Maximilien Hendricxx inspiring display, the Belgium franchise was unable to hold possession - due to an Iberian's superb blockade and some own mistakes-, forced to go back and restart their gameplan process, as well incapable to stop the Spanish counterattacking ability.
At the end of the day, the Iberians win was deservedly earned. 
STATS OF THE ROUND
Point scorer of the round: Sebastiaan Jobb (Tel-Aviv Heat) -15 points
Try scorer of the round:  Sebastiaan Jobb (Tel-Aviv Heat) -3 tries
Team with the highest win of the round: Lusitanos – 50 points
Team with the most tries of the round: Lusitanos – 7 tries
By Francisco Issac
Images: Laurent Lefebvre, Dennis van de Sande, Andrey Demin, Sergey Demchenko