Following World Rugby's and Rugby Europe's suspension of Russia and Belarus from all international and cross-border rugby competitions, the Rugby World Cup Board has today confirmed the resulting implications for the European qualification process for Rugby World Cup 2023.
Rugby Europe has noted the decisions made by the Rugby World Cup Board and will apply the same points system for Rugby Europe Championship 2022.
Existing results in REC 2022 will stand and Russia's remaining opponents are awarded four match points each.
This means that Georgia, the Netherlands and Portugal have been awarded four match points as winners of their outstanding matches against Russia.
For the Rugby Europe Championship 2022, four teams are still in contention to claim the Trophy: Spain (13pts), Georgia (11pts), Portugal (11pts) and Romania (8 pts)
Rugby Europe Championship 2022 revised standings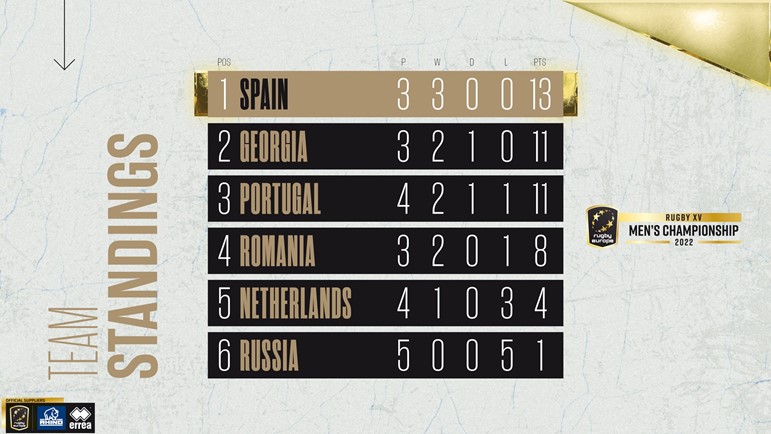 Rugby Europe Championship continues this week-end with Round 4 and will conclude the following one with Round 5
Round 4 :
12 March 15.30 (UTC) : Romania vs Georgia
13 March 11.45 (UTC) : Spain vs Portugal
Round 5 :
19 March 12.00 (UTC) : Netherlands vs Romania
20 March 14.00 (UTC) : Georgia vs Spain