The conclusion of the U20 Championship took place on Saturday with a dramatic final day of action.
THE CHAMPION: SPAIN WITH A MATCH WINING THUNDERING ROAR
Portugal and Spain, two sides who have battled for the Championship title in the last four years, went with all their best skills, knowing fairly well what was at stake in the biggest stage of the Rugby Europe youth competitions, with the U20's Leones coming up on top in the dying breathes of the game. Nonetheless, before we go and try to poetically tell the tale of how Juan Fonseca sprinted for the title, let's try to explain what happened inside the field in Estádio de Taveiro.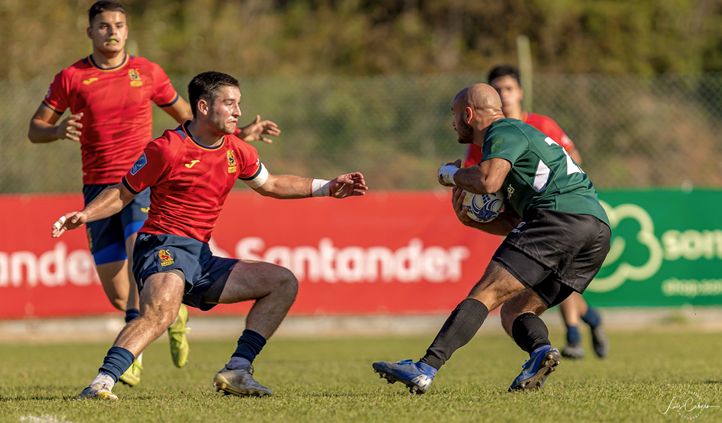 Portugal started off strongly, pressuring Spain from those typical dynamic plays, combining an agile pack with a strong backline – number-eight Nuno Peixoto and centre João Vieira were the biggest ball carriers - dominating territory and ball possession in the first half-hour. 
Although the pressure and dominance, the U20 Lobos never were able to celebrate a much-earned try, and was all due to a superb tackling display, keeping their hopes up even when Domingos Cabral converted two penalty kicks.
Spain kept their cool, started to feel comfortable and went looking for points, which finally came when the clock was on 26 minutes, by the boot of one of the most valuable players in the competition, centre Arnau Andrés i Comes.
After it, Spain balanced the game, and eventually found their way to a first try, which happened following two clever plays: first, a 50/22, coming out from scrum-half Ike Irusta; and exemplary lineout move, finished by number-eight Matheo Triki.

Portugal were able to secure a one-point lead at half-time, and no one expected that the scoreboard wouldn't undergo any change – during the second 40, both kickers were unable to slot their rewarded penalties – until that decisive, almost last, play, that decided the new champion.
Alex Saleta ran a beautiful and confident running line, opened the right gap to pave the way for winger Juan Fonseca, just sprinted home to claim victory for the visitors.
It was a physical match that took some of the attacking brilliance away from both sides but made up for it in raw emotion and heart-stopping moments.
Man of the Match: Arnau Andrés i Comes (Spain) – withstood every single tackle made to him, never conceding territory, leading his team with such altruistic display that inspired his teammates. 
THE FIRECRACKER: SHEVTSOV SHOW
Russia took on the Netherlands in the Bronze medal match at the U20 Championships with the Russian side putting in a comprehensive display to defeat their Dutch rivals 14-39.
Flair, eccentricity, speed (lots of it), and more flair, that should be Maksim Shevtsov business card after a blasting three tries display, decisively helping Russia to finish in 3rd place in Rugby Europe U20 Championship, who had to fight off an initial Dutch lead.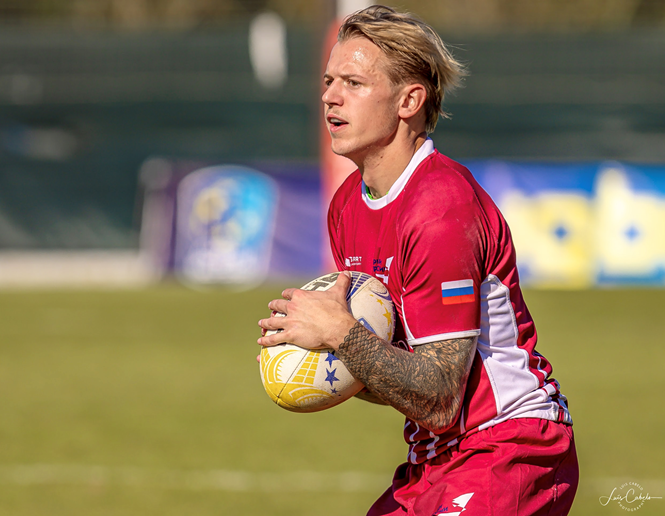 For those who might wonder if Shevtsov only had to place the oval ball in the grass, well that wasn't the case in this bronze final, and let's show the evidence: he ran (more or less) 110 meters, beat eight tacklers, and broke two-line breaks in his combined three runs to the try-line, making excellent use of a pretty ingenious, devilish sidestep, and a quick through read on how he could explore the opposition's defensive structure.
If the first try is one of those spectaculars runs a winger tends to do, what can you say in his last, as the Russian quickly saw no Dutch player defending the ruck axis, taking the ball from the ground and just sprinting until he completed his hattrick in the biggest stage of the Rugby Europe's youth tournaments.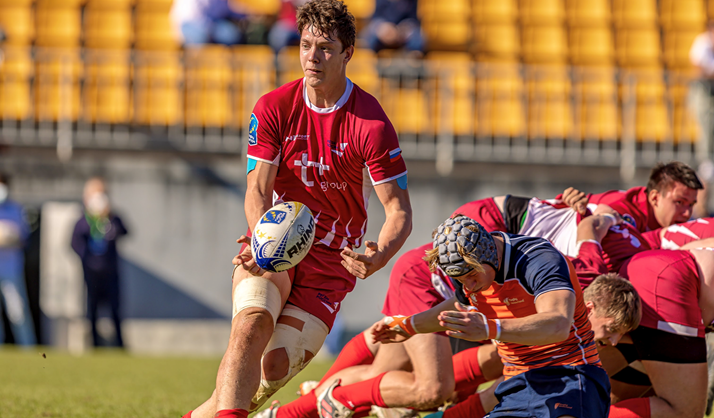 After a very strong start from the man in Orange, with Kai van Kampen and Daily Limmen (a centre with a big future ahead of him) pulled the threads, the U20 Bears pulled their best collective movements, trusting their good handling and counterattacking skills, and built a match-winning lead in the first half.
Russia finishes as the bronze winner, but both sides can expect a promising future as shown in this match.
Man of the Match: Maksim Shevtsov (Russia) – We have already written everything on why does the wing deserves this last prize, but let's try to highlight it again… hattrick, three solo tries, and an 80-minute threat to the opposition. 
THE STRATEGY: A ROMANIAN WIN
After a tough defeat in the first-round – a loss in the extra-time against Russia -, Romania didn't stop to think much about it, pulling off a second straight win in this Rugby Europe U20 Championship, finishing strong and in 5th place, in a true (positive) battle against Belgium, who found themselves chasing the game after the Romanians held a 6-point lead in the first 10 minutes.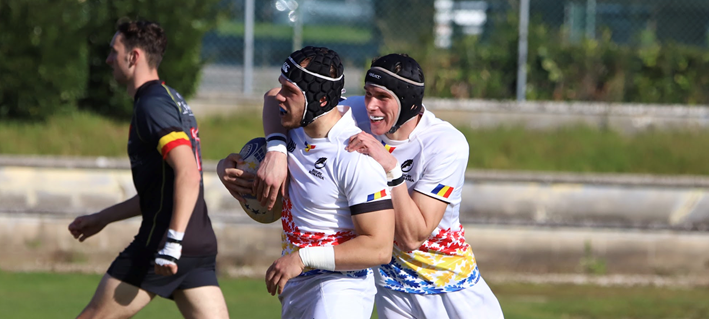 An impressive collective cohesion shown by Marius Tincu team was able to build up strong set-pieces that evolved to superb try opportunities, spurring excellent combinations between the forward pack and the back-line, as it was the case in their first try of the match: turnover, the ball comes to captain and open-side flanker Kemal Altintok, who goes full DC Flash mode, running up until the midfield to then offload to Darin Ont, with the centre sprinting until the try-area.
Romania didn't take their eyes off the goal, and kept scoring points every chance they got, even when the Belgian side seemed to be on the right track of finding the most desired whitewash in the game, scoring one of the best tries of the whole tournament in the first half closing moments (we highly recommend you to check in our stream, at the 39th minute more exactly).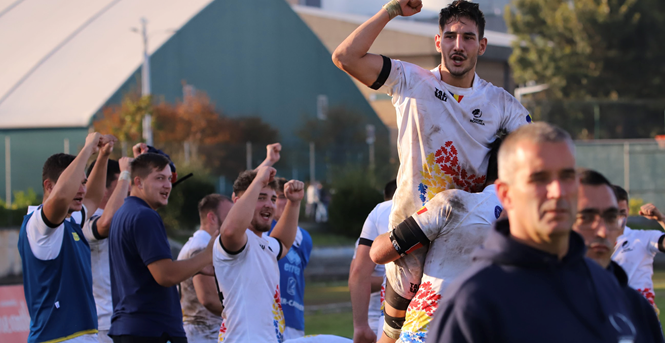 An awesome contest, a passionate match, and two sides who were determined to enchant everyone one last time this season.
Man of the Match: Kemal Altintok (Romania) – one try-assist, three breakdown turnovers, eight tackles, and a complete predator, who kept finding ways to disrupt Belgium's offensive strategy;
THE COLLISION: CZECHIA AND GERMANY, A CASE OF 10'S
The match for 7th place was a good, tough, tight battle between opposing number-eight's, centre's, props, or, in this case, fly-halves, as it gives a spicy and thrilling taste to any game.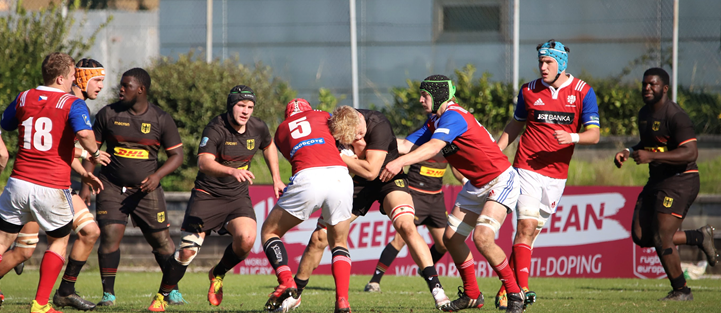 German Benedikt Spiess, and Czech Sam Dupuy were the first five-eights that stole the spotlight, feeding their sides with solid decisions, either from the boot or hand, steering their teams in the best way possible.
Spiess ended up winning in the global contest, not only because Germany won, but because he was able to countermove some of the Czechs best strategies to win ground and score points, putting his kicks well at work when it mattered, whilst his pack clicked – prop Edward Shekete was a force to be reckoned with – and worked brilliantly in the little things, be it in pick-and-go or maul work.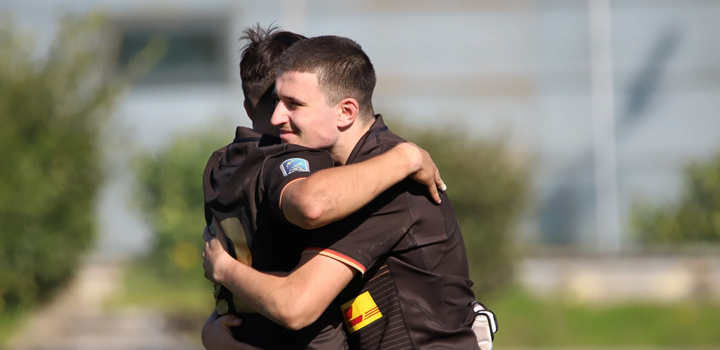 When the final whistle sounded, both sides were happily exhausted, as they presented a tremendous final effort, won by Germany (37-18).
Man of the Match:  Oluwaseyi Ajeigbe (Germany) – caught us by surprise from the first day, and finished with a strong exhibition, all due to his slick runs, "vanishing" line-breaks or capability to keep Germany's counterattack in a high tone; 
By Francisco Isaac
Photos: Luis Cabelo & Pedro Pinheiro