Georgia head coach Levan Maisashvili wants to strike a balance between testing out new players and continuing winning ways when the Rugby Europe Championship for 2021 gets underway this weekend. 
The Lelos are aiming to win the title for the fourth time on the spin and start their quest away to Portugal in Lisbon on Saturday.
Young props Guram Gogichashvili and Giorgi Melikidze are given the chance to start the game whilst on the bench there are a number of fresh faces ready to make an impact if called upon.
Gia Kharaishvili, Irakli Tskhadadze and Giorgi Babunashvili could all make debuts if they are introduced from the bench while fellow substitutes Mikheil Alania and Deme Tapladze are also pretty new to the Test arena. 
"In terms of attitude, there is no difference between this year's and last year's Rugby Europe Championship - now we need to balance between experiments and successful performance," Maisashvili said.
"Our current priorities are to create depth in various positions, offer players opportunities to gain experience and increase competition while, at the same time, not forgetting about tournament rankings, especially now that we have entered the Rugby World Cup 2023 qualification cycle.
"We have some issues in the loosehead prop position. Mikheil Nariashvili has a knee injury, so we have moved Beka Gigashvili to cover that position from the bench and he has played there before. 
"It has been a long time since we last saw Lasha Khmaladze at stand-off. He will team up with scrum-half Gela Aprasidze and I am looking forward to seeing that link-up.
"We also have three debutants in the squad who will join the team from the bench."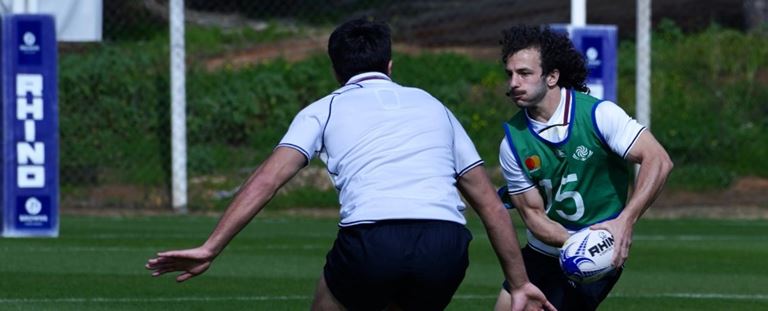 Georgia managed to play a delayed match from the 2020 Championship last month and they beat Russia while Portugal lost to Spain in their leftover fixture played during February.
They defeated Brazil twice in November though and ahead of this stiff test against the Georgians their head coach Patrice Lagisquet said:  "We have a group of 40 to 45 players that can play in this national team and some young players who will have the chance to play for the first time.
"It's very interesting, we have a lot of options to choose from and one of our strong points is that we have very fast players with a lot of mobility.
"It's very good for us to start this competition against Georgia, an incredible team with great players, so we can improve our level of performance and test ourselves."
Meanwhile, in Sochi, Russia host Romania.
After this one the Kiseleff Cup - named after Pavel Kiseleff. from the 19th century who was in charge of building a road in Bucharest which is still named after him to this day - will be presented to the winners for the very first time.

Russia head coach Lyn Jones said:  "Romania are in a situation similar to ours, they missed their chances to develop while other European teams progressed.   
"They are a dangerous team with very good players, some of them play in France which gives them a high level of performance.  
"Romanian rugby, like Russian rugby, has a rich history. My friends in Romania are constantly reminding me that their national team once beat Wales, the country I am from!   
"It's great to play them again a year after the match in Krasnodar." 
And Romania head coach Andy Robinson cannot wait for this one.
"It's been a long wait, but as a team we are very pleased to be back playing international rugby this weekend," the Englishman stated. 
"We have full respect for the Russian team and we are looking forward to our first match of the 2021 competition in such an iconic stadium in Sochi. The players have prepared well and know what is expected of them on Saturday.
"International rugby is always very challenging and for Romania it will be about starting well, building pressure and converting the pressure into points.
"We will have to be very disciplined throughout the 80 minutes. As a coach I want to see how hard the team works and the collective attitude that they show as a team to perform against Russia."
Interestingly, both Russia and Romania have Scottish forwards coaches in the shape of former Melrose team mates Carl Hogg and Steve Scott respectively.
Both matches will be live on Rugby Europe TV, where you will require to sign up for a My Rugby Europe free account to access the live streams. 
Nick Heath and Tom May will provide commentary for Russia against Romania, while Simon Ward and Rory Lawson will be on the mic for Portugal v Georgia. 
Opening weekend's fixtures - Find our the starting XV below
By Gary Heatly 
Images by Lasha Lortkipanidze/Georgian Rugby, Romania Rugby Union and Mikhail Plekhanov/Russian Rugby Union