Mikheil Alania was not even two-years-old when Georgia's national team created history by defeating Russia in October 2002 to qualify for the following year's Rugby World Cup in Australia.
It was a landmark moment for the country and for the Alania family because Mikheil's father Kakha was playing inside centre in the 17-13 victory in Tbilisi.
"Being Kakha Alania's son, I always get those stories about him being one of the influential players," Mikheil, now 20, said of his father who won 25 caps for his country.
"He was a very strong ball carrier and had good passing skills too.
"I have heard about that game where Georgia won against Russia many times, I was too young then and only remember some bits.
"I was really interested to take a look, but unfortunately I could not find any video records either. I am very proud that my father had a big part to play in that victory though."
Despite having played for Georgia himself between 1993 and 2004, Kakha never forced Mikheil into rugby and indeed the latter played soccer as a youngster.
"I was around 13 or 14 when I decided rugby was the sport for me and that I really wanted to give it a go to see how far I could get," Mikheil recounts.
"I started to play at Chokhosnebi RC with children of my father's friends.
"Kakha and I play at different positions, he was a centre and I am a scrum-half, however, he spent a lot of time with me honing my skills, giving me drills on offloading passing and everything else.
"I have very positive memories of the years spent in the national under-20 team, because I learned a lot. We had a very strong coaching team and a very professional staff.
"They invited me to join the training squad three years earlier and when I reached the team age I felt at home and it was great to play against New Zealand [in the 2019 World Championship in Argentina]. Any rugby player, whatever their age group, dreams of playing against the All Blacks - great memories."
Image courtesy of Georgian Rugby: Mikheil Alania and Davit Niniashvili after making their full debuts.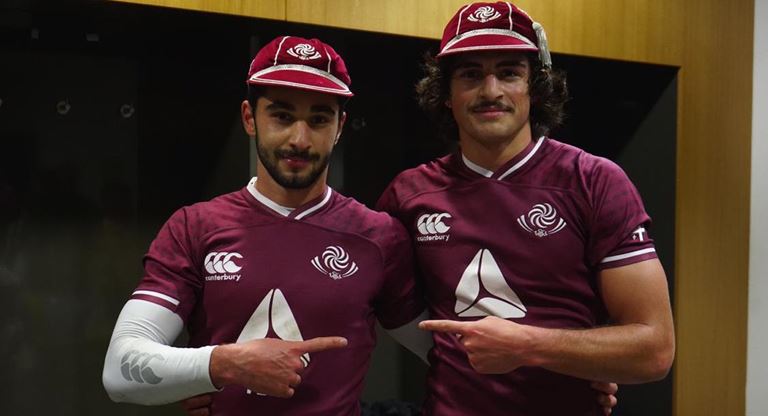 Impressive performances in Argentina saw Mikheil, who now plays his club rugby in the French Pro D2 with Aurillac, saw him invited to join the full national team during the pre-Rugby World Cup 2019 training camp.
He reveals:  "I was at the World Championship with the under 20 team and when I saw the [Georgia national squad] manager's message asking me along to train when I returned home I was really excited.
"Each of my family members, who support me with all their heart, felt the same. I did not get to play then, but the experience was great and left me hungry for the future."
The first Georgia cap came for Mikheil off the bench against Ireland in the Autumn Nations Cup in Dublin in November 2020.
And he believes he and other young players who are now integrated into the squad can really kick on in 2021 and beyond.
Alania will continue to get the opportunity to continue his rugby journey as he was named in the Georgian training squad for the final fixture of the Rugby Europe Championship 2020, where the champions-elect will face Russia. 
"We will have a different sort of confidence on the pitch because we
have played against the top teams of the world and, I think, showed everyone that we deserve to play more against such opposition," he said.
"We spent a whole month together [during the Autumn Nations Cup] and did knit very closely together.
"From game to game, we developed and evolved stronger and better ties with each other.
"My goals for 2021 are to become a regular member of our core national squad, to earn the coaching staff's confidence and get more playing exposure.
"I am sure I will get this opportunity and will try my best to make the most of it."
Georgia will face Russia this Sunday at 11am UTC (7 February) and will be broadcast live on rugbyeurope.tv
Article by Gary Heatly