As we head for the last Round of the pool stage, we have our four semi-finalists who will challenge for the crown of the Men's Rugby Europe Championship 2023: Georgia, Portugal, Romania, and Spain. Find out who were the standouts with help of our data and match analysis.
Hot Stats from Round 2
Taylor Gontineac, Rodrigo Marta and Vincent Pinto sit at the top of the try-scorers leaderboard with 5 tries each when all have still three games to play in this season (Akaki Tabutsadze was 2022 top try scorer with 6 tries).


Wolf van Dijk (32), Facundo Dominguez (30), Thierry Futeu (29) Christopher Raymond (29) and Nicolás Martins (28) are the top 5 tacklers, but only the Portuguese loose forward finished with no failed attempts in the sum of the first two Rounds.


Beka Saghinadze is the main lineout stealer, as the loose forward have already intercepted three opposition throws.
Round 2 Standouts: 
Rodrigo Marta (Portugal)
Mike Tadjer, deservingly so, was voted as the Player of the Match, after Portugal's big win in Gdynia, but Rodrigo Marta's game was just monumental, and let's see why. The Portuguese winger jumped not only to the top of the competition try-scorers (tied with teammate Vincent Pinto and Romania's Taylor Gontineac), but also in the meters ran, clean breaks, or defenders beaten leaderboards.
The winger was class during the 80 minutes, pulling more than half a dozen big carries that either were painted with artistic handling effects or throwing some imperious hand-offs.
Crowning this heroic display against Poland, Rodrigo Marta also achieved another record, as he is now the Portuguese all-time leading try-scorer… 23 years of age, and already writing his name in his country's rugby history.
Giorgi Chkoidze (Georgia)
Georgia kept their victory run going after securing another win in the competition, but not before having to endure a very spirited Netherlands, raising the stakes in a heated encounter.
The Lelos were perhaps not at their most fluent best at the weekend, but their set-pieces, mauls, defense, and pick-and-go all were effective, the four sections that had a common factor: Giorgi Chkoidze.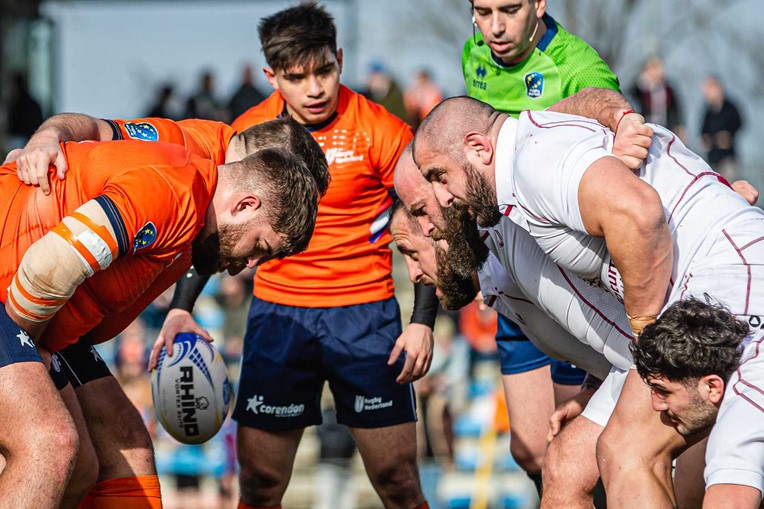 The hooker was pitch-perfect, not missing a single lineout throw, pulling two turnovers at the breakdown (and an extra one in a Dutch lineout), locked twelve tackles, and lead his team's scrum with excellence. But the cherry on the top was the two tries scored by Giorgi Chkoidze, one of them a thing of beauty, surprising everyone in a maul exit to dive into the try area.
Taylor Gontineac (Romania)
Taylor Gontineac has been the absolute best surprise in the 2023 edition of the Rugby Europe Championship, and his staggering stats from Romania's successful trip to Brussels are enough proof of how good of a season start his having: a trio of tries, more than eight tacklers taken out of the way, three clean breaks, two complete handoffs, and 76 meters ran (eight of those while one tackler latched to him).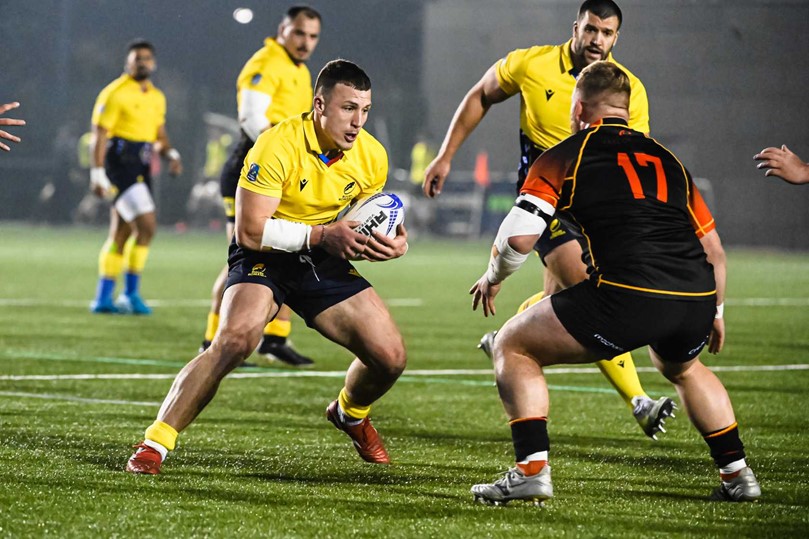 But this is just the individual data, which doesn't tell what was his contribution in the collective sense. So, did Gontineac help his teammates to also excel in the game? Yes, undoubtedly, and that can be easily seen in how he simplified the wide defence, swiftly erasing any gaps, and helping the Oaks to turn down Belgium's best try attempts.
As for the offensive game plan, the inside centre was masterful in his running lines, attracting defenders onto himself, which would gift more space and time for Lonel Melinte to play the ball and create viable attacking options.  
A star player for the second weekend in a row, Taylor Gontineac looks like the real deal.
Sebastian Ferreira (Germany)
Spain managed to fly back home with a bonus point win, but Germany tried until the very end to offer a competitive match, and pushed the Los Leones around, especially in the last and first minutes between the first and second-half.
The Schwarze Adler were brilliant as a team, working as a stable outfit, which helped to cover some of their disadvantages and fight for the result. One of the players that stood out for the home side was loose forward Sebastian Ferreira, who raised problems for Spain in each tackle, carry, or breakdown tussle.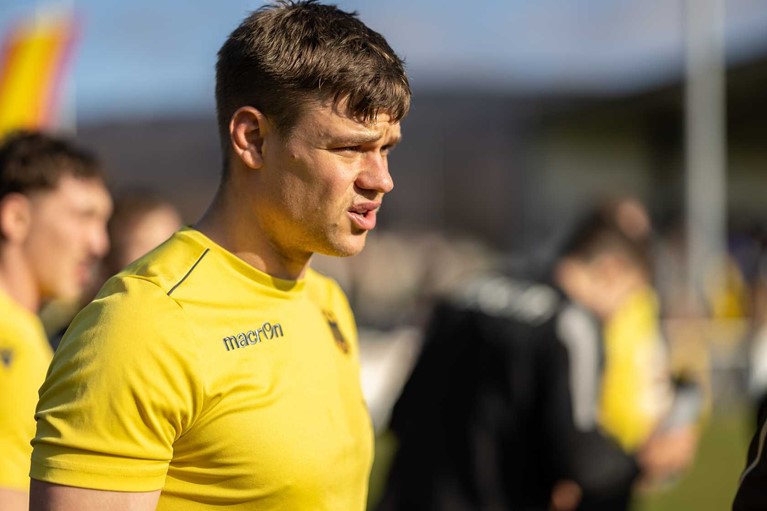 With sixteen tackles (and no failed attempts), one turnover, 43 meters ran, one clean break, five defenders beaten, and two line-out steals, the blindside flanker was truly a thorn in the Spanish opposition, breathing life to Germany in some crucial moments.
After some years away from the Test Match scene, Sebastian Ferreira is mounting an incredible comeback in 2023.
By Francisco Isaac
Photos: Jan Perlich, Luis Cabelo, Dennis Van der Sande, Laurent Lefebvre