Georgia were crowned Rugby Europe men's Championship champions while Portugal took silver and Romania took bronze in the Estadio Nuevo Vivero in Badajoz, Spain, on Sunday.
The expanded eight team tournament has been a real success over the last couple of months and the last two matches were a fitting way to end the event as a whole.

In the Grand Final in the evening, Georgia won the Championship for an amazing sixth time in a row when they got the better of Portugal 38-11.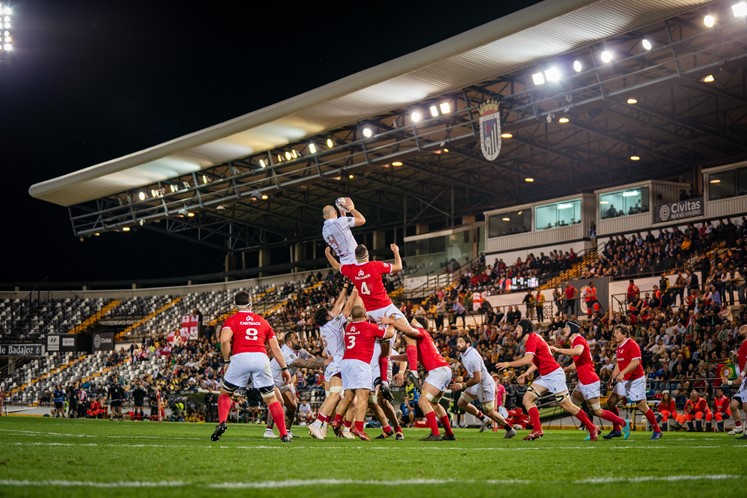 Portugal got off to a good start and took the lead in the sixth minute when skipper Tomas Appleton went over in the corner. It was unconverted, but they were 5-0 to the good.
In the 15th minute Georgia got their first points on the board when their lethal winger Akaki Tabutsadze scored his 26th try in 28 Tests. Stand-off Tedo Abzhandadze converted and they were 7-5 up.

Fifteen minutes before the break, Tabutsadze went level at the top of the all-time Georgian men's try scorers with Mamuka Gorgodze on 27 with his second try of the match. It was not converted and Georgia were 12-5 up.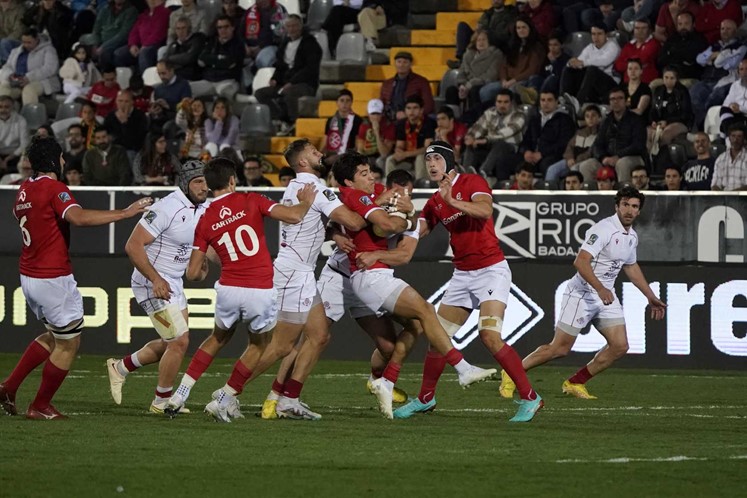 Two minutes later Georgia skipper Merab Sharikadze was yellow carded and it gave Portugal a chance to put some pressure on their opponents.

Simao Bento, their full-back, kicked the resultant penalty and, in the 32nd minute, kicked another one to make the score 12-11 to Georgia.

Sharikadze then returned to proceedings and, as the half-time whistle blew, it was a one-point game.

Three minutes into the second half, Georgia's third try of the day came through hooker Shalva Mamukashvili. It was unconverted and they were 17-11 up.


In the 47th minute there was a flashpoint involving a number of players which led to Georgia scrum-half Vasil Lobzhanidze and Portugal's Appleton being yellow carded.

No points were scored when the teams were down to 14 men respectively, but in the 63rd minute Georgia got a crucial fourth try.

It came via replacement front-rower Guram Papidze and when it was converted they were 24-11 up with just over 15 minutes remaining.

And, with 11 minutes to go, Georgia sealed the victory when they broke away and centre Demur Tapladze scored a try, replacement Luka Matkava adding the extras.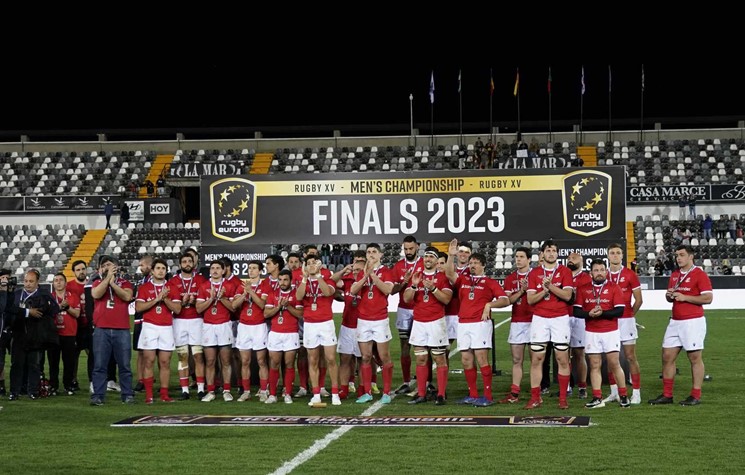 The icing on the cake came late on when replacement hooker Giorgi Chkoidze crashed over for try number six. Matkava converted and it was 38-11.

This was Georgia's 15th tournament win at this level and they are now up to number 11 in the world rankings.

Georgia head coach Levan Maisashvili said: "It was a hard game for us, but I am very proud of the team.

"Portugal played well in the first half, but in the second half we managed things much better and made less mistakes. We deserved to win."

Patrice Lagisquet, the Portugal head coach, said: "We were beaten by a stronger team in this game, they were powerful.

"We gave it everything in the first half, but we could not keep it going in the second half and our kicking game was not good enough."

Georgia and Portugal will meet again in Pool play at Rugby World Cup 2023 in France later this year.

Earlier in the day, Romania really dug deep to defeat Spain 31-25 in the Bronze Final.

It was Spain who took the lead, a Romania clearance kick charged down, back-row Brice Ferrer charging on and then feeding No.8 Facundo Dominguez who went over for a try. Stand-off Gonzalo Vinuesa converted.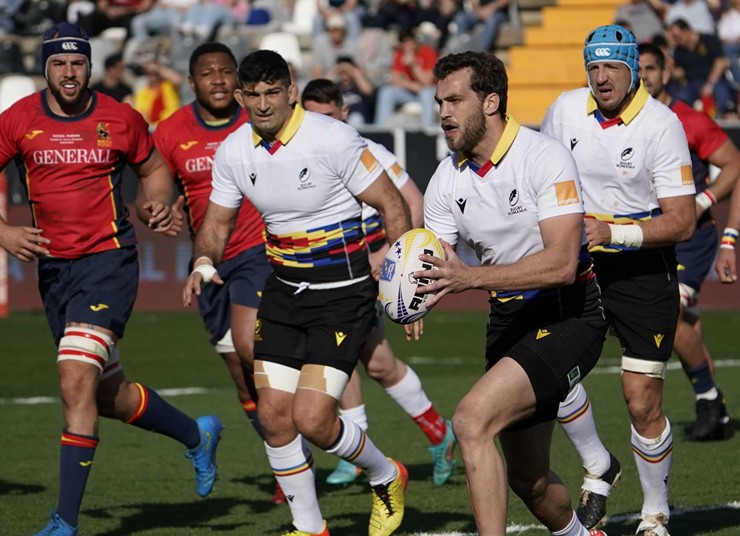 In the 20th minute a Vinuesa penalty made it 10-0 to Spain before a three pointer of his own from Romania full-back Paul Popoaia got them on the board.

With the clock in the red just before half-time, Romania scored their first try of the day out wide through winger Marius Simionescu. It was unconverted, but it was 'game on' at 10-8 to Spain at the interval.

Those eight points unanswered for Romania became 15 when back-row Cristi Chirica intercepted a pass in his own half and ran in for a try from 60 metres or so. It was converted and they were 15-10 to the good.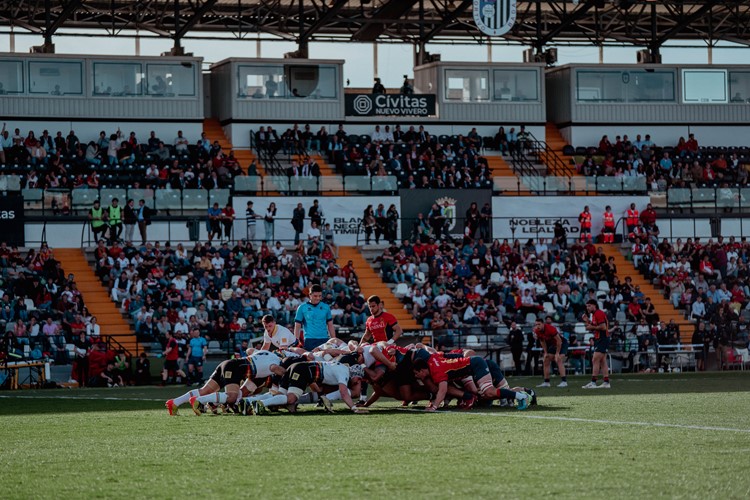 In the 47th minute a penalty from Vinuesa settled things down for Spain and made it 15-13.

Things did not settle down though and, almost straight away, an unconverted try by Romania stand-off Gabriel Pop made it 20-13 to them.

In the 53rd minute a nice chip and chase from Pop led to him setting up scrum-half Gabriel Rupanu who ran a great support line to bag an unconverted try and, suddenly, it was 25-13.

Spain had to score next and from the kick off they did. Ferrer charged down – and caught – a Romania clearance kick and ran in for the try. It was converted and suddenly it was 25-20.

With 11 minutes to go yet another Romania clearance kick was charged down and, a few phases later, it led to Ferrer going over for his second try of the game. It could not be converted and it was 25-25 and things were set up for a cracking finale.


With six minutes to go Romania replacement Florin Popa kicked a penalty and then, with the clock in the red, he did the same again to win the match 31-25.

Eugen Apjok, the Romania head coach, said: "The players gave everything, I cannot ask for more than that.

"We gave away a few 'free' points, but our physicality and a few things that surprised Spain just got us over the line."

Santi Santos, the Spain head coach, said: "I feel for my players, they worked very hard in this game, but Romania deserved to win.

"We didn't take our chances when we had them and you have to do that at this level."
By Gary Heatly
Photos: Rhodri Williams, Walter Degirolmo