The 2022 Rugby Europe Sevens Series has already begun, as the Conference 1 tournament concluded last weekend in Belgrade, this weekend will see the first of two legs in the Trophy Series. 
It will commence in the historical Croatian city of Zagreb before moving on to Budapest in Hungary the following week.
For rugby 7's fans, it promises to be a real treat, as England, Ireland and Wales will be among the contenders for promotion, but with only two spots available to the Championship it will intensify what is already a tight competition.
So, who are some of the stars to watch out for over the weekend? Well, a quick look at the rosters reveals a number of international stars from the World 7s Series stage.
JORDAN CONROY (IRELAND)
Jordan Conroy is on the deck and ready for action in Zagreb this weekend.
The 28-year-old has scored 24 tries on the 2021/2022 World Rugby Sevens Series, thanks to his brilliantly gifted feet, which can deceive some of the best tacklers in the world, mixing his movement with his physicality and speed that can easily go from 0 to 100 in just a snap of fingers.
Expect to see Conroy blast his way forward and over the whitewash. Keep your eyes focused on him, and just fall in love with one of the best 7's players in recent times, as he looks to help Ireland propel themselves back to the Championship.  
ISABEL OZÓRIO (PORTUGAL)
Isabel Ozório is hugely experienced and one of the all-time great players for her country, having played 15's, 7's, and other variants of the sport. After a spectacular year for the Portuguese women's rugby, where they went to the Seville stage of the World Series 7's as an invitational team, they seek to regain their place in the Rugby Europe Championship division and she will be vital to get a good result in Croatia.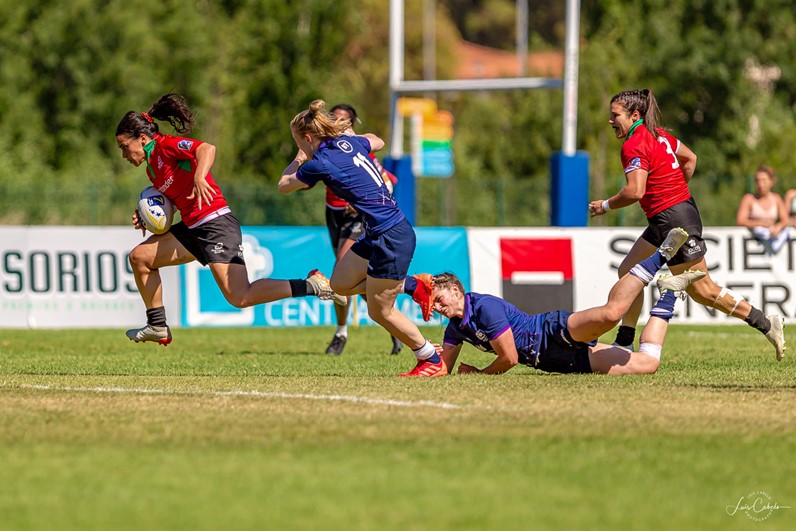 Wise decision making, thrilling manoeuvrability, and silky hands that can open the tightest defences, being almost like the glue that holds most of Portugal's strategy together. With a sharp winning mentality and a bulldog stubbornness character, the Sporting CP legend can be a delight to watch.
CHARLTON KERR (ENGLAND)
In 2017, England and Australia were locked in a thrilling and tight contest for 5th place in the Las Vegas World Rugby HSBC Sevens Series, with only seconds left on the clock… the English were trailing by 2 points when, a young rugby apprentice decided to make his presence felt, scoring the winning try. His name? Charlton Kerr. At the time, she was only 19 years old and started his story in the 7's World with a memorable try, earning his place in a squad that was pouring out with talent (Dan Norton for example), and has achieved more than a hundred caps for England since then.
What can he offer to the Red Rose? Brute power, firmly breaking tackles and wreaking havoc at every step and run he makes, mixed along with a breakdown mastery for his side.  A combination of restless enforcer with the grace of a speedster, Charlton Kerr is a man on a mission that is expected to stand out in Zagreb.
FRANCESA SBERNA (ITALY)
Who doesn't like to watch a good flanker that can play seven-a-side? For those who just love to see a sharpshooting tackling machine, let us present you Francesa Sberna, Italy's XV's and 7's international, that played for Gloucester-Hartpury back in 2019 and 2020, that can apply a powerful shoulder medicine that no ballcarrier likes to swallow, especially if they are caught by surprise.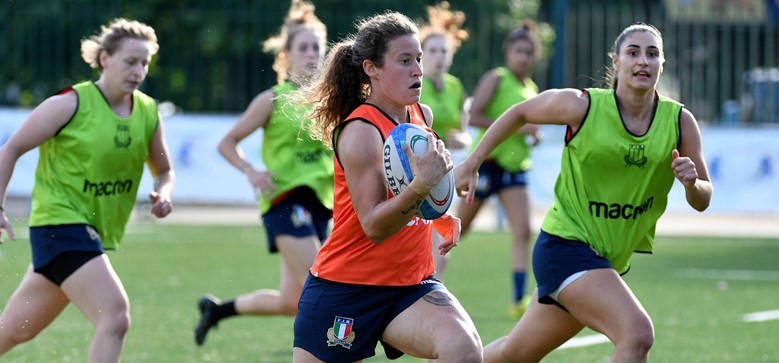 But is the 30-year-old really that type of player and athlete? Well, if you doubt our word, you best watch the tournament (it will be live-streamed from the first match up until the final) and expect to see some big thumping tackles!
As Italy continue to make strides on the 7s circuit, players like Francesca Sberna have the exceptional attitude needed to resist falling into despair after a loss, or when the match doesn't go their way.
LENCSÉS LUKA (HUNGARY)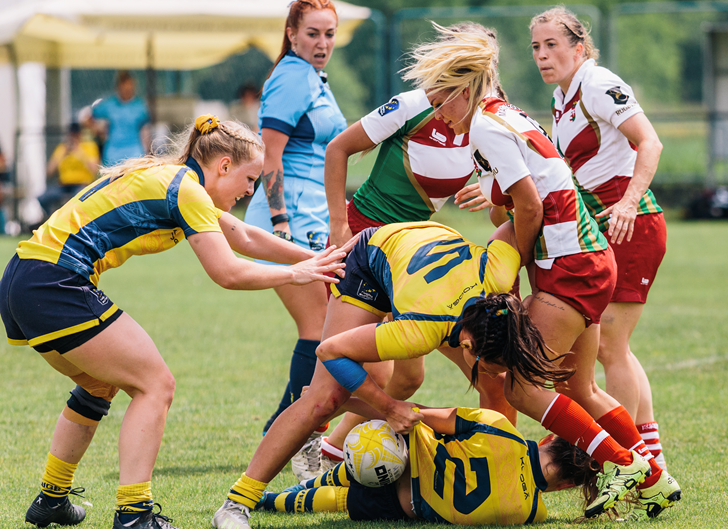 Hungarian fitness and Exalton (a type of hurdles athlete TV contest) athlete, Lencsés Luca is a serious contender for the award of Surprise MVP in this year's Trophy competition, and it is not only because of her incredible stamina (never-ending, which can be painful for the opposition) but also by her agility to outmanoeuvre tacklers, leaving a hot blazing trail of brilliance behind.
Swift, strong and aggressive, Lencsés Luca is an exciting player from a nation that are exciting to watch on the 7s circuit, riding on the back of this full-fledged athlete that possesses the mental skills to keep working
Be wary of her footwork, as she can be in one place in one moment and another in a blink of an eye.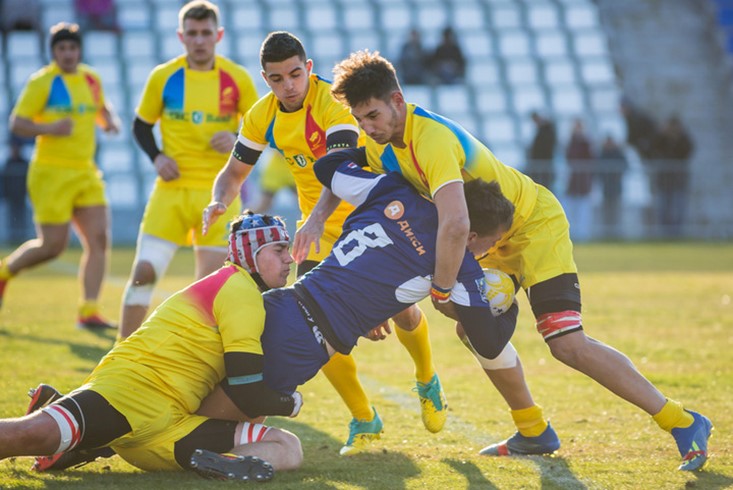 KEMAL ALTINOK (ROMANIA) 
Romania is always looking for showstoppers, monster-tacklers, and hulking ball bashers, and they might have found their "Next Big Thing" in the 20-year-old, Kemal Altinok. For Rugby Europe readers, this name can spring some memories in your mind, as he was highlighted as one of the players to watch for in the past U20 Championship. He has an impressive physique that allows him to bulldozer through the opposition, whilst remaining able to supply a last-minute pass or a sneaky offload. 
The XV back-row will present himself as an enforcer and will be like an anchor-ball receiver, which will allow him to latch more than one tackler onto himself, on what will be a serious advantage if Romania can quickly regather the ball. He is painting himself as a promising jackler, which could prove pivotal for his side. 
From the U20's stardom to the 7's Trophy stage, Kemal Altinok is a good pick to follow with close attention.
ELLIE BOATMAN (ENGLAND)
A raising star at Wasps and in the Premier 15s, Ellie Boatman has been shining in this year's World Rugby HSCB Sevens Series, due not only to her finesse to finish a slick team move – fourteen tries, two of which were included in the try highlight reel – but also for her talent to create gaps in the opposition's defensive.
What can you expect to see from her this weekend? The capability to shift gears when her team needs, pulling no stops, with her eyes always focused on the try-line; quick wits that often results in scoring points; a special and vibrant relentlessness spirit. The English 7's star will certainly be a menace to the opposition from start to finish.
By Francisco Isaac
Photos by Luis Cabelo, Romanian Rugby Union, FIR/ Getty Images